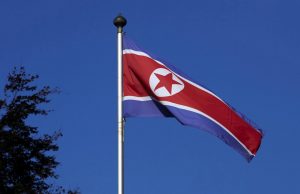 New North Korean space rocket features engine from ICBMs, analysts say
SEOUL — North Korea's latest space launcher appears to be a new design and most likely uses engines developed for the nuclear-armed country's intercontinental ballistic missiles (ICBM), analysts said on Thursday.
The rocket, dubbed the Chollima-1, failed during its first launch attempt on Wednesday. It lifted off successfully, but its second stage failed to start as expected, state media reported, and it crashed into the Yellow Sea.
In a rare move, state media also released photos of the rocket's lift-off, despite the failure, offering international analysts their first glimpse of the new launcher.
"This launch vehicle that we saw is of a completely different design origin than the older Unha series of space launch vehicles," said Ankit Panda of the US-based Carnegie Endowment for International Peace. "It appears to make use of an engine that appeared in an earlier North Korean intercontinental-range ballistic missile."
Joseph Dempsey, a defense researcher at the International Institute for Strategic Studies, also concluded that the rocket may be powered by a dual-nozzle liquid-fuel engine like that fitted to North Korea's Hwasong-15 ICBM.
That engine is seen by some experts as derived from the Soviet RD-250 family of engines, while the earlier Unha space launcher used clusters of engines derived from Scud missiles.
"Although the Chollima-1 exhaust plume appeared transparent, indicative of being liquid fueled, it did deposit light grey residue around the launch pad and through the exit to the flame bucket, and across nearby mudflats," US-based 38 North, which monitors North Korea, said in a report. "The reason for this residue is unclear."
The United States, among other countries, said the use of ballistic missile technology for space launches violates United Nations Security Council resolutions banning North Korea's missile and nuclear weapons programs.
Unlike the last time North Korea attempted to launch a satellite in 2016, it has a robust ICBM program and doesn't need to disguise its weapons tests as space launches, Ankit Panda said.
The Chollima-1 appears to be a medium-lift space launch vehicle intended for delivering small satellites to low earth orbit.
"In this case we do have a fairly large payload fairing compared to the earlier North Korean space launch vehicles," Mr. Panda said. "My estimate is that this is likely carrying a satellite payload on the order of around 200 to 300 kilograms in mass."
North Korea's stated goal of eventually being able to launch multiple satellites on one rocket suggests they may roll out a larger launch vehicle in the future, he added.
South Korea said it was working to recover parts of the North Korean rocket, releasing photos that showed what analysts said appeared to be a section designed to join two stages, and a liquid propellant tank inside.
Recovery operations continued Thursday, with additional specialized ships dispatched, South Korea's military said.
If South Korea manages to pull major parts of the rocket from the water, it could provide useful intelligence into the North's rocket and missile production, and particularly any foreign materials it may be using, Mr. Panda said.
"We believe increasingly that North Korea has largely managed to become self-sufficient with manufacturing airframes, manufacturing largely many of the structural components of its engines, but there are still likely some components that North Korea is importing from overseas," he said. — Reuters