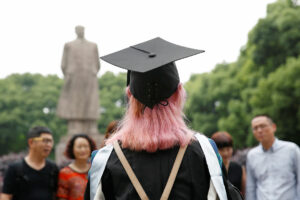 New graduates lower ambitions in China's moribund labor market
BEIJING — Applied maths graduate Liang Huaxiao tried to land a job with one of China's tech giants for two years. Then she tried customer service and sales. Then she applied for assistant roles in a bakery and in a beauty parlor.
Like a rising number of her highly educated peers, Ms. Liang keeps trading down to try and find a source of income in China's worst youth job market on record.
"Finding a job has been really difficult," said the 25-year-old, who lives with her parents in the northern industrial city of Taiyuan. "I told my family that I'm willing to take up manual labor and my mum straight-up cried. She felt so sorry for me."
Economists expect such examples to become increasingly common in coming years, as a glut of university graduates and a shortage of factory labor due to an ageing workforce deepen China's job market imbalances.
Youth unemployment hit a record 20.4% in April, and a new high of 11.58 million university students are due to graduate this summer.
All are competing for jobs in what remains one of the world's fastest-growing major economies, but whose manufacturing-heavy structure is increasingly out of step with the aspirations of its younger generations.
The industries most popular among fresh Chinese graduates, such as tech, education, real estate and finance, have all faced regulatory crackdowns in recent years. Some of the measures have been rolled back, but business sentiment has been slow to recover: private investment rose only 0.4% in January-April, while state investment rose 9.4%.
"China's education raced ahead of the economy, which means that more diplomas were handed out than were needed by a manufacturing-based economy," said Keyu Jin, author of The New China Playbook, which documents the country's economic ascent.
"There's a big mismatch between expectations and the reality of the economic circumstances."
'ROLL UP YOUR SLEEVES'
It is unclear exactly how many graduates are taking jobs below their skill level, but state media has acknowledged the trend. State media editorials have encouraged young graduates to "roll up their sleeves" and by profiling a woman in her 20s who became a refuse collector after a brief stint as an accountant.
President Xi Jinping repeatedly exhorted young people to "seek hardships" in a recent state media article emphasizing his suffering during the Cultural Revolution. But the message hardly resonates with today's youth who take prosperity for granted.
China's education and human resources ministries did not immediately respond to requests for comment.
Beijing has urged state-owned enterprises to recruit more graduates and began to expand vocational training schools to fill shortages in advanced manufacturing. Some local governments, including Shanghai, are offering employment subsidies for firms hiring 2023 graduates. Others have gone on a hiring spree themselves.
The service industries at the forefront of China's post-pandemic recovery offer few high-skilled roles.
"Many white-collar service positions have vanished," said Chim Lee, an analyst at the Economist Intelligence Unit.
"Jobs being created are predominantly in areas not requiring higher education, such as catering and tourism."
'TIRED OF IT'
On platforms like Xiaohongshu, China's equivalent of Instagram, some graduates tout the joys of "taking off the scholars long gown" and avoiding China Inc's notorious "996" schedule of working from 9.00 am to 9.00 pm, six days a week.
"Young people no longer believe that someone's value comes from studying hard or career success," said Han Zhaoxue, a 26-year-old public administration master's graduate who now co-runs a rural homestay after rejecting low-paid offers.
Programming graduate Wang, 23, earns less than 3,000 yuan ($420) per month delivering food part-time in the eastern city of Jining.
"The threshold for entering the programming industry continues to rise. I couldn't find jobs at major tech firms and hated working unpaid overtime during my internship at a small firm," said Mr. Wang, giving only his surname for privacy reasons.
"I was really tired of it so moved back to my hometown," he said, adding he is now studying for the civil servant exam.
Ms. Liang, the applied math graduate, is still unemployed and "seriously considering" hawking.
"I can't think of any more industries that I haven't applied for," she said. — Reuters