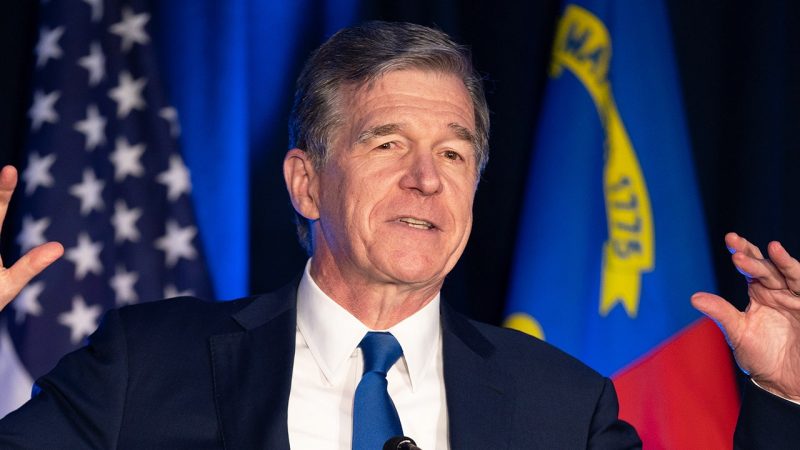 NC Gov Roy Cooper faces scrutiny for sending daughter to private school amid opposition to school choice bill
Democrat North Carolina Gov. Roy Cooper declared a 'state of emergency' this week in an attempt to prevent a school choice bill from passing the state legislature, despite sending his own daughter to a private school in Raleigh.
Announcing the move in a video message released Monday, Cooper said the state of public education is 'no less important' than other emergencies.
'It's time to declare a state of emergency for public education in North Carolina. There's no executive order like with a hurricane or the pandemic, but it's no less important,' Cooper said. 'It's clear that the Republican legislature is aiming to choke the life out of public education. I'm declaring this state of emergency because you need to know what's happening. If you care about public schools in North Carolina, it's time to take immediate action and tell them to stop the damage that will set back our schools for a generation.'
Cooper, highlighting efforts from Republicans in the state as a 'private school voucher scheme,' said the North Carolina he knows 'was built on support for public schools' and insisted that more money should be geared toward public schools and teacher pay raises.
The comments from Cooper come after he sent at least one of his three daughters to Saint Mary's School, an expensive private school in Raleigh, according to A.P. Dillon, a reporter for the North State Journal.
'In terms of folks being able to send their kids to the private school of their choice using an Opportunity Scholarship, it's worth remembering Cooper sent one of his daughters to St. Mary's, a private school with hefty tuition cost,' Dillon wrote in a tweet last month.
Furthermore, Cooper's daughter, Natalie, was recognized as being a graduate from the college-preparatory, boarding and day school in a press release from the institution in 2017.
'The Coopers have three daughters, Hilary, Claire, and Natalie, a 2011 Saint Mary's graduate,' the school wrote in a press release to announce that North Carolina first lady Kristin Cooper would serve as its 2017 commencement speaker.
Cooper faced immediate criticism from social media users and school choice advocates for his remarks about public schools in the state while sending his own child to a private school.
Jason Williams, executive director of the NC Faith and Freedom Coalition, was quick to call out Cooper's remarks in a tweet.
'Why doesn't Roy Cooper want your child to have the same quality, private education his kid had?' Williams wrote. 'If he believed so much in public education, why did he spend thousands for his own kid to avoid it?'
Expounding on his comments, Williams told Fox News Digital, 'We support Gov. Cooper and anyone else having the freedom and responsibility as parents to do whatever they feel is in the best interest of their children. We simply believe that every parent in North Carolina should be given that same opportunity.'
'We do have a state of emergency with our public school system. The problem with Gov. Cooper's state of emergency is the focus is on the wrong thing,' he added. 'The true emergency is the leftist attempts to indoctrinate our children and the failure to adequately educate them.'
Similarly, school choice advocate Corey DeAngelis wrote in a tweet, 'This hypocrite sent his own kid to a private school. We're freeing families from the clutches of the teachers unions once and for all & there's nothing he can do about it.'
'What a hypocrite. Public schools aren't good enough for his kids, but they are for yours,' Independent Women's Forum senior policy analyst Kelsey Bolar blasted.
In a statement to Fox News Digital, Sam Chan, Cooper's press secretary, said, 'Two of his daughters spent their entire educations in public school and another attended public schools except for the last four years in a private school.'
'This isn't about whether kids should go to private schools, it's about whether taxpayers should foot the bill at the expense of public schools,' Chan added.
In April, Republican lawmakers in North Carolina announced efforts to move forward with education reform bills that promote school choice. One measure, Senate Bill 406, would provide equal funding to charter school students along those who attend public school. Critics, such as Cooper, said the bill mostly serves to cut funding for public schools.
The measures by state Republicans followed the announcement by state Rep. Tricia Cotham that she would be defecting from the Democratic Party to join the GOP. Her decision, she said at the time, came from her support for school choice.
'On issues like school choice, like charters, we have to evolve,' Cotham said. 'One-size-fits-all in education is wrong for children … [Democrats] didn't really want to talk about children. They had talking points from adults and adult organizations.'
Fox News' Lindsay Kornick contributed to this article.
This post appeared first on FOX NEWS