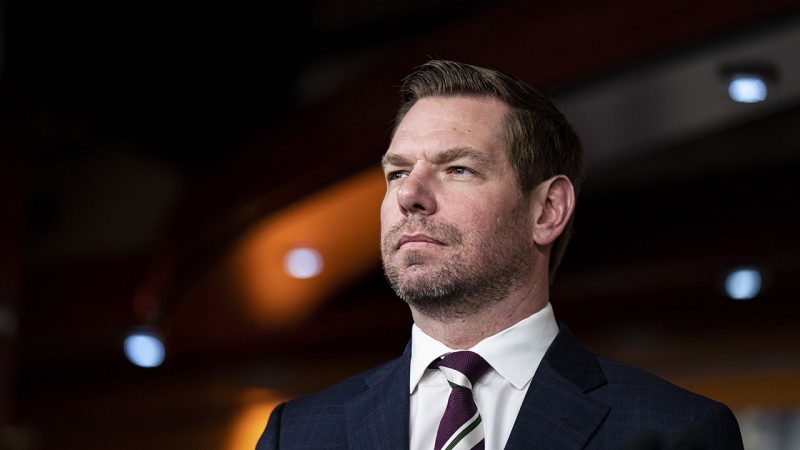 Swalwell's claim of 'collusion' between Trump, Russia contradicted by Durham report
Rep. Eric Swalwell, D-Calif., consistently claimed there was strong evidence of collusion between Russia and former President Donald Trump, but those statements were contradicted by the release of Special Counsel John Durham's report on the Trump investigation.
'In our investigation, we saw strong evidence of collusion – the Republicans now are choosing to bury it,' Swalwell told CNN in March 2018, eventually clarifying that he believed there is 'clear collusion.'
Durham's report on his investigation, released this month, showed otherwise, as it concluded intelligence agencies had no 'actual evidence of collusion' to justify their launch of the Trump-Russia investigation. These findings added to Special Counsel Robert Mueller's report in 2019 that concluded there was no evidence the Trump campaign engaged in a criminal plot to collude with the Russians to influence the 2016 election.
Swalwell, though, continued to push the collusion narrative in his media appearances from 2018 to 2019.
'It's always smelled like collusion,' he told Politico in November 2018. 'It doesn't smell less like collusion. It smells more.'
The Durham report concluded the Department of Justice and FBI 'failed to uphold their mission of strict fidelity to the law' as it launched an investigation premised on 'raw, unanalyzed and uncorroborated intelligence.' 
'In particular, there was significant reliance on investigative leads provided or funded (directly or indirectly) by Trump's political opponents,' the report stated. 'The Department did not adequately examine or question these materials and the motivations of those providing them, even when at about the same time the Director of the FBI and others learned of significant and potentially contrary intelligence.'
Swalwell cited internal investigations from Democrats on the intelligence committee to claim Trump had direct involvement in collusion with the Russians. 
'There's circumstantial evidence that [Trump] colluded,' he told MSNBC in March 2019. 'The president knew the Russians were seeking to help him. So he went out as a candidate and invited them to hack more.'
These claims were never proven, and House Speaker Kevin McCarthy, R-Calif., removed Swalwell from the committee once Republicans took control of the House this year.
Swalwell's office did not respond to a request for comment.
This post appeared first on FOX NEWS