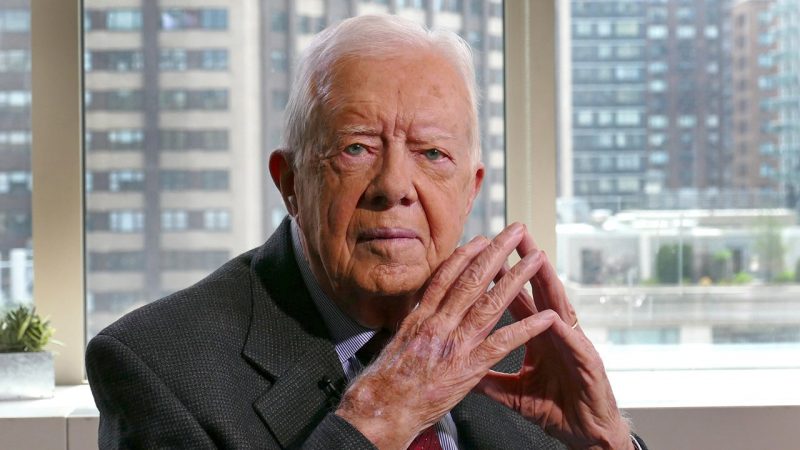 Jimmy Carter is still enjoying ice cream and meeting with family 3 months into hospice care, grandson says
Former President Jimmy Carter is doing well at his Georgia home, where he has been under hospice care for three months, his family said.
Carter, 98, remains in good spirits with former First Lady Rosalynn, 95. The two host members of their family receive updates on The Carter Center's humanitarian work around the world, and enjoy regular servings of ice cream grandson Jason Carter said.
'They're just meeting with family right now, but they're doing it in the best possible way: the two of them together at home,' Jason Carter told The Associated Press during an interview Tuesday.
The younger Carter added: 'They've been together 70-plus years. They also know that they're not in charge. Their faith is really grounding at this moment. In that way, it's as good as it can be.'
Carter, the longest-lived U.S. president, announced in February that he would be receiving end-of-life care at his modest, one-story house in Plains, where they lived when he was first elected to the state Senate in 1962. The announcement came because the former president was in and out of the hospital several times earlier this year.
After the Carter family announced the former president would be forgoing further medical intervention, people began sending well-wishes and tributes, Jason Carter said.
'That's been one of the blessings of the last couple of months,' Jason Carter said following an event Tuesday honoring the patriarch. 'He is certainly getting to see the outpouring, and it's been gratifying to him for sure.'
It also prompted attention to the global humanitarian work the couple has done since co-founding The Carter Center in 1982.
Jason Carter said his grandfather also continues to enjoy peanut butter ice cream.
And, despite the presidential couple's fame, Jason Carter said they were 'just like all of y'all's grandparents.'
'I mean, to the extent y'all's grandparents are rednecks from south Georgia,' he laughingly added. 'If you go down there even today, next to their sink they have a little rack where they dry Ziplock bags.'
Andrew Young, who was appointed Carter's U.N. Ambassador in 1977, told The Associated Press that he visited the Carters 'a few weeks back.'
He was 'very pleased we could laugh and joke about old times,' said Young, 91.
Young, who also served as an aide to the Rev. Martin Luther King Jr. during the Civil Rights Movement, praised Carter's push for unity and said he believed 'that the world can come to Georgia and show everybody how to live together.'
Jimmy Carter will turn 99 this year. He was born on October 1, 1924
The Associated Press contributed to this report.
This post appeared first on FOX NEWS
–>