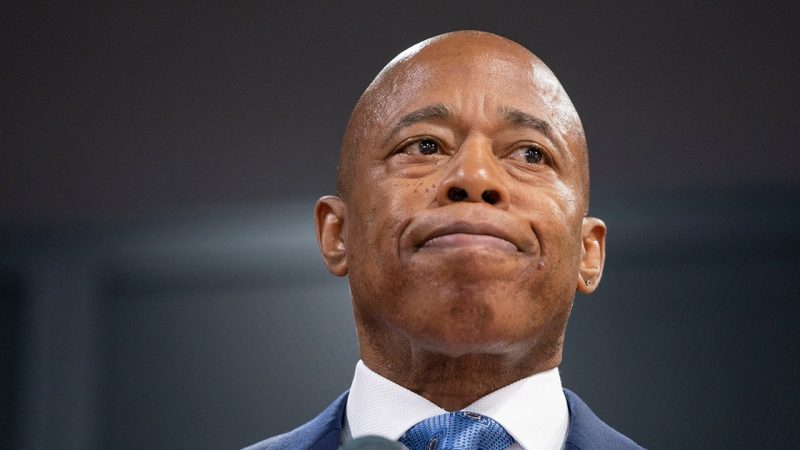 NYC Mayor Adams: Migrants should be sent to every city 'throughout the entire country'
New York City Mayor Eric Adams, a Democrat, said in a new interview Sunday that migrants from the U.S.-Mexico border should be sent to every city 'throughout the entire country.'
'We have 108,000 cities, villages, towns. If everyone takes a small portion of that, and if it's coordinated at the border, to ensure that those who are coming here to this country in a lawful manner is actually moved throughout the entire country, it is not a burden on one city,' Adams said in an appearance on CBS's 'Face the Nation' Sunday. 'And the numbers need to be clear. We received over 70,000 migrant asylum seekers in our city, 42,000 are still in our care. If this is properly handled at the border level, this issue can be resolved while we finally get Congress, particularly the Republican Party, to deal with a comprehensive immigration policy.'
Amid reports that the White House and fellow Democrat Adams have butted heads over the migrant crisis, notably as the mayor of New York City stepped away from President Joe Biden's reelection advisory board, CBS host Margaret Brennan on Sunday asked about whether, in Adams' view, the supposed $30 million in federal funding to address the influx into the Big Apple was enough. Adams said that New York City has already spent more than $1 billion in addressing the migrant crisis and is projected to need more than $4 billion more in funding. 
The mayor also pushed back on the argument from some Republicans that Democrat-controlled cities are drawing migrants due to their sanctuary status.
'The problem is that Republicans for far too many years have failed to deal with real immigration reform,' Adams said. 'This is a national issue. No city should … be going through this, including El Paso, Brownsville [in Texas]. When I went to El Paso, Texas, and saw what was happening there, I raised the same concern. This should not be the burning of Chicago, Washington, Houston, Denver and New York City. That is what we want to focus on. How do we have real comprehensive immigration reform? And how do we have a real decompression strategy? And we really need to allow the migrants, asylum seekers, to be able to have work status so that they can actually work in various areas that we're looking for employment.'
Adams continues to get pushback in courts to his administration's plans to bus hundreds of single male adult migrants upstate and possibly to Long Island to stay in hotels for months. Those municipalities – under mostly Republican leadership – say they lack the resources to deal with asylum seekers processed in the Big Apple.
This post appeared first on FOX NEWS