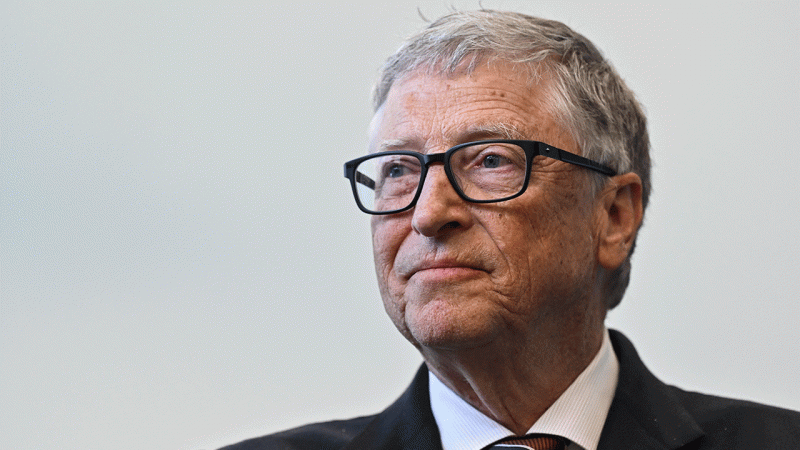 Jeffrey Epstein allegedly threatened Bill Gates over reported affair with Russian card player: report
Jeffrey Epstein allegedly threatened Microsoft co-founder Bill Gates with details on the tech billionaire's alleged affair with a Russian bridge player, the Wall Street Journal reported. 
'Mr. Gates met with Epstein solely for philanthropic purposes,' a spokeswoman for Gates told WSJ. 'Having failed repeatedly to draw Mr. Gates beyond these matters, Epstein tried unsuccessfully to leverage a past relationship to threaten Mr. Gates.'
Gates met Russian bridge player Mila Antonova in 2010, when she was in her 20s and Gates in his mid-50s, at a bridge tournament where the two played against each other, according to the Journal. Antonova is originally from Russia, but moved to the U.S. and began working as a software engineer in Silicon Valley, according to her LinkedIn. 
Antonova publicly discussed meeting the tech billionaire in a 2010 video detailing that she 'didn't beat' Gates, but 'tried to kick him with my leg,' according to WSJ. Gates is a noted lover of the game of bridge and has even competed against fellow billionaire Warren Buffett. 
After meeting Gates, Antonova sought to start an online venture that would teach people how to play bridge. She began reaching out to potential donors, with Gates confidant Boris Nikolic connecting her with Epstein, according to documents reviewed by the outlet. 
In November 2013, Antonova and Nikolic reportedly met Epstein at his townhome in New York City to pitch the proposal and try to raise $500,000. Epstein ultimately did not donate to the proposal, dubbed 'BridgePlanet,' WSJ reported, citing Antonova. 
'I deeply regret that I ever met Epstein,' Nikolic highlighted to the outlet. 'His crimes were despicable. I never saw anything like his illegal behavior. My heart goes out to his victims and their families.'
The following November, Antonova stayed at an apartment provided by Epstein, but 'didn't interact with him or with anyone else while there,' she said. By that year, she had decided to become a software engineer and was looking for donors to help pay for programing classes.
'Epstein agreed to pay and he paid directly to the school. Nothing was exchanged. I don't know why he did that,' she said, the outlet reported. 'When I asked, he said something like, he was wealthy and wanted to help people when he could.'
Meanwhile, Epstein was trying to set up a multibillion-dollar charitable fund with JPMorgan, in part to reportedly help repair his public image following his 2008 conviction for soliciting prostitutes, including an underage girl. The plan hinged on him getting wealthy donors, including Gates, to pool their money for the fund, according to the report.
Gates and Epstein had met a handful of times before Epstein's death in 2019, which Gates later said he regrets. In emails reviewed by WSJ, Epstein sent emails to JPMorgan trying to give the impression he was an adviser to Gates. The tech billionaire's spokeswoman told the outlet that Epstein never worked for Gates and misrepresented their relationship to JPMorgan.
The fund stalled and ultimately went nowhere. 
'The firm didn't need him as a client,' a JPMorgan spokesman told WSJ of Epstein. 'The firm didn't need him for introductions. Knowing what we know today, we wish we had never done business with him.'
In 2017, years after Gates' alleged relationship with Antonova, Epstein emailed Gates about the bridge player, sources with knowledge of the incident told WSJ. Antonova denied providing comment to WSJ about Gates specifically, the outlet noted. 
Epstein reportedly asked Gates to reimburse him for the funds used to cover Antonova's software programming classes. Gates did not send a payment, according to Gates' spokeswoman.
'Mr. Gates had no financial dealings with Epstein,' the spokeswoman said. 
Sources said the cost of the classes were irrelevant to both men, but that the tone of the email showed Epstein was aware of the alleged affair and could expose Gates. 
This post appeared first on FOX NEWS
–>