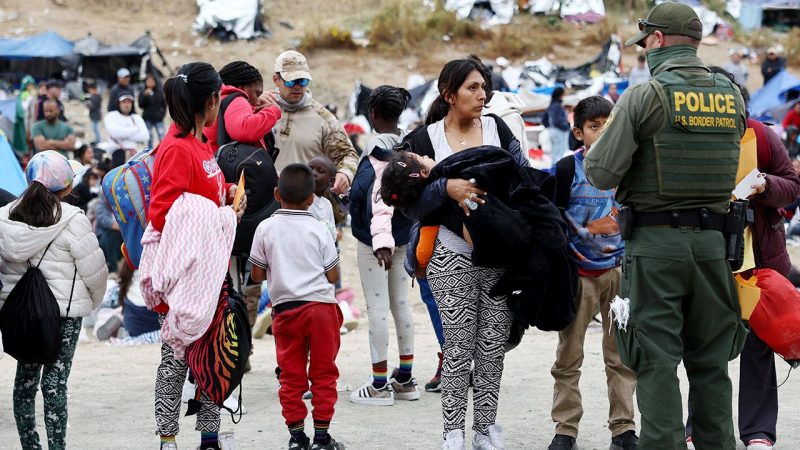 Texas congressman pushes bill to vet taxpayer-funded migrant charities amid 'explosion' of migrant trafficking
FIRST ON FOX — A bill has been introduced to stop federal funds from being given to nonprofit entities unless they comply with human trafficking or alien smuggling laws.
Lance Gooden, R-Texas, introduced the 'Protecting Federal Funds from Human Trafficking and Smuggling Act of 2023' to set standards for nonprofit organizations as they gather in border towns to assist with the migrant surge.
'By ensuring that federal funds are not awarded to organizations that engage in these heinous activities, we can safeguard taxpayer dollars and hold bad actors accountable,' Gooden told Fox News Digital.
Gooden's bill proposes that NGOs certify federal law compliance with the Office of Management and Budget.
The House Judiciary Committee member also called on Homeland Security Secretary Alejandro Mayorkas to produce a strategy to help NGOs with 'deterring, detecting, reporting and removing aliens.'
The bill comes on the heels of an investigation launched by House Judiciary Committee Chair Jim Jordan, R-Ohio, Tuesday into DHS-funded NGOs that 'receive hundreds of millions of taxpayer dollars through federal grants to provide free food, lodging, and transportation for illegal aliens to be released anywhere they want in the United States.'
Asylum-seekers are arriving primarily from Guatemala, Cuba and Venezuela by the thousands since the end of the Title 42 rapid expulsion policy on May 11. As a result, nonprofit organizations are stepping up to transport, shelter and feed migrants in border towns.
Health and Human Services (HHS) whistleblower Tara Lee Rodas testified during a House hearing in April that migrant children in particular were victims of a 'sophisticated network' of labor trafficking. The government places unaccompanied minors with sponsors throughout the U.S., some of whom 'view children as commodities and assets to be used for earning income – this is why we are witnessing an explosion of labor trafficking,' Rodas said.
If enacted, Gooden's bill would apply to nonprofit groups that have been awarded federal funding or an 'agreement, contract, award, or relationship with the Federal Government.'
The bill's introduction follows a Heritage Foundation report that found many NGOs 'apply for, and receive, taxpayer money to provide processing and transportation services and infrastructure to facilitate the migration of illegal aliens into the interior of the country.'
The Heritage Foundation tracked more than 30,000 mobile devices from NGO facilities to 431 separate U.S. congressional districts across the country during January 2022.
Gooden's office said that while the Judiciary and Oversight committees are collecting evidence, 'We know through whistleblowers and migrants themselves that this funding is going toward federal handouts including lodging, transportation, debit cards, and free legal advice.'
The congressman also sent letters to Catholic Charities, Jewish Family Services and the Lutheran Immigration Services, requesting full amounts of federal funds. However, no response was given. 
Customs and Border Protection sources tell Fox News that migrant encounters are dropping since the expiration of the Title 42 policy, with less than 4,000 illegal border crossings on Monday. Prior to that, migrant encounters were topping 10,000 a day.
This post appeared first on FOX NEWS