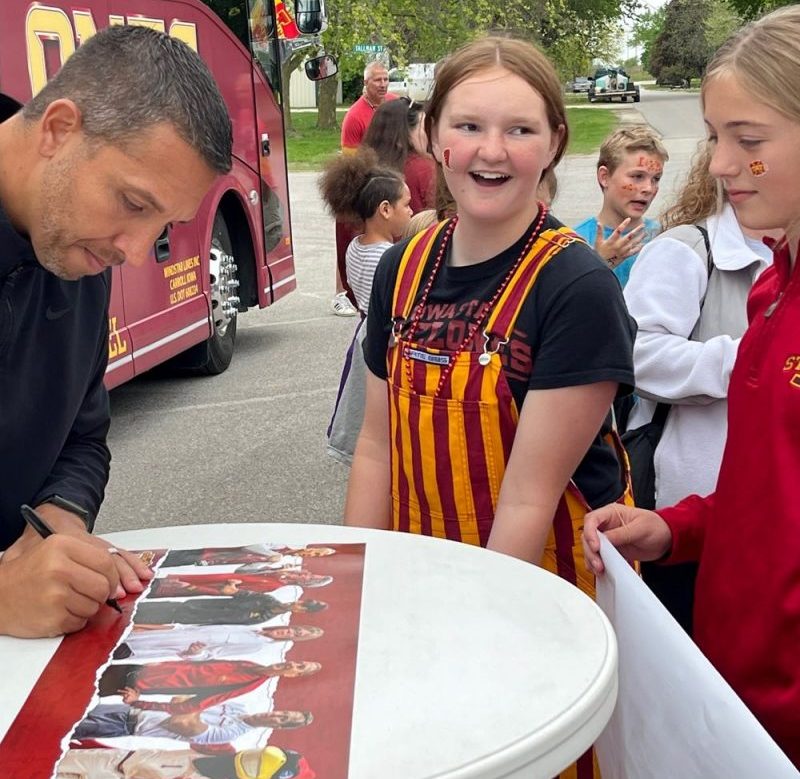 Iowa State coach says there's 'witch hunt' in gambling investigation
PATON, Iowa — Iowa State wrestling coach Kevin Dresser likened the investigation into student-athletes' sports gambling to a 'witch hunt' during Monday's stop on the annual Cyclones Tailgate Tour.
Speaking to reporters outside Paton's Toolbar Restaurant, where a crowd of about 300 fans gathered to mingle with Iowa State coaches and mascot Cy, Dresser said:
'To be quite honest, there's a part of me that thinks – and I'm usually one to say what I think – part of me thinks there's a little bit of witch hunt,' Dresser said. 'But at the same time, I also know there's rules, and if they didn't follow the rules, there's going to be penalties.'
Dresser was asked to comment about last week's news that 41 student-athletes at Iowa State and Iowa are being investigated for allegations of sports gambling. Iowa State confirmed that 'approximately 15' student-athletes from football, wrestling and track and field might have violated NCAA rules. At Iowa, 26 athletes from baseball, football, men's basketball and men's track and field had been flagged.
'I'm not saying any more than what we've already said,' Iowa State athletics director Jamie Pollard said.
Iowa State's comment in last week's statement acknowledging the investigation was that 'the university has notified the NCAA and will take the appropriate actions to resolve these issues.'
The NCAA suspended a Virginia Tech football player six games last fall for gambling on NBA basketball games, which broke an NCAA rule that prohibits college athletes from gambling on most sporting events, college or pro.
'We'll just deal with whatever comes our way,' Iowa State football coach Matt Campbell said. 'I really don't know a whole lot. What we do know, I don't know if it has a profound effect one way or another.
'It's part of college athletics in today's world. You deal with rules and regulations and move forward. We'll be ready for whatever comes our way.'
Like all coaches and athletics administrators, Dresser is a staunch advocate for athletes. Some of the rules they're forced to follow, he said, just don't seem fair.
'At the end of the day, will there be some that probably sit out a little bit? Yeah, there probably will be. I also look at it in the big scheme of things. These guys didn't assault anybody. These guys didn't get a drunk driving (offense). It's another example that Division I athletes are held to a different standard than the average college student.
'It sure would be nice, sometimes, if our athletes could just be college students.'
It is unknown if the investigation is just among some athletes at Iowa's flagship universities, or if it's national.
'There's obviously a state organization out there that, for whatever reason, they just felt like they were going to knock on guys' doors and show up and take their phones,' Dresser said. 'It's like OK, when are the Pennsylvania people going to show up? When's the Ohio people going to show up? When's the Florida people going to show up? Is this just an Iowa thing?'
Regardless, Dresser has to deal with the reality that some of his wrestlers could miss part of next season.
'The NCAA has a rulebook, as antiquated as it might be on this subject,' he said. 'Then you start playing the appeal game, the waiver game, and see what number you end up at.
'At the end of the day, I'm guessing there's guys that'll sit out. We'll sort that out as it comes.'
Dresser reiterated his stance that placing a bet on an NFL or NBA game doesn't seem like a serious offense.
'There's a lot of college kids that are doing it,' Dresser said. 'It's an example of Division I athletes wanting to be college kids, and you can't be college kids in this day and age if you're a Division I athlete. That's the long and short of it.'
Reach Iowa State columnist Randy Peterson at rpeterson@dmreg.com, and on Twitter @RandyPete.
This post appeared first on USA TODAY