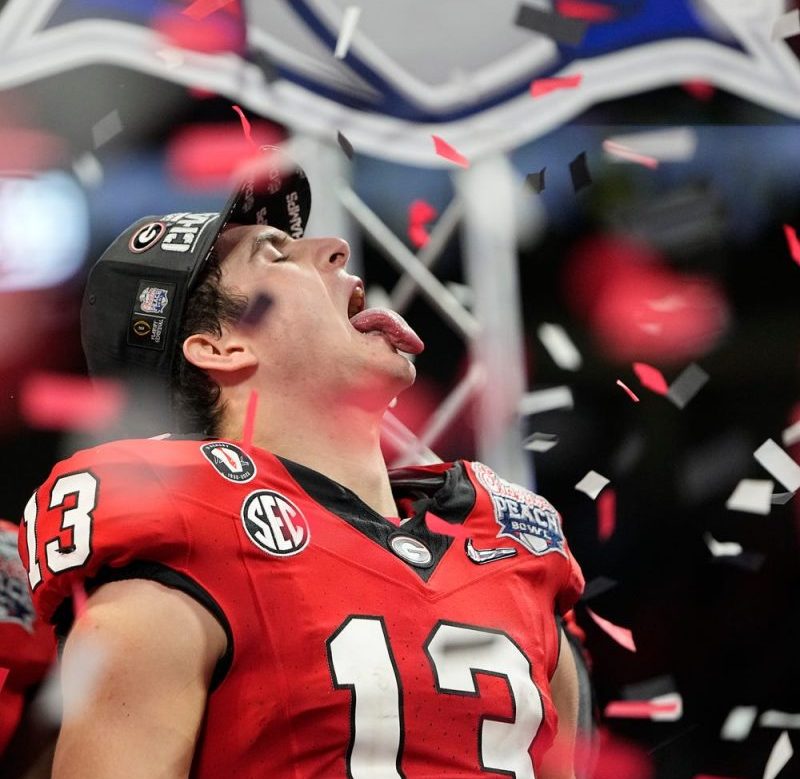 Former Ohio State QB takes shot at Stetson Bennett's graduation status
Former Ohio State quarterback Cardale Jones has turned his most-famous tweet into another viral moment.
In 2012, Jones, who led the Buckeyes to the 2014 national championship, posted: 'We ain't come to play SCHOOL.' And now he has quote-tweeted a report that former Georgia quarterback Stetson Bennett did not graduate this spring after being selected in the fourth round of the NFL draft by the Los Angeles Rams.
'Buddy definitely wasn't playing school,' Jones tweeted Sunday.
Bennett redshirted his freshman season at Georgia in 2017, the same year Jones graduated from Ohio State. Bennett then transferred to Jones College for one season before returning to the Bulldogs in 2019 and becoming their starting quarterback in 2020. He led Georgia to back-to-back national championships in 2021 and 2022.
That means he spent six years in college.
According to Bennett's bio on the Bulldogs' website, he was a Learning Design and Technology major in the Mary Frances Early College of Education.
Bennett's name was not listed in the university's 2023 spring commencement program. He was also not included in a picture of Georgia football graduates after the winter semester in 2022.
The school has yet to respond to a question as to whether Bennett had earned a degree.
Bennett, a 2022 Heisman Trophy finalist who finished fourth behind Alabama quarterback Bryce Young, TCU quarterback Max Duggan and Ohio State quarterback C.J. Stroud, finished his college career with 8,429 passing yards, 80 touchdowns and 21 interceptions.
This post appeared first on USA TODAY