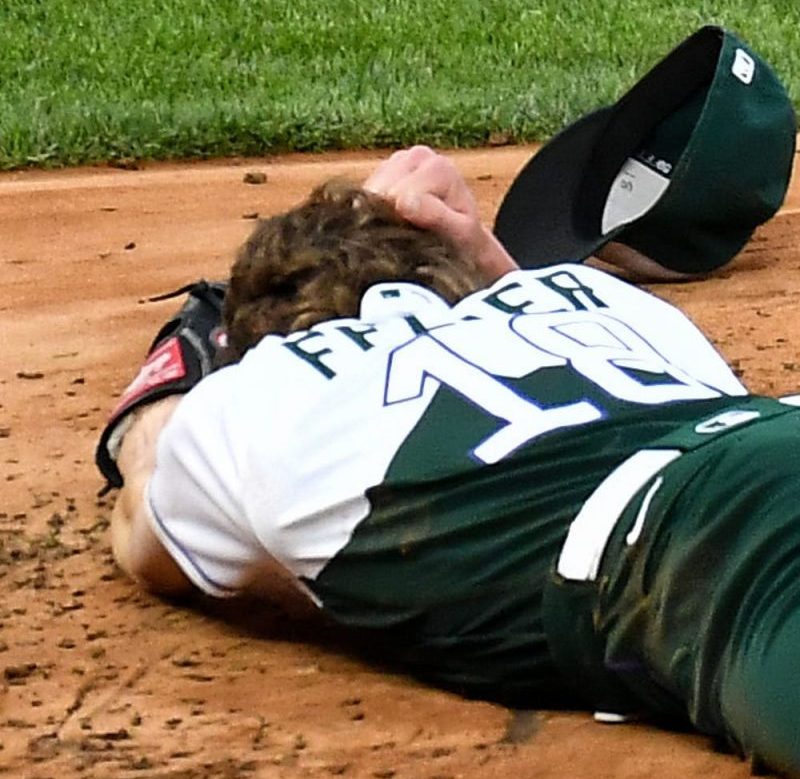 Rockies pitcher has skull fracture after line drive to head
DENVER (AP) — Colorado Rockies pitcher Ryan Feltner has a skull fracture after being struck in the head by a line drive in the second inning against the Philadelphia Phillies on Saturday, the team announced.
Feltner was placed on the 15-day injured list after spending the night at a hospital.
Nick Castellanos lined a 1-0 slider back to the mound at 92.7 mph. The ball went off the back right side of Feltner's head. The right-hander immediately collapsed to the ground as the ball deflected to first baseman C.J. Cron. Castellanos was safe with a single.
Feltner didn't appear to lose consciousness. He lay on his stomach and was squinting his eyes as two members of the Colorado training stuff sprinted to the mound. With the crowd hushed, Feltner eventually sat up, then got to his feet with catcher Elias Diaz standing next to him.
The 26-year-old Feltner walked off with the assistance of two staff members as the fans at Coors Field applauded.
Follow every game: Latest MLB Scores and Schedules
Castellanos, who appeared shaken in the clubhouse after the game, said he was in touch with Rockies players to check on Feltner's status.
'There was a part of me that wanted to go to the mound, but I guess the baseball player takes over and you run to first,' Castellanos said when asked his initial reaction. 'As soon as I touched first I turned around and was really hoping what just happened didn't happen.'
STAY UP-TO-DATE: Subscribe to our Sports newsletter now!
Feltner had walked four in a 40-pitch first inning that saw the Phillies take a 4-0 lead. After retiring the first two batters in the second, he gave up a double to Bryce Harper before Castellanos came to the plate.
Feltner was a fourth-round pick of the Rockies in 2018. He entered the game with a record of 2-2, with 33 strikeouts in 35 1/3 innings.
Phillies slugger Bryce Harper noted Castellanos didn't get all of the pitch.
'It's terrible. I'm just thankful that Nick didn't really square up the baseball the best he could,' Harper said. 'We're all wishing him the best.'
Diaz said it was tough to continue to play. Black said he addressed the team after the game.
'We're human,' Diaz said.
Added Castellanos: 'A lot of remorse, concern, worry. I don't know, I've turned into a softy since I had kids. I don't like stuff like that.'
This post appeared first on USA TODAY