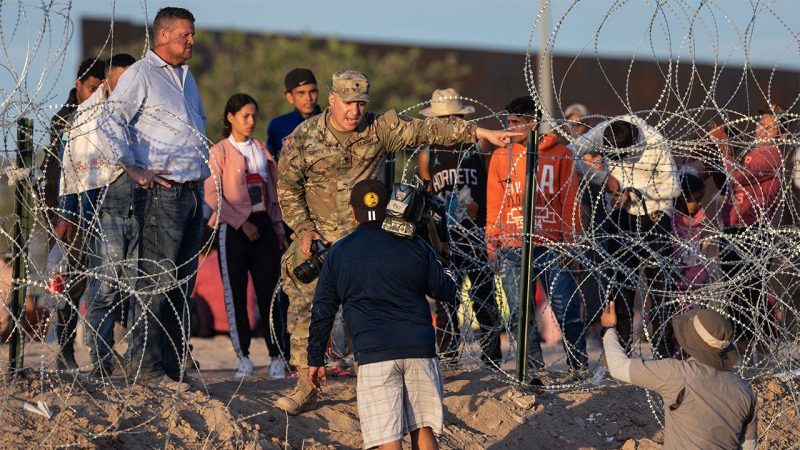 Texas Rep. Tony Gonzales says his office has become a 'mini FEMA' ahead of Title 42 expiration
Rep. Tony Gonzales, R-Texas, warned the 'the worst is ahead' for the intensifying migrant crisis, as districts border-wide brace for the multitude of migrants surging the U.S. after the expiration of Title 42. 
'Many of my cities have declared a state of emergency,' Gonzales said during in an exclusive interview with Fox News Digital Thursday. 'Basically, my office is turned into a mini FEMA office… Everybody is inundated at the same time. So that's why I've been in constant communications with my local leaders to go, You tell me what you need when you need it, so that way I can go to the highest levels and advocate for the things that you need.'
The House of Representatives passed legislation Thursday that would increase border security amid the expiration of Title 42 — the pandemic-era policy that allowed the immediate expulsion of migrants from America for the past three years — but Gonzales stressed that 'this bill does nothing' without action from the Biden administration.
'It doesn't end with 218 votes in the House. It's only the start,' Gonzales said of the House bill. 'This ends when the President of the United States signs a bill into law that incorporates border security and has some immigration reform applications in there.'
The Texas congressman also revealed that House Republicans reportedly removed language from the bill that would have labeled the cartel as 'terrorists.'
'This is a part I'm a little disappointed in. I pushed hard to label cartels as terrorists, because that's what they are. And I got a lot of pushback on that. And at the 11th hour, a lot of House Republicans removed the word terrorists. I guess that offends Republicans that we call cartels the terrorists,' Gonzales said. 
'In a district like mine, this bill does nothing,' he told Fox. 'I've been on the phone nonstop to include, with the secretary of homeland security, saying ya know what are the things were some things that I think need to happen today, not ten years from now.'
Gonzales is continuing push for a 14% increase in pay for border patrol agents through the Border Patrol Pay Parity Act, as he seeks to reform the current immigration system. 'The asylum process is completely broken, and it needs to be it needs to be fixed,' the congressman said.
The representative recalled having a 'love hate relationship' with the Biden administration, as congressional Republicans and Democrats clash on ways to manage the crisis at the southern border.
'I think we have a love hate relationship. They know how active I am in the space and how involved I am and also how much my district is a large percentage of the border. They also know when they don't respond, that I'll be the first one to kind of knock them over the head, if you will. 
On Thursday, border patrol agents reported 10,000 migrant encounters for the third day in a row. While there remains a multitude of illegal immigrants make their way into America, Gonzales noted that there has also been an increase in ICE deportations.
'But you know what? There's a lot of coordination. One of the things that I was very happy to see was in the last few days, there's been more ICE flights that sent people back to their country of origin. I know yesterday there was a couple hundred that got sent back to Guatemala. And these were some of the things that I was working on.'
He highlighted making real progress with the administration.
'Last week, I spoke with the president of Guatemala. He was having difficulties connecting with the administration. So yesterday I worked with the administration to connect with the president of Guatemala. And then, yesterday, 200 Guatemalans get flown back to their country of origin. To me, that is moving the ball forward. That's a real tangible thing that is helping kind of secure the border. Some of the political theater that's up here, that's all politics.'
As Title 42's expiration prompted tens of thousands of migrants to journey towards the U.S. in hopes of being allowed entry, Biden sent 1,500 active military troops in an attempt to control the influx of illegal immigrants heading North.
'I spent 20 years in the military, fought in two wars, Iraq and Afghanistan. Our military should be trained to fight and win wars and not do administrative work,' Gonzales said in response to Biden's order. 'I am of the mindset, if you want this crisis to end you, you surge immigration judges to the border, and you have their cases heard in days, not years.'
Gov. Greg Abbot of Texas also deployed the national guard to aid in the border crisis, but Gonzales reiterated his claim that the border crisis needs to be address at a federal level for there to be real change.
'I'm a little mixed. As a Texas resident, we have spent billions of dollars on border security where we could have spent that money on school safety or other things. On the other end, I know the governor is doing everything he possibly can to keep his head above water,' Gonzales said. 'But this is a federal issue, and it can only be solved when the federal government enforces the laws that are already on the books. Anything else is — I don't think it meets the mark. But, you know, I understand whether it's local or state, folks are doing everything they can to alleviate some of the stress.'
This post appeared first on FOX NEWS