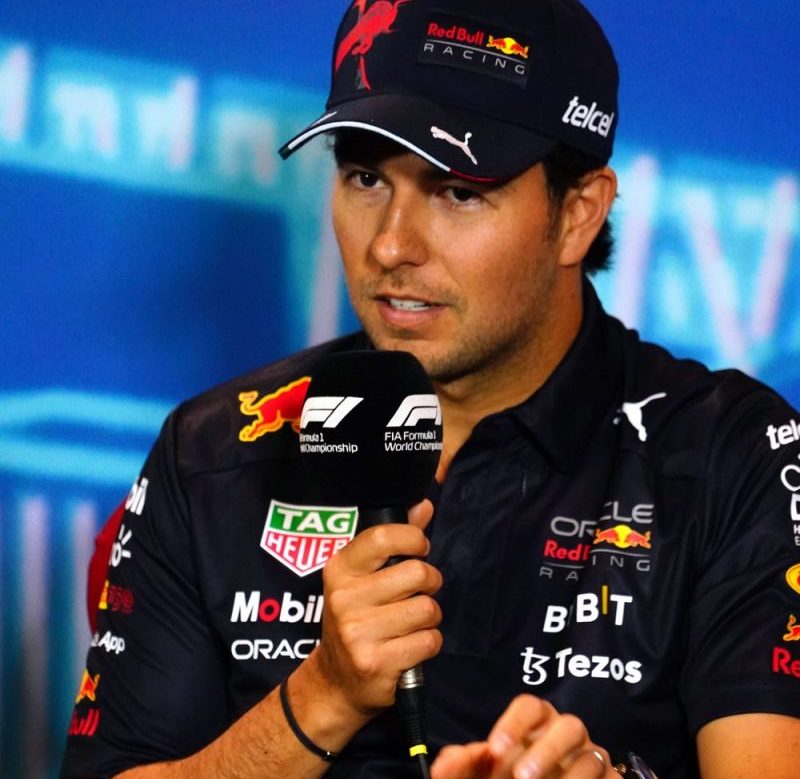 Sergio Pérez speaks on 2023 F1 success, Miami Grand Prix
Sergio 'Checo' Pérez was almost without a seat in the Formula One grid toward the end of the 2020 season, but after his maiden race win at the Sakhir Grand Prix, Red Bull Racing couldn't let him leave the sport and offered him a contract.
Since then, Pérez, known as the 'Minister of Defense' for keeping opponents at bay, helped drive the team to the 2022 constructors championship as teammate Max Verstappen won back-to-back titles.
During the campaign, Pérez won the hallowed Monaco Grand Prix. The victory made him the winningest Mexican driver in the history of the sport.
This season, Pérez is having his best outing yet. He has won two of the season's four races so far and finished second at the Bahrain Grand Prix.
Pérez is not letting himself bask in the glory for long.
'I'm feeling great. It's been going really well so far, so I'm happy,' Pérez told USA TODAY Sports on behalf of ExxonMobil, the official technology partner of Red Bull Racing. 'But I also know that we have to be really on it and now the target is to win this weekend.'
Pérez speaks on growth of F1 in United States
This weekend is the Miami Grand Prix. Pérez finished fourth in the race's inaugural event last year and said he's staying focused on each step of the process, from qualifying to race day.
Miami is special for Pérez because of the strong Latin presence. Nearly 2 million people in Miami-Dade County identify as Hispanic or Latino, making up 72 percent of the population. Cafecito and reggaeton are as much a part of the culture as palm trees and neon lights.
'I love the Latin community here,' Pérez said. 'I really feel like (I'm) in Mexico, I have so many friends, the weather is great and it's great to do exercise outside, so I really enjoy it.'
'I think just the amount of passion there is in the U.S. for the sport is great to see,' Pérez said. 'How much Formula 1 has evolved, how much it has grown, it's just unbelievable.'
Pérez explains Mexico influence in the United States
The race that has been on the calendar the longest is the United States Grand Prix in Austin, which has been going since 2012. Given its proximity to Mexico, the event serves as a second home race for Pérez.
'There's so many Mexicans in the U.S., Latin community and also Americans. So I really feel like home being in the U.S.' he said. 'I really feel like I'm the most supported driver here.'
While Pérez is racing in Miami, his fellow countryman Saúl 'Canelo' Álvarez will be having his homecoming fight against John Ryder in Guadalajara. It is the boxing champion's first match in the historic city since 2011.
Pérez also hails from Guadalajara and even though he doesn't get to chat with Álvarez much because of their busy schedules, he 'is always looking at what he's doing.'
'It would be a very special weekend for Canelo and for my city,' he said. 'It's just a shame that I cannot be there. But yeah, I think it's a weekend that Canelo deserves to enjoy a lot because he's been a great fighter and I'm sure he will enjoy it a lot being back home fighting.'
Pérez will have his own homecoming in October with the Mexico Grand Prix one week after the Austin race. He has been on the podium the past two years, including in 2021 when he was the first Mexican driver to do so.
But there are 16 races until he has the chance to become the first to win at Mexico City's Autódromo Hermanos Rodríguez.
'It's just important we are able to deliver weekend after weekend,' he said.
This post appeared first on USA TODAY