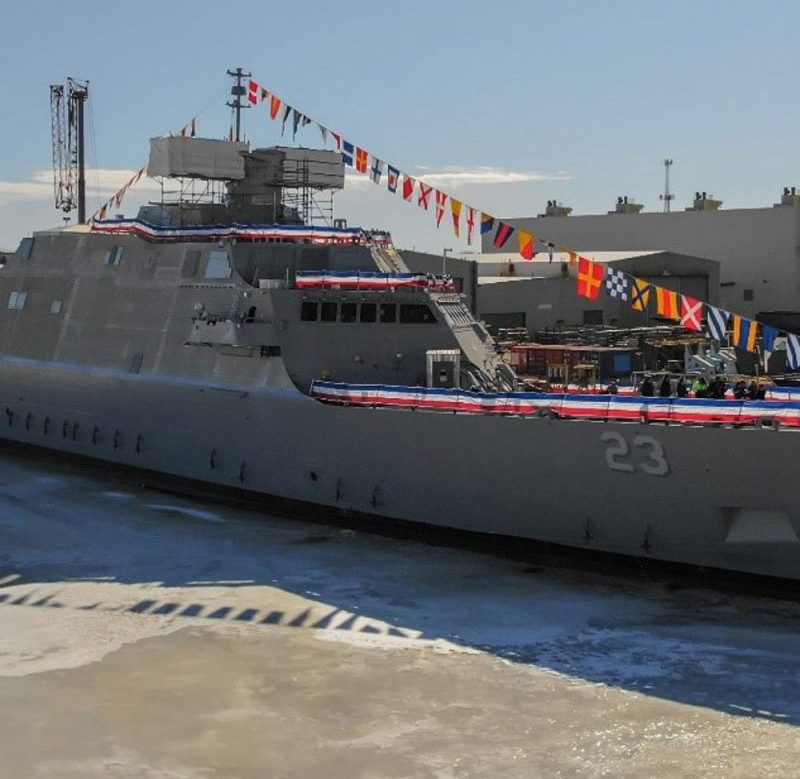 Navy's new warship is salute to Baseball Hall of Fame's veterans
They gave up fame, fortune and the prime of their celebrated baseball careers to serve their country during wartime. 
Hall of Fame outfielder Ted Williams might have broken Babe Ruth's home run record if he hadn't served five years as a Naval pilot in World War II and the Korean War, flying 39 combat missions. 
Pitcher Bob Feller became the first professional athlete to enlist in the Navy immediately after the bombing of Pearl Harbor in 1941, believing his country needed him a whole lot more than Cleveland's baseball team, missing four complete seasons. 
There are 70 Baseball Hall of Famers who served in the military during conflicts that will be honored Saturday in New York City, while celebrating all military veterans, when the USS Cooperstown is commissioned and joins the active fleet as the newest Freedom-variant littoral combat ship. 
"I can't begin to tell you what an honor it's going to be to represent the Hall of Fame,' catcher Johnny Bench, whose father Ted served eight years in the Army, tells USA TODAY Sports. "It will be an amazing, amazing thing. You look at guys like Ted Williams and Bob Feller and Jerry Coleman who gave up all of those years of their careers and lives, to enlist and fight for our freedom.'' 
Follow every game: Latest MLB Scores and Schedules
Third baseman Scott Rolen, who will be inducted into Cooperstown in July with Fred McGriff, originally planned to be in New York for the ceremony with his father, Edward, who served four years as a Naval officer in Vietnam in 1964-1968, but his dad recently was recently hospitalized with a foot infection. 
"Oh man, my dad was so fired up, too,'' said Rolen, whose brother-in-law also served four years in the Navy. "It's just such a cool thing. I just have so much respect for my dad, for the flag, and all of the works, that would be something to see. I know we're going to watch it live-streamed. I mean, USS Cooperstown, that's as cool as it gets. 
"We are definitely going to make a trip to see the ship when it's stationed in Florida. It will be an honor to see it.'' 
Hall of Famer Joe Torre, whose brother Rocco served in the Navy during World War II, will be on hand too wishing his brother was still alive to see the event. 
"This is so important to so many people,' says Bench, who will be accompanied by retired Air Force Lt. General Richard Newton. "There are 19 million living veterans, and we find out there are 22 suicides a day from Vietnam War veterans. There are so many dealing with the mental side, going through the nightmares, and they think there's nobody there for them. They think it's hopeless and they're helpless. 
"This is an opportunity to remind them what they have done for our country, what they mean to us, and that they'll never be forgotten.'' 
My own father, a Naval Academy graduate who became a 20-year Air Force pilot who flew in Vietnam, rarely spoke of his personal experiences, but shared heartbreaking stories of friends who were prisoners of war, struggled upon returning upon home – or didn't come back at all. 
When Feller was honored returning to Cleveland in 1945 after World War II, he said, "The real heroes didn't come home.'
It's remarkable that 20% of the 342 Hall of Famers set aside their baseball career to serve in the military during wartime. Each of the Hall of Famers have a special medallion under their plaque in Cooperstown, designating their branch of service and the conflict they participated in during their military duty. 
The USS Cooperstown will have each of its staterooms named after a Hall of Famer who served in the military with a replica of their plaque on the door. It will feature 27 Navy veterans including everyone from Stan Musial to Larry Doby to Buck O'Neil to Yogi Berra. 
The idea of the plaques on each room actually originated with the Navy after speaking with Hall of Fame chairman Jane Forbes Clark, commanding officer Dax Moore says. He originally chose the room honoring Berra, who was a gunner's mate on the USS Bayfield during the Normandy landings. Now, after being promoted to commanding officer, Moore is in the stateroom honoring Williams. 
"The majority of my crew has been together for two years, and everybody is extremely excited,'' says Moore, who has served 30 years in the Navy, following his father who served 32 ½ years in the Marines. "It's an honor to represent the 70 Hall of Famers who were veterans.'' 
The 112 crew members attended the New York Yankees-Cleveland Guardians game on Wednesday at Yankee Stadium, plan to attend the Mets-Colorado Rockies Game on Sunday at Citi Field, and then it's off to sea. 
The USS Cooperstown's motto: 'America's Away Team.'
"It tells such an incredible and powerful story,'' says Hall of Fame vice president Jon Shestakofsky. "The lessons of sacrifice and service embedded in the game, and embedded in the quality of leadership that we recognize in society, it's a story we're able to tell every day.''  
This post appeared first on USA TODAY