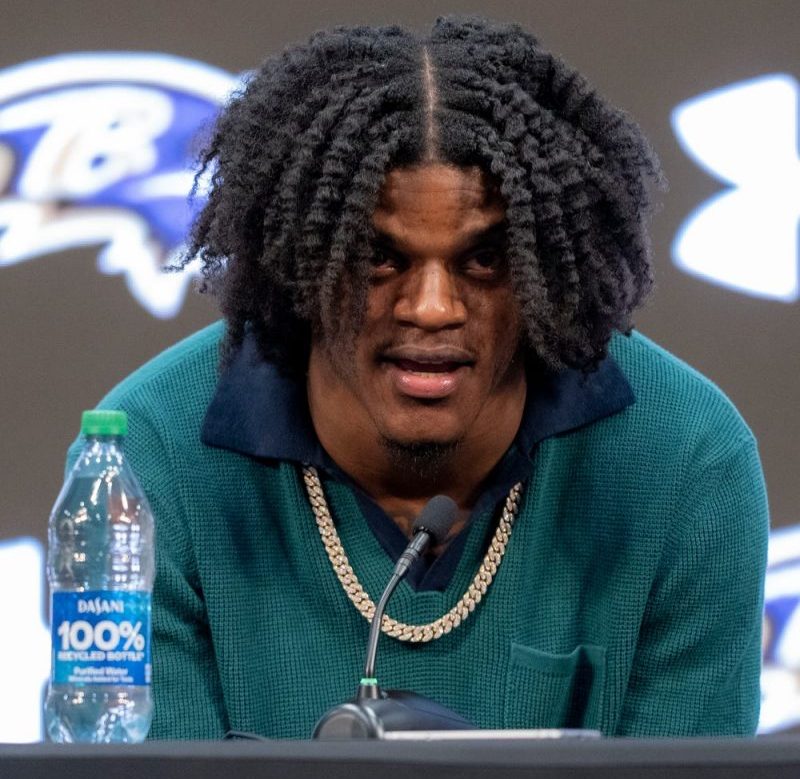 Fully healed Jackson, Ravens revel in QB's record-setting deal
OWINGS MILLS, Md. — The DMs from Baltimore Ravens fans left Lamar Jackson in the dumps.
The content of the social media direct messages he would read wasn't necessarily what upset him. It was the circumstances. He wanted to respond to fans' pleas for him to return, to tell them about the progress being made on what was ultimately a record-setting contract the former MVP quarterback signed with the team.
"I'm like, 'Man, y'all got me sad,'" Jackson said at a news conference Thursday announcing his five-year, $260 million extension that the two sides agreed to a week prior.
But Jackson, who served as his own agent throughout the years-long negotiation, didn't want to spoil anything. He also knew their patience would be rewarded. And soon enough, he would be smiling as the league's highest-paid player by annual average value.
According to multiple reports, Jackson is guaranteed $185 million in the deal. Philadelphia Eagles quarterback Jalen Hurts briefly held the title of highest-paid player in the NFL after agreeing to a five-year, $255 million contract the week before Jackson's deal was reported. Jackson said Hurts' deal had no impact on his deal's timing.
NFL Draft Hub: Latest NFL Draft mock drafts, news, live picks, grades and analysis
"You don't make a phenomenal football player the highest-paid player in the league," Ravens executive vice president/general manager Eric DeCosta said. "You make a phenomenal football player who's a phenomenal person the highest-paid player in the league.'
Throughout the process, Jackson represented himself. He gave credit to his mother, Felicia Jones, who acted as an advisor and helps manage him.
DeCosta and Jackson kept the lines of communication open for what felt like forever, they said. Sometimes, there wasn't much talking.
'We didn't always agree, necessarily,' DeCosta said. 'Otherwise we would have gotten a deal done much sooner.'
Once a week, an agent would hit him up to see if he was interested in their services. The answer was always the same. Jackson said he will continue to represent himself.
'It's a business at the end of the day,' Jackson said. 'If you're going to represent yourself, you got to have a strong mind.'
'It's a grown man thing at the end of the day.'
As talks stalled this offseason, the Ravens placed the non-exclusive franchise tag on Jackson, who could have played on a $32 million deal for the 2023 season. The tag allowed him to speak with other teams, while the Ravens could have received two first-round picks if he left and maintained the right to match any offer sheet. Jackson never signed the Ravens' tender.
'We felt like it was the best thig for Lamar,' DeCosta said of the non-exclusive tag. '(He) had the opportunity to figure out what was important to him. He could have conversations with other teams and coaches and GMs to kind of get a sense of the landscape if he wanted to.'
Teams reached out, Jackson said, but he refused to name them. He was not interested, anyway. Baltimore always was the priority.
A Heisman Trophy winner at Louisville, Jackson was taken by the Ravens with the final pick of the first round of the 2018 NFL draft. Since Jackson took over as a starter halfway through his rookie season, Baltimore is 45-16.
Jackson won the league's MVP award in 2019, his first full season as a starter. He's thrown 101 career touchdown passes and ran for 24 more, with back-to-back 1,000-yard rushing campaigns in 2019-20. Jackson averages 6.1 yards per attempt.
Injuries have cut Jackson's season short in each of the last two seasons, most recently resulting in the quarterback missing Baltimore's playoff run in 2022.
Lamar Jackson's knee injury fully healed
Jackson said he is medically cleared to play from the Grade 2 PCL strain he suffered on Dec. 4 against the Denver Broncos. The injury ultimately ended his season as the Ravens fell in the Wild Card round of the playoffs to AFC North rival Cincinnati.
It wasn't until a month ago, Jackson said, that he returned to full health.
'I had to grind,' Jackson said of his rehab process.
New weapons
Jackson does not care much about individual awards, he said. He does want to throw for 6,000 yards this season, he half-joked, which would break Peyton Manning's record of 5,477 in 2013.
But in 2023, Jackson might have the weapons to help him reach that stratosphere.
The Ravens signed free agent wide receiver Odell Beckham Jr. to a one-year deal last month and selected WR Zay Flowers out of Boston College 22nd overall in this year's draft. Former first-rounder Rashod Bateman will be back from a foot injury that cost him last season. Their presences should be able to free up more space for tight end Mark Andrews, a favorite target of Jackson's in the past.
Follow Chris Bumbaca on Twitter @BOOMbaca.
This post appeared first on USA TODAY