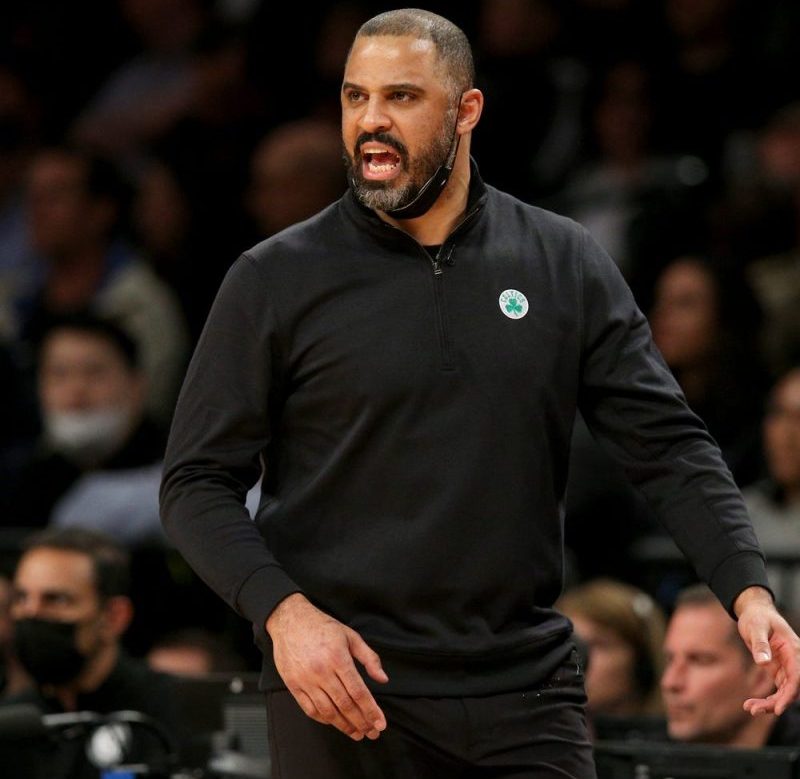 'We're a forgiving world': Rockets welcome Ime Udoka as new coach
New Houston Rockets coach Ime Udoka took responsibility on Wednesday for his violation of team policies that led to his season-long suspension and ultimate dismissal as coach of Boston Celtics after just one season.
'I released a statement months ago when everything happened and apologized to a lot of people for the tough position I put them in,' Udoka said. 'I stand by that and I feel much more remorse even now toward that.
'I spent this last offseason working on myself in a lot of different, different ways, improving in areas. (It was a) chance to sit back, reflect, and grow. And I think that'll make me a better coach and overall a better leader.'
Udoka added: 'That's where you start – with the ownership and accountability. I preach that to the players and so I have to take responsibility for my part in it.'
Udoka did not get into the specifics of what led to his suspension with Boston.
Follow every game: Latest NBA Scores and Schedules
Udoka led the Celtics to the Eastern Conference title and an NBA Finals appearance last season. Just before the start of training camp for 2022-23, however, the Celtics suspended Udoka for the entire season for 'violations of team policies,' which included inappropriate workplace conduct. He was let go when the Celtics gave Joe Mazzulla a contract extension Feb. 16.
Udoka said he took leadership and sensitivity training and attended counseling sessions with his son 'to help him improve the situation that I put him in.' 
Rockets owner Tilman Fertitta and general manager Rafael Stone said the franchise did its due diligence and conducted its own background check into Udoka. They declined to say if they had access to the investigation conducted by the Celtics.
'It's important for me to feel good when I have questions and I get honest answers,' Fertitta said. 'The NBA told me they feel comfortable with Ime becoming coach of the Houston Rockets.'
Fertitta said he believes in second chances.
'We're a forgiving world, and anybody that isn't forgiving then shame on them,' he said.
Fertitta said he received a 'glowing report' on Udoka.
'What we like about him is his ability to coach a basketball team, and that he's going to hold these guys to toughness, respectability, accountability, and, and it's everything how I like run a business.'
In his one season with the Celtics, Udoka was 51-31 and earned a reputation for being a no-nonsense coach who got players to buy into his offensive and defensive philosophies. He wasn't afraid to confront players or call out their mistakes, but he also earned their respect with his basketball acumen.
The Rockets have some potential in young players Jalen Green, Alperen Sengun, Jabari Smith Jr. and Kevin Porter Jr., who was the only Rockets player in attendance at Udoka's introductory news conference.
Houston, along with Detroit and San Antonio, also has the best chance of winning the draft lottery and getting the No. 1 pick in the June draft.
'I think Ime really aligns with me and the way I view the world and I view basketball,' Stone said.
This post appeared first on USA TODAY