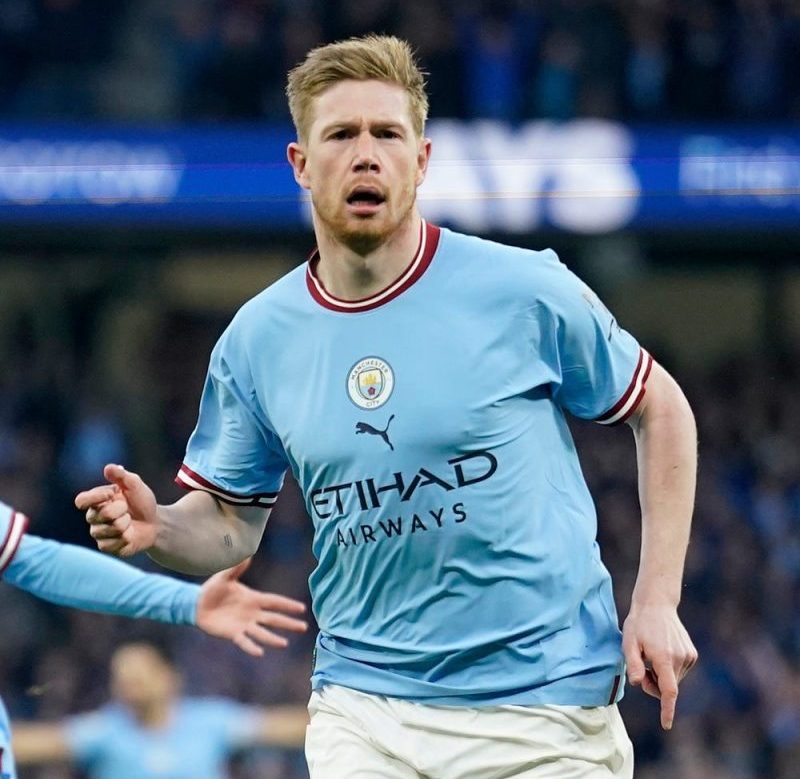 Man City crushes Arsenal to take over Premier League title race
Manchester City routed first-place Arsenal, 4-1, on Wednesday, seizing control of the English Premier League title race after months of pursuit.
Kevin De Bruyne scored twice for City in a totally one-sided game at the Etihad Stadium that saw Arsenal on their heels from kickoff, and Erling Haaland's 33rd goal of the season set a new Premier League record for a 38-game campaign.
The victory pulled the defending champions within two points of the leaders, but City (seven games remaining) has played two less games than Arsenal (five remaining) and have room for error the rest of the way. 
De Bruyne opened the scoring just seven minutes in, a stellar solo goal after picking the ball up near midfield from Haaland. The Belgian drove through the Arsenal defense on the counter-attack and slotted home a low shot past Aaron Ramsdale, who probably could have done better to make a save.
Haaland had several big chances in the first half but John Stones made it 2-0 in the 46th minute, heading home off a free kick from De Bruyne. The goal was initially called off, but VAR found that Stones had been onside by a narrow margin, giving City a a two-goal lead heading into halftime. De Bruyne scored City's third in the 54th minute to put the game out of reach.
Defender Rob Holding netted a late consolation goal for Arsenal before Haaland's record-setting 33rd of the campaign restored City's three-goal cushion.
While Manchester City controls its own destiny, the team has a crowded schedule over the next month with two UEFA Champions League semifinal matches against Real Madrid in May in addition to the seven Premier League contests.
Arsenal has been in first first place for all but one match day since August but were held to draws in their previous three games, opening the door for Wednesday's season-shifting loss.
Premier League standings through Wednesday
Arsenal (33 games played): 75 pointsManchester City (31 GP) : 73 pointsNewcastle United (31 GP): 59 pointsManchester United (30 GP): 59 pointsAston Villa (33 GP): 54 pointsLiverpool (32 GP): 53 points, +22 goal differenceTottenham (32 GP): 53 points, +7 GDBrighton & Hove Albion (30 GP): 49 points
Remaining Premier League schedules
Manchester City 
April 30 at FulhamMay 3 vs. West HamMay 6 vs. Leeds UnitedMay 14 at EvertonMay 21 vs. ChelseaMay 24 at BrightonMay 28 at Brentford
Arsenal
May 2 vs. ChelseaMay 7 at Newcastle UnitedMay 14 vs. BrightonMay 20 at Nottingham ForestMay 28 vs. Wolverhampton
This post appeared first on USA TODAY