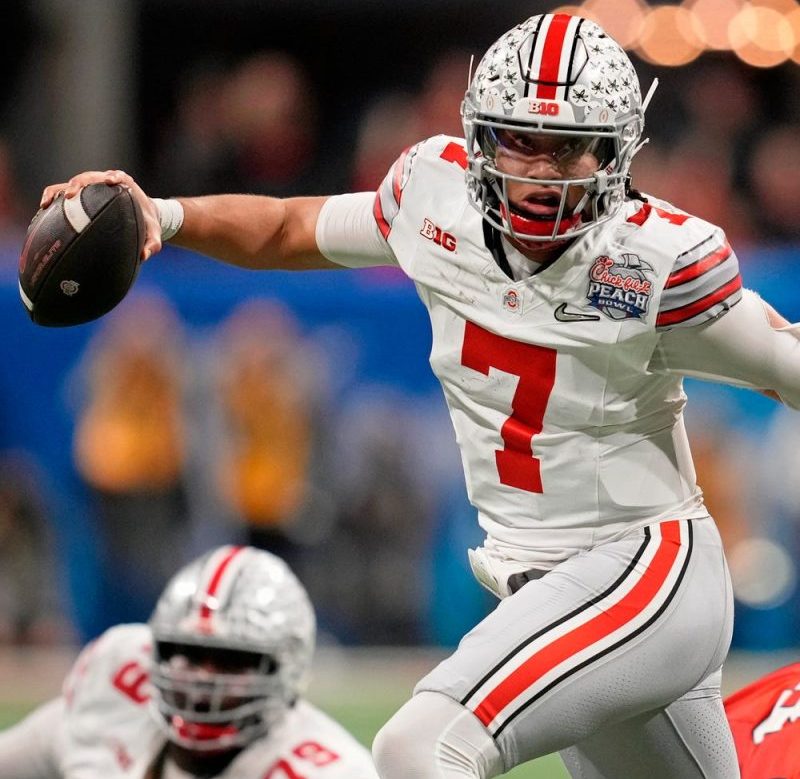 Top QB pushes back on test score reports ahead of NFL draft
Draft stocks can be delicate things, particularly in the week leading up to the NFL draft.
One such player who is seeing that is former Ohio State quarterback C.J. Stroud, who on Wednesday pushed back strongly against questions about his cognitive ability after a report alleged he performed poorly during a test administered by S2 Cognition that measures reaction time.
'It's football, I'm not a test taker,' Stroud told reporters. 'I play football. At the end of the day, man, I don't got nothing to prove to nobody. I'm not going to sit here and explain how I process football. The people who are making the picks know what I can do. That's all that matters to me.
'There are people who know how to coach better, play quarterback better, do everything better on social media but the man in the arena, that's what's tough. I'm going to stand on that. I know what I can do. I know I can process well.'
Stroud added that he has 'all the confidence' and that 'I don't think you can play at Ohio State and not be smart.'
NFL Draft Hub: Latest NFL Draft mock drafts, news, live picks, grades and analysis
What is the S2 Cognition test?
S2 Cognition is a relatively new tool, having been around less than a decade, that NFL teams are using as another data point to evaluate incoming prospects. Initially, S2 Cognition was something used by only a handful of teams, though it has become more widespread in recent years. The company administers a test on a specialized laptop or Xbox gaming console that records reaction times of visual stimuli.
Why has C.J. Stroud's draft stock seemingly been impacted?
A report from Go Long published Friday indicated that Stroud performed poorly in the S2 Cognition test and scored well below former Alabama quarterback Bryce Young. The report, which cited several anonymous NFL executives, also published the alleged scores of several other prospects. The report gained traction and may have even swayed the betting odds of where the top quarterbacks in the draft would end up.
'I'm just very surprised that this has become a topic of conversation,' Ohio State head coach Ryan Day told The Dispatch, part of the USA TODAY Network, on Sunday. 'Of all the things, I just feel like this is one that I've always felt was what makes him special. For this to be something that's a topic of conversation right now is catching me off guard.'
What have executives from S2 Cognition said about the matter?
In an appearance Monday on 'The Pat McAfee Show,' S2 co-founder and director of football Brandon Ally pushed back on the leaked scores and said that he was not able to address specific cases or scores for privacy reasons.
'What I will say is that the list of scores that I have seen, two of those scores are not accurate,' Ally said during the appearance. 'They're not accurate at all.'
Ally added, again declining to speak with specificity, that some of the leaked scores may lack context and may be an early score. For example, he cited a case in which S2 Cognition was asked to administer a test during an all-star game. Ally said the player had a difficult time arriving because of travel delays and the player was in high demand and hungry and tired. The player was frustrated and it was 11 p.m. by the time the test occurred. 
'We knew at that point in time, 'Hey we'll (test) you again,' ' Ally said. ' 'We'll test you at your pro day, your 30 visit.' We did that and his score is significantly higher than what is being reported.'
This post appeared first on USA TODAY