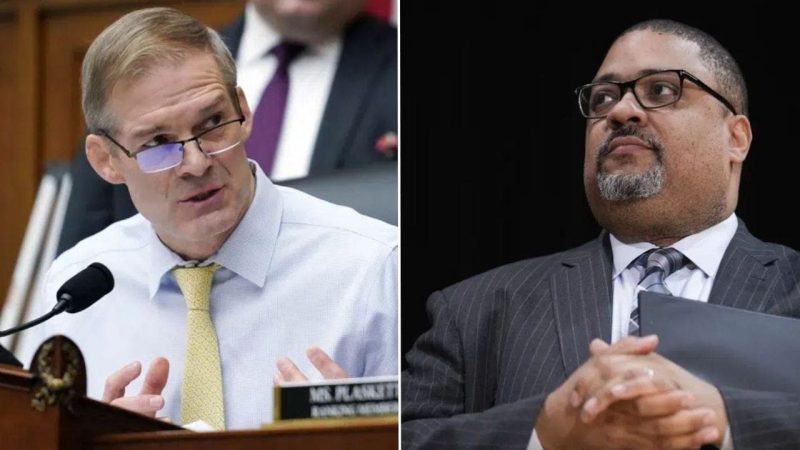 Federal judge rules Jim Jordan can subpoena ex-Manhattan prosecutor who investigated Trump
A federal judge ruled Wednesday that House Judiciary Committee Republicans can question a former Manhattan prosecutor about the criminal case against former President Trump, saying Manhattan District Attorney Alvin Bragg does not have a legal basis to block the congressional subpoena.
U.S. District Judge Mary Kay Vyskocil rejected Bragg's request for a temporary restraining order and injunction after Chairman Jim Jordan issued a subpoena to former prosecutor Mark Pomerantz last week. 
Bragg almost immediately appealed the ruling and sought a stay of the decision.
Bragg had filed a federal lawsuit against Jordan, alleging that the Republican lawmaker is trying to wage a campaign of intimidation over his prosecution of former President Donald Trump. 
But the judge on Wednesday ruled that the subpoena was issued with a valid legislative purpose.
'In our federalist system, elected state and federal actors sometimes engage in political dogfights,' Vyskocil's filing states. 'Bragg complains of political interference in the local DANY case, but Bragg does not operate outside of the political arena. Bragg is presumptively acting in good faith.'
'That said, he is an elected prosecutor in New York County with constituents, some of whom wish to see Bragg wield the force of law against the former President and a current candidate for the Republican presidential nomination,' the judge stated.
'Jordan, in turn, has initiated a political response to what he and some of his constituents view as a manifest abuse of power and nakedly political prosecution, funded (in part) with federal money, that has the potential to interfere with the exercise of presidential duties and with an upcoming federal election,' the filing states. 
'The Court does not endorse either side's agenda,' the filing continues. 'The sole question before the Court at this time is whether Bragg has a legal basis to quash a congressional subpoena that was issued with a valid legislative purpose.'
The judge added: 'He does not.'
The judge urged the parties to 'speak with one another to reach a mutually agreeable compromise regarding how the deposition of Mr. Pomerantz will proceed.' 
Reacting to the ruling Wednesday evening, House Judiciary Committee spokesman Russell Dye said: 
'Today's decision shows that Congress has the ability to conduct oversight and issue subpoenas to people like Mark Pomeranz, and we look forward to his deposition before the Judiciary Committee.' 
The ruling comes after Jordan subpoenaed Pomerantz after the unprecedented indictment of former President Trump. 
'We respectfully disagree with the District Court's decision,' Bragg's office said.
Trump pleaded not guilty to 34 counts of falsifying business records in the first degree in criminal court in Lower Manhattan earlier this month. The charges are related to alleged hush-money payments made ahead of the 2016 presidential election.
Bragg, when he took over as district attorney in January 2022, stopped pursuing charges against Trump and suspended the investigation 'indefinitely,' according to a letter written last year by Pomerantz.
Pomerantz and Dunne, who had been leading the investigation under Bragg's predecessor – former Manhattan DA Cyrus Vance – submitted their resignations in February 2022 after Bragg began raising doubts about pursuing a case against Trump.
After Pomerantz resigned, he wrote a tell-all book based on the investigation, which was still ongoing. The book seemingly made the case to charge Trump. 
Before joining the Manhattan District Attorney's office, Pomerantz was of counsel at New York law firm Paul, Weiss, Rifkind, Wharton & Garrison.
Senate Majority Leader Chuck Schumer's brother, Robert Schumer, is a partner at the firm. Pomerantz donated to Hillary Clinton's 2016 presidential campaign.
Earlier this month, Trump was charged in a New York Supreme Court indictment with 34 counts of falsifying business records in the first degree.
Bragg alleged that Trump 'repeatedly and fraudulently falsified New York business records to conceal criminal conduct that hid damaging information from the voting public during the 2016 presidential election.'
Trump has slammed the DA's investigation and the charges as 'Political Persecution and Election Interference at the highest level in history.'
The ruling comes after Jordan held a field hearing in New York City Monday to highlight the rising crime under Bragg's tenure. 
The Associated Press contributed to this report. 
This post appeared first on FOX NEWS