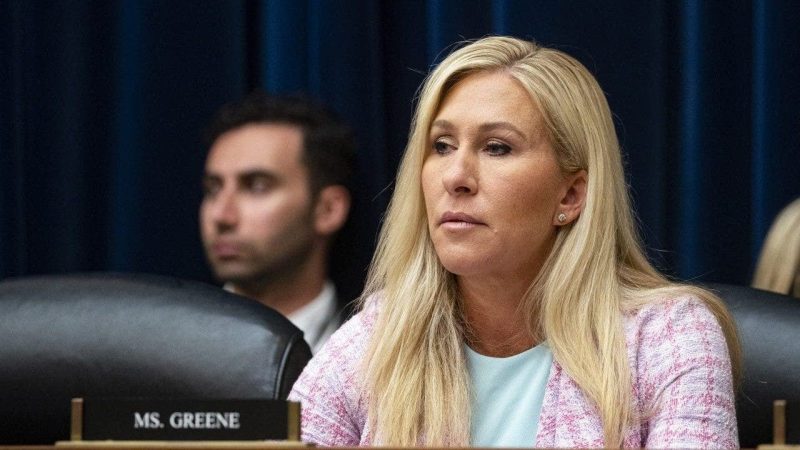 Dems ask for Greene's words to be stricken from record after she brings up Swalwell's Chinese spy scandal
House Democrats tried to have Rep. Marjorie Taylor Greene's, R-Ga., words stricken from the record during Wednesday's Homeland Security Committee hearing after she mentioned allegations of Rep. Eric Swalwell's, D-Calif., past relationship with a Chinese spy.
Department of Homeland Security Secretary Alejandro Mayorkas testified before the Homeland Security Committee to defend the Biden administration's budget proposal. During his questioning of Mayorkas, Swalwell slammed Greene for selling merchandise calling to 'Defund the FBI' and called on lawmakers to 'elevate our rhetoric.'
Greene then brought up Swalwell's former ties to suspected Chinese spy Christine Fang, also known as Fang Fang, which were first reported in 2020.
'That was quite entertaining from someone that had a sexual relationship with a Chinese spy, and everyone knows it,' Greene said. 'But thanks for entertaining—'
Rep. Dan Goldman, D-N.Y., interjected, requesting that Greene's comment be stricken from the record and that she be prevented from speaking any further.
'Completely inappropriate,' Goldman said. 
'A motion has been made,' Mark Green, R-Tenn., the committee's chairman, said. 'The committee will suspend, and the gentleman will state the words that he wishes taken down. ' 
'Everything that the gentle lady from Georgia has said,' Goldman responded.
'No, you need to be more specific,' Green replied.
'Accusations of an affair with a Chinese spy,' Goldman said. 'Those are engaging in personalities, and those words should be taken down, and the gentle lady should not be able to speak anymore in this hearing.'
'The latter part of that is not an appropriate motion,' Green responded, 'but we will evaluate the striking of those words. Give me just a second.'
After giving Greene a chance to retract her comments and her saying, 'No, I will not,' Green ruled that the comments would not be stricken from the record.
Rep. Bennie Thompson, D-Miss., appealed the ruling, saying he was 'appalled' and 'embarrassed' by Greene's words.
The motion was eventually tabled, and Greene was permitted to continue her questioning of Mayorkas.
Swalwell's ties to Fang were first reported by Axios in 2020 and prompted House Republicans to draft a resolution to remove Swalwell from the House Permanent Select Committee on Intelligence, but the resolution was tabled by the Democrats. 
House Speaker Kevin McCarthy later blocked Swalwell from a spot on the committee after Republicans regained power in January.
Axios had reported that Fang targeted up-and-coming politicians, including Swalwell, and that federal investigators alerted Swalwell of Fang's behavior in 2015. Swalwell then cut off all ties with Fang and has not been accused of any wrongdoing, the report said.
Swalwell said on 'The View' in January that he handled the situation properly.
'First and foremost, and you don't have to take my word for it, take the FBI's word for it… when they told me who she… I did everything that I hoped everyone would do, which was to cooperate and help the FBI, and she was removed,' Swalwell said of Fang.
'And Donald Trump, who would later find out about this when he was president, with the greatest access to classified information of anyone who walks the earth, if he could've embarrassed me by showing any wrongdoing, after all the names he's called me, he would've,' he added.
This post appeared first on FOX NEWS