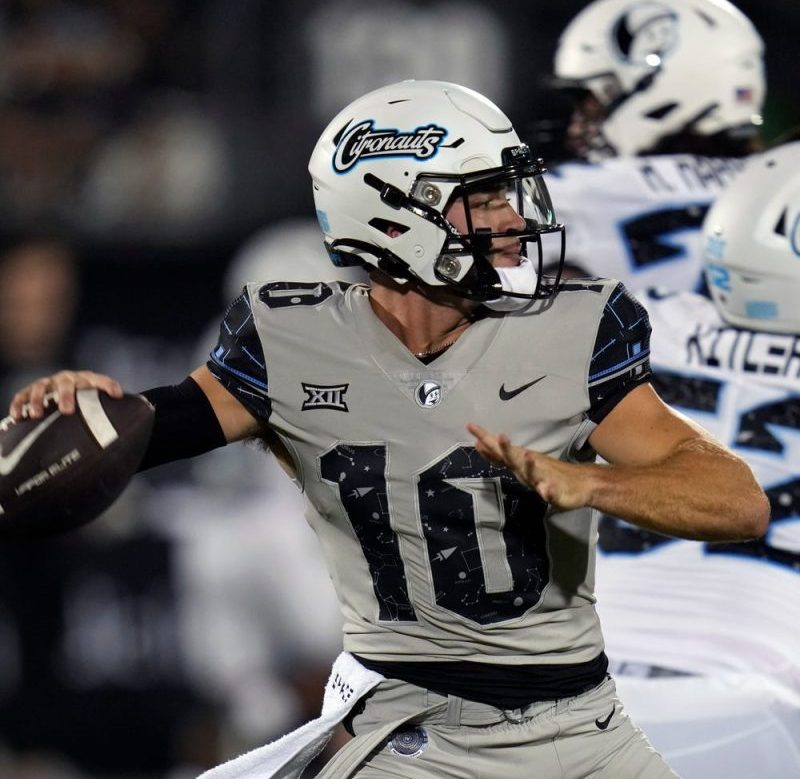 UCF star shines in baseball, football … on the same day
Take THAT, Deion Sanders!
The University of Central Florida's John Rhys Plumlee accomplished something that would make the storied two-sport athlete proud when he starred on both the diamond and the gridiron on Friday.
An outfielder for the UCF baseball team, Plumlee had a pair of hits, including a two-run triple, in the Knights' 12-3 win over Memphis in the afternoon. Then, he hopped in a golf cart, changed uniforms and seven minutes later, he was at FBC Mortgage Stadium for the Knights' annual spring football game.
'That's got to be a world record, right? Nobody's ever done it, so it's a world record. Someone write it down,' Plumlee joked, according to the Daytona Beach News-Journal. 'Seven minutes has to be a good time.'
The team's returning starter at quarterback, Plumlee looked sharp by completing 10-of-17 passes for 230 yards and a pair of touchdowns, one of them coming on a 70-yard bomb. 
 'It's something that I'll never forget,' Plumlee said. 'Coach Malzahn, I remember being on the phone with him when I was in the transfer portal and telling him, 'Hey, coach, I want to play football but I also want to play baseball.' He gave me his word. For him to follow through with that, and to go through the lengths he's gone through — and (UCF baseball coach Greg) Lovelady, too — to give me the opportunity to do what I love to do is really special.'
UCF is preparing for its debut season as a member of the Big 12 conference. 
This post appeared first on USA TODAY