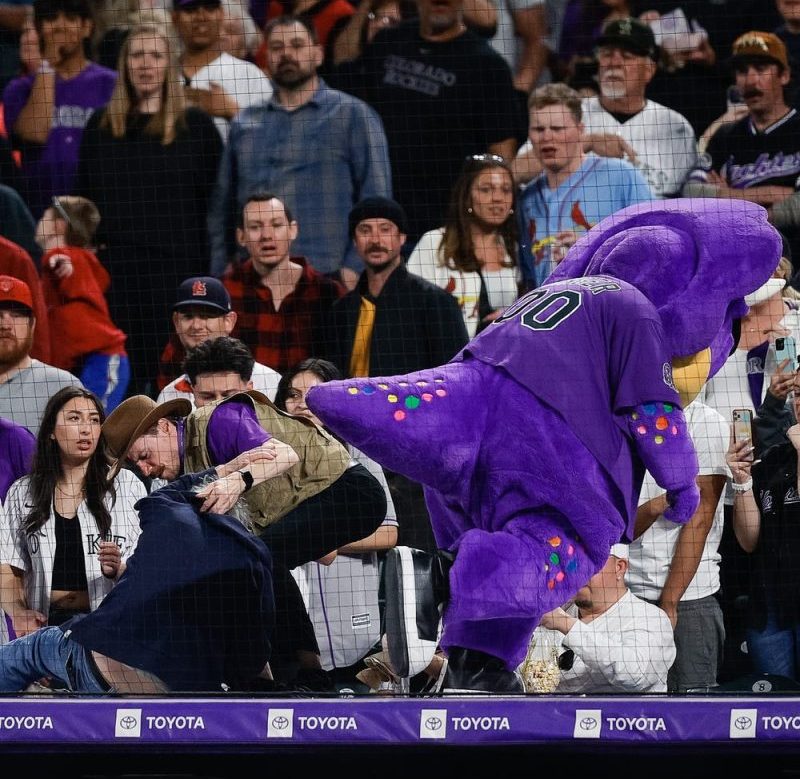 Police investigating after Rockies mascot Dinger tackled on dugout
The Denver Police Department is asking the public for help identifying a suspect who attacked Colorado Rockies mascot 'Dinger' during a recent home game.
The incident occurred Monday night as the Rockies played the St. Louis Cardinals at Coors Field. Dinger was dancing atop the Rockies' dugout when a fan tackled Dinger and brought him down.
The incident is under investigation.
'We're working with the Rockies to try to identify the individual who was involved,'  Denver Police spokesman Doug Schepman said in a statement provided to the Denver Post. 'We're looking at all the available evidence.'
STAY UP-TO-DATE: Subscribe to our Sports newsletter now!
Follow every game: Latest MLB Scores and Schedules
A video of the attack has surfaced on social media. The attacker was wearing a blue jacket at the time of the incident. Denver Police are deeming the attack as an assault case. They are hoping more evidence comes forward to find the attacker.
Police also released a photo of the suspect and anyone with information to contact Metro Denver Crime Stoppers. According to Fox 31 KDVR, any new information could be subject to a potential $2,000 reward.
Dinger has been a part of the Rockies organization since 1994. He is a beloved fan favorite that hypes the crowd during home games.
This post appeared first on USA TODAY