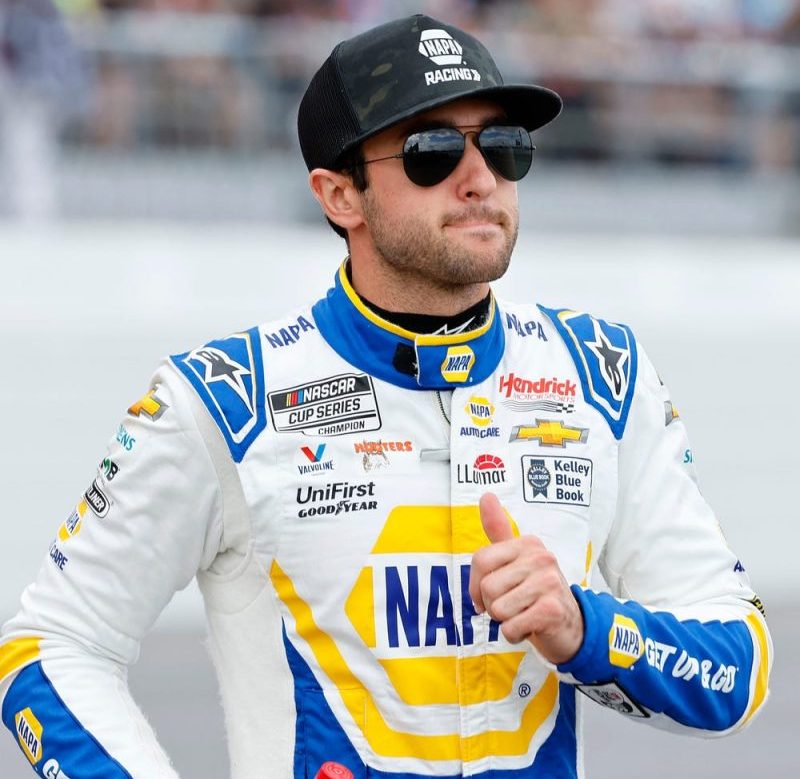 2020 NASCAR champ returns after missing six races due to broken tibia
Chase Elliott expects challenges as he returns to NASCAR Cup Series competition this weekend at Martinsville Speedway but said he wouldn't get back behind the wheel if he didn't feel ready.
The 2020 NASCAR Cup Series champion missed the last six races after surgery on his tibia following a snowboarding accident in Colorado, prior the March 5 race at Las Vegas Motor Speedway. It was an "unfortunate accident," said Elliott, an experienced snowboarder. The former series champion does not have plans to change how he approaches extracurricular activities.
"I had surgery on my tibia in a couple of different places," Elliott said. "I have a few screws in the top of my tibia. It's really knee-located (more) than it is lower leg."
Josh Berry drove the car in Elliott's place on the oval tracks in his absence while Jordan Taylor got behind the wheel for the road-course race at Circuit of the Americas in Austin, Texas.
Elliott said the injury is not uncommon and could have been worse. There were no ACL tears or meniscus injuries. Physical therapy has been standard, and Elliott does not anticipate any additional surgeries if he does not injure it again.
"I don't anticipate it being any different really from a comfort standpoint," Elliott said of his Hendrick Motorsports Chevrolet. "The way you sit in the car and the way I like to sit as it revolves around my leg and knee, all that stuff is really stable and tightly packed in there between the seat, the leg board, the knee knocker. All those things already have your left leg pretty tight, so if I was going to change anything, I would really want that. And that was something the doctors and I talked about, too, coming back in. I think that's a really positive thing, and that was already the case.
"I feel like things are already like I would want them if they weren't. Nothing really special (was done) from the interior standpoint that we worked on this week."
SCHEDULE: How to watch NASCAR Cup Series races in 2023
NEWSLETTER: Sign up to get sports news and features delivered daily
Elliott will continue to work his strength back up, but his bone has healed enough that he won't hurt it returning to competition. With Elliott's doctors comfortable with where he is in his rehabilitation, it was Elliott's decision to return.
Sunday's race at Martinsville Speedway will be 400 laps. Elliott has gone through simulator work this week and felt good.
"I'd be lying if I said it wasn't going to be tough. It'll be tough," Elliott said. "I sat around and was non-weight baring for a number of weeks, so when you're not using a muscle on your body, you lose a large percentage of your muscle mass in just the first couple of weeks. All those things are very normal.
"So, it's going to be tough, for sure, but I feel like I'm at the point where I'm comfortable to go do it."
Elliott knew immediately that something was wrong when he got injured the Friday before the Las Vegas race. While in the emergency room, Elliott said he was "super honest" with team owner Rick Hendrick and crew chief Alan Gustafson about what was happening and telling them they should prepare for someone else to drive the car.
The three-hour surgery took place the same night. Elliott stayed in Colorado for his recovery, where he was when he joined the FOX Sports broadcast remotely for the Circuit of The Americas race on March 26.
NASCAR officials have granted Elliott a waiver for the playoffs should he win a race in the regular season. Winning is Elliott's easiest and likely only path to the postseason, and is what he assumed he'd have to do from the beginning.
Elliott said he hasn't looked at the point standings (he is 34th going to Martinsville). However, a win is all he needs as NASCAR officials changed the playoff waiver eligibility in the offseason, removing the requirement that a driver be in the top 30 in the standings.
"I don't really have the answer to that, honestly, but I think it's going to be tough," Elliott said of getting back into a competitive rhythm off the bat. "What challenges are going to be presented this weekend, I don't 100% know until I get there and get going through it. But anytime you miss a period and your competitors are sharpening their skills, and you're not, yeah, I do think you've missed out for sure.
"The good news is, as Josh (Berry) alluded to, our team is really talented and we've got a great group. I think if we have our ducks in a row and we're prepared, I think we can go and jump in and have a really solid run. That's obviously my goal. We'll just have to get up there and see what the challenges are, what they bring, and whatever it is, we're going to work through it and continue to fight and make the most out of not only this weekend but the weeks to come.
"We're going to have (18 races) to get a win, so we've got plenty of time. We've just got to get after it and execute at a high level, and I think we're very capable of doing that."
Berry will be on standby for Elliott this weekend should he need to get out of the No. 9 Chevrolet.
This post appeared first on USA TODAY