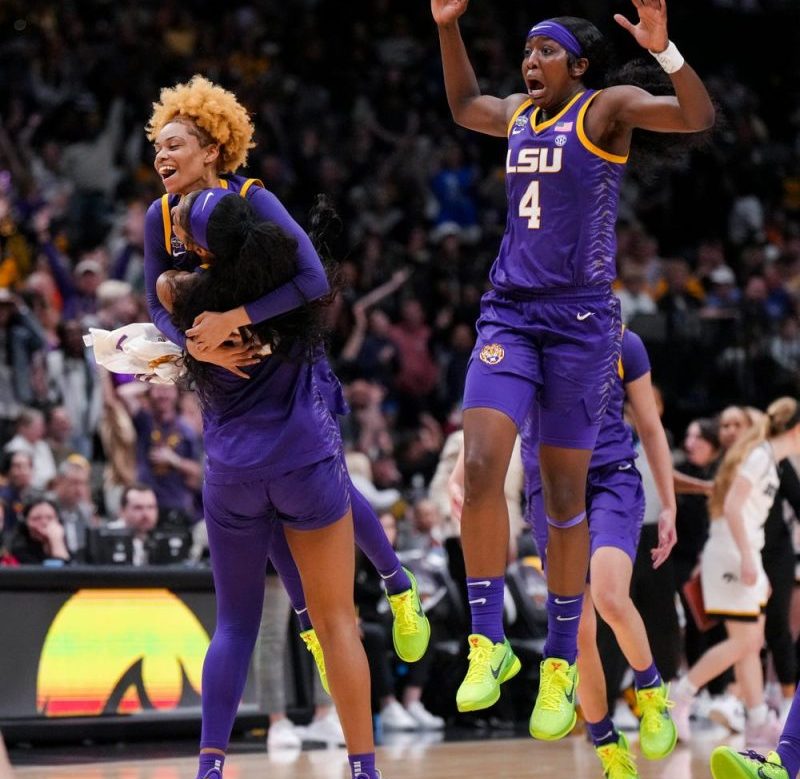 LSU dominates Iowa to win first NCAA women's basketball title
DALLAS — Jasmine Carson has a message for everyone who thought this entire Final Four was supposed to be about a junior guard from Iowa. 
Transfers matter, too. 
Carson, one of nine newcomers for LSU this season, scored 22 points off the bench — in just 22 minutes — and third-seeded LSU rolled to a 102-85 win defeat of Iowa and Caitlin Clark to claim the 2023 national championship. 
It was an astonishing performance for Carson, on her third school after stops at Georgia Tech and West Virginia. She was averaging 8.4 points per game before Sunday and hadn't scored in LSU's three previous tournament victories. But she made 7 of 8 shots from the field and 5 of her 6 attempts from three.
The Tigers, who are in just year two of the Kim Mulkey era, were pretty good, too. LSU won the rebounding battles 36-26, turning 14 offensive boards into 14 second-chance points. They also tied a season high by hitting 11 three-pointers, including eight of their first 11 attempts and shot 54% from the field, leading for more than 34 minutes. 
Follow the madness: Latest Women's NCAA Tournament College Basketball Scores and Schedules
With the win, Mulkey becomes the first coach in the women's game to lead two schools to national championships (she won three at Baylor). One men's coach, Rick Pitino, did the same at Kentucky and Louisville, though the Louisville title was later vacated. Previously, Mulkey became the first person to win titles as a coach and player. 
Clark started hot for Iowa, going 4-of-4 and scoring 14 points in the first quarter. But she was mostly cold after that, finishing with 30 points on 9-of-22 shooting.
The 2023 consensus player of the year also had eight assists, and turned the ball over six times. She got in foul trouble in the second quarter, too, and got a technical with 1:03 to play in the third after throwing the ball off the court after Iowa was called for a foul.
LSU built as much as a 21-point lead in the third quarter, and Iowa didn't get closer than seven. Meanwhile, Monika Czinano, Iowa's inside threat, fouled out with 6:25 to play. 
Reese was also in foul trouble early for LSU, but finished with 15 points and 10 rebounds, her 34th double-double. The All-American recorded double-doubles in all but two games this season. Alexis Morris scored 21, LaDazhia Williams had 20 points and Flau'jae Johnson chipped in 10. 
This post appeared first on USA TODAY