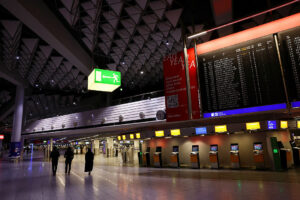 Travel disruption hits Germany amid largest strike in decades
BERLIN/FRANKFURT — Airports and bus and train stations across Germany were at a standstill on Monday morning, disrupting millions of commuters and travelers at the start of the work week during one of the largest walkouts in decades in Europe's largest economy.
The 24-hour strikes called by the Verdi trade union and railway and transport union EVG were the latest in months of industrial action that has hit major European economies as higher food and energy prices dent living standards.
Two of the country's largest airports, Munich and Frankfurt, suspended flights, while long-distance rail services were cancelled by German rail operator Deutsche Bahn DBN.UL.
The Verdi union is negotiating on behalf of around 2.5 million employees in the public sector, including in public transport and at airports, while railway and transport union EVG negotiates for around 230,000 employees at railway operator Deutsche Bahn and bus companies.
Frank Werneke, head of the Verdi labor union, who spoke of the largest strike in decades, said the labor action was a matter of survival for millions of workers amid high inflation, according to the Bild am Sonntag newspaper.
German consumer prices rose more than anticipated in February — up 9.3% from a year earlier — as cost pressures remained even as the European Central Bank has been trying to tame them with a series of interest-rate increases.
EVG chairman Martin Burkert told the Augsburger Allgemeine newspaper's Monday edition that employers had not yet made a viable offer and warned that further warning strikes were possible, including over the upcoming Easter holiday period.
Deutsche Bahn on Sunday said the strike was "completely excessive, groundless and unnecessary," and employers are warning that higher wages for transport workers would result in higher fares and taxes to make up the difference. — Reuters