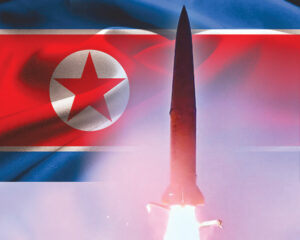 North Korea fires missiles as US aircraft carrier set to arrive in South
SEOUL — North Korea fired two short-range ballistic missiles into the sea off its east coast on Monday morning, South Korea's military said, the latest in a series of launches as a US aircraft carrier is set to arrive in South Korea.
The missiles were fired from North Hwanghae province at 7:47 a.m. (2247 GMT on Sunday) and flew about 370 kilometers (230 miles), South Korea's Joint Chiefs of Staff (JCS) said.
Both missiles appear to have landed outside Japan's exclusive economic zone, the Japanese government said.
Monday's launches came as the US aircraft carrier USS Nimitz and ships from its accompanying strike group are scheduled to dock at a South Korean naval base in the southeastern port city of Busan on Tuesday.
Before its arrival, the carrier was to stage joint maritime exercises with South Korean forces on Monday off the Korean peninsula's south coast, South Korea's defense ministry said.
The carrier's planned visit, which marks the first since the USS Ronald Reagan visited in September, was arranged as part of efforts to have more US "strategic assets" in the area to deter North Korea, the ministry said.
South Korea's military "strongly condemned" the North's repeated missile launches as a grave provocation violating United Nations Security Council resolutions, and called for an immediate halt.
"We will keep a close eye on North Korea's various activities and maintain firm readiness posture based on the capability to overwhelmingly respond to any provocations," the JCS said in a statement, adding that it would continue military drills with the US as planned.
The Japanese government lodged a "strong protest" with North Korea, saying its missile launches threaten the safety and peace of Japan, the region and the international community.
US Indo-Pacific Command said the latest launches did not pose an immediate threat to US personnel or their allies. But the missiles highlight the destabilizing impact of Pyongyang's unlawful weapons of mass destruction and ballistic missile programs, it said in a statement.
North Korea has been ramping up its military tests in recent weeks, including the firing of multiple cruise missiles on Wednesday that Pyongyang said was aimed at practicing tactical nuclear attacks.
Japanese Chief Cabinet Secretary Hirokazu Matsuno said North Korea was likely to step up provocative activities, including a possible nuclear test.
US and South Korean officials have for nearly a year warned the North could carry out what would be its first nuclear test since 2017.
On Friday, North Korea said it had tested a new nuclear-capable underwater attack drone, as leader Kim Jong Un warned that joint military drills by South Korea and the US should stop.
The allies concluded their regular springtime exercises, called "Freedom Shield 23," last week, but have other field training continuing, including amphibious landing drills involving a US amphibious assault ship, and the exercises with the US carrier.
Pyongyang has long bristled at the allies' drills, saying they are preparation for an invasion of the North.
South Korea and the United States say the exercises are defensive. — Reuters