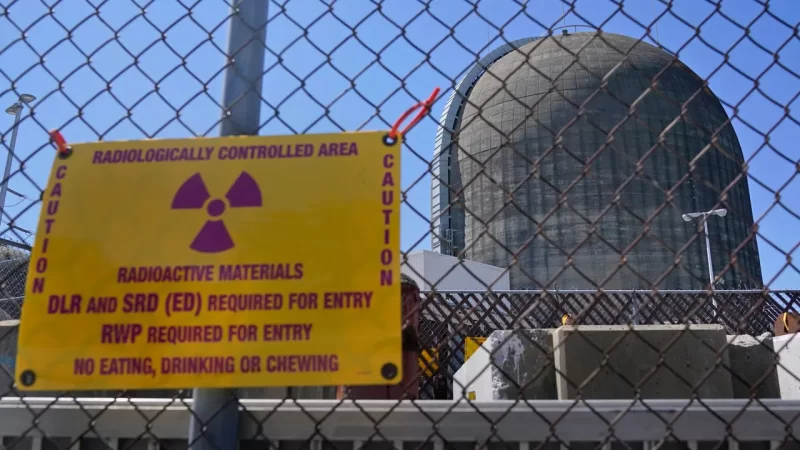 US regulators delay decision to license New Mexico nuclear facility
U.S. regulators say they need more time to wrap up a final safety report and make a decision on whether to license a multibillion-dollar complex meant to temporarily store tons of spent fuel from commercial nuclear power plants around the nation.
The Nuclear Regulatory Commission issued a new schedule Monday, citing unforeseen staffing constraints. The agency was initially expected to issue a decision by the end of March. It will now be the end of May.
The announcement comes just days after New Mexico approved legislation aimed at stopping the project. It's expected that supporters of the storage facility will take the fight to court, but New Mexico Gov. Michelle Lujan Grisham on Tuesday asked the NRC to suspend its consideration of the license application.
New Jersey-based Holtec International already has spent an estimated $80 million in its pursuit of a 40-year license to build and operate the complex in southeastern New Mexico. Company officials said Tuesday that the delay in licensing would have only a minimal impact on the original timeline.
'With a project of this complexity, we understand the need for the regulating and licensing authority to have all the time and resources necessary to issue a licensing decision,' Holtec spokesman Patrick O'Brien said in an email.
Holtec, elected officials from southeastern New Mexico and other supporters have been pushing hard to offer what they call a temporary solution to the nation's problem of spent nuclear fuel, which has been piling up at commercial reactors for years.
Since the federal government has failed to build a permanent repository, it reimburses utilities to house the fuel in either steel-lined concrete pools of water or in steel and concrete containers known as casks at sites in nearly three dozen states. That cost is expected to stretch into the tens of billions of dollars over the next decade.
The legislation signed by Lujan Grisham last week requires that the state provide consent for bringing in such radioactive material. Consent from the Democratic governor would be unlikely, as she has argued that without a permanent repository, New Mexico stands to be the nation's de facto dumping ground.
She reiterated her opposition in the letter to NRC Chairman Christopher Hanson.
'Thank you for respecting the state of New Mexico's laws and the voices of our citizens, tribes and pueblos who overwhelming(ly) supported this legislation,' she wrote.
Similar battles have been waged in Nevada, Utah and Texas over the decades as the U.S. has struggled to find a home for spent fuel and other radioactive waste. The proposed Yucca Mountain project in Nevada was mothballed and a temporary storage site planned on a Native American reservation in Utah was sidelined despite being licensed by the NRC in 2006.
That project would have been located on land belonging to the Skull Valley Band of Goshute. Utah's governor at the time — Republican Mike Leavitt — was among those fighting the effort. He and others were successful in getting Congress to amend a defense spending bill, essentially landlocking the site by creating the Cedar Mountain Wilderness and blocking a rail spur that would have delivered casks.
But it was only six weeks later that the NRC issued a license for the project.
ADVOCATES ASK NM COURT TO RECONSIDER ELECTRICITY RATE CASE
Don Hancock with the nuclear watchdog group Southwest Research and Information Center pointed to the Utah case.
'If congressional action doesn't affect NRC decision making, there's no reason to think that New Mexico action has an effect,' he said in an email Tuesday.
Elected leaders in Texas also were unsuccessful in keeping a similar project from being licensed by the NRC in 2021. Integrated Storage Partners LLC's initial plans call for storing up to 5,512 tons of spent fuel and about 254 tons of low-level radioactive waste for 40 years. Future phases could boost that capacity to 44,092 tons of fuel.
Holtec officials are disappointed in the New Mexico legislation and argue that their project is safe, would be an economic boon for the region and would not affect ongoing operations in the Permian Basin, which is one of the world's most productive oil and gas plays.
'Passing a bill that is pre-empted by federal law and will be adjudicated accordingly in the courts is a counterproductive action that inhibits the state's growth in the area of clean energy,' O'Brien said, adding that local support has solidified the company's belief that the project is still viable.
President Joe Biden has received dueling letters from supporters of the project and from Lujan Grisham and others in opposition. The administration has acknowledged the role nuclear power will have to play in reaching its carbon emission goals and earlier this year put up $26 million in grants for communities interested in studying potential interim storage sites.
This post appeared first on FOX NEWS