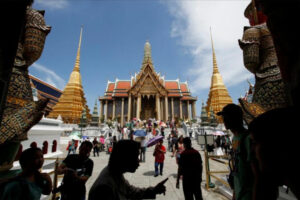 Thai headline inflation eases to 13-month low in February
BANGKOK — Thailand's headline inflation dropped to its lowest rate in 13 months in February and came in below expectations, commerce ministry data showed on Tuesday, helped by easing energy and food prices.
The headline consumer price index (CPI) rose 3.79% in February from a year earlier, compared with a forecast rise of 4.18% in a Reuters poll, and against January's 5.02% increase.
Inflation remains above the Bank of Thailand's target range of 1% to 3%, suggesting the central bank will raise its key interest rate again at its next meeting on March 29 as it attempts to get inflation back within target.
The central bank has raised its policy rate by a total 100 basis points since August to 1.50% to contain price pressures.
The core CPI, which excludes fresh food and energy prices, rose 1.93% in February from a year earlier, less than a forecast increase of 2.10% in the poll and against January's 3.04% rise.
Senior commerce ministry official, Wichanun Niwatjinda, said inflation is expected to be below 4% in the first quarter, due to a high base last year.
In 2022, headline inflation hit a 24-year high of 6.08%, with the core rate at 2.51%.
"We expect inflation in March to slow down or stay close to this month's (February) level. It should not be much higher or lower than this," Wichanun told a news conference.
Besides the falling energy and food prices, interest rate increases had also slowed consumer spending and investment in some areas, he said, adding inflation could drop close to zero or contract in the second half of the year if oil prices fall sharply.
The ministry, however, is maintaining its forecast for headline inflation at 2% to 3% this year for now. — Reuters