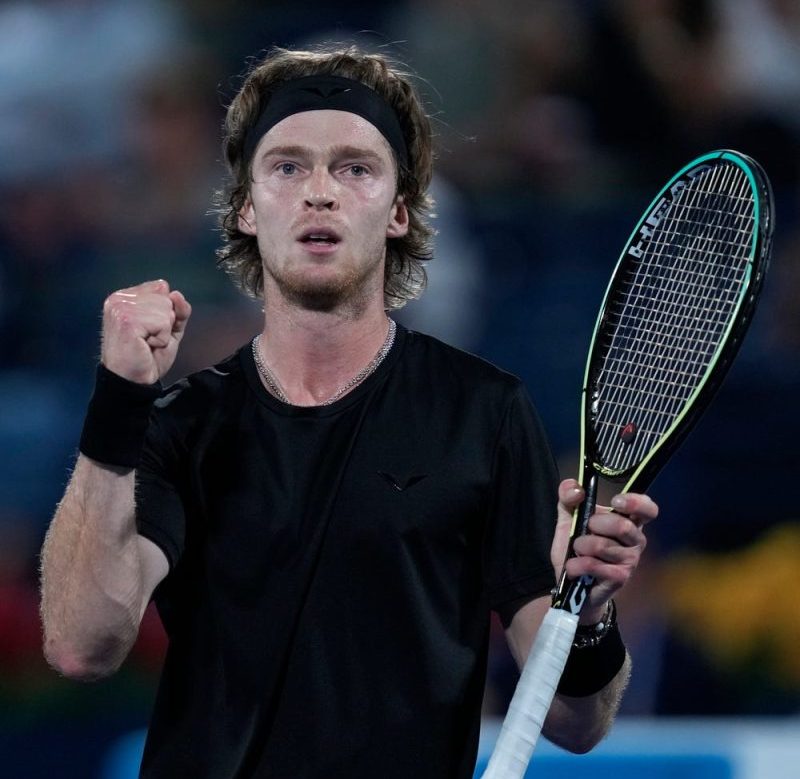 Andrey Rublev calls for peace ahead of all-Russian tennis final Final in Dubai
Andrey Rublev will defend his Dubai Tennis Championship title against Daniil Medvedev in an all-Russian final on Saturday. 
No. 6 Rublev beat No. 16 Alexander Zverev 6-3, 7-6 (9) in the semifinal match on Thursday to advance to his second consecutive final in Dubai. After winning the match, Rublev used the limelight to again call for peace amid Russia's invasion of Ukraine.
'You cannot act like nothing is happening because it's horrible. It's crazy that so many just normal citizens are suffering and dying,' Rublev, 25, told reporters. 'The only thing I hope that soon there is going to be peace in every country. It doesn't matter where."
PLEA FOR PEACE: Russian tennis player Andrey Rublev says 'peace, all we need'
Last year, Rublev wrote 'No War Please' on a TV camera lens after advancing to the Dubai Championships final shortly after Russia invaded Ukraine. He pleaded again in November, writing 'Peace, Peace, Peace, All we need' at the ATP Finals.
On Thursday, as the war passed the one-year mark, Rublev wrote, 'Tsoi is alive,' referring to the late Soviet singer Viktor Tsoi, who has become a symbol for change across Eastern Europe.
'He was one artist from a past generation that had huge volume I think on USSR because his voice was really powerful,' said Rublev. 'That was not an easy time. The lyrics that he was writing gave a lot of hope to the people at that time. I just wrote it because I feel that now, at this time, is happening similar things.'
Rublev and Medvedev, along with all Russia and Belarus tennis players, aren't allowed to compete under their country or flag as a result of the war. They were outright banned from participating in last year's Wimbledon tournament. Rublev called it 'tough.'
'It's hard to talk about it because even if you try to just play tennis or something, to stay practicing and stuff, you know it's affecting you,' Rublev added. 
He will compete in the final against No. 7 Medvedev. Rublev has won the two previous matches against Medvedev – ATP Final 6-7 (7), 6-3, 7-6 (7) and Western & Southern Open semifinal 2-6, 6-3, 6-3 – but Medvedev leads the all-time head-to-head 4-2. 
OPINION: Banning Russian players, including No. 2 Daniil Medvedev, from Wimbledon makes no sense
Novak Djokovic loses after making history
Medvedev took out No. 1 Novak Djokovic 6-4, 6-4 in the semifinal on Thursday to advance to the final. Medvedev, fresh off wins in Rotterdam and Doha, snapped  snapped Djokovic's 20-match win streak and extended his own streak to 13.
'When you play against Novak, you just have to play your best, kind of hope that he doesn't play his best,' Medvedev said. 'I managed to play a higher level than him today. In the second set, I didn't face one break point, but there were so many 30-30, deuce (games). I managed to keep composed.'
Djokovic made history earlier this week by spending his 378th week atop the men's tennis rankings, surpassing Steffi Graf's record for most weeks as world's top-ranked player.
This post appeared first on USA TODAY