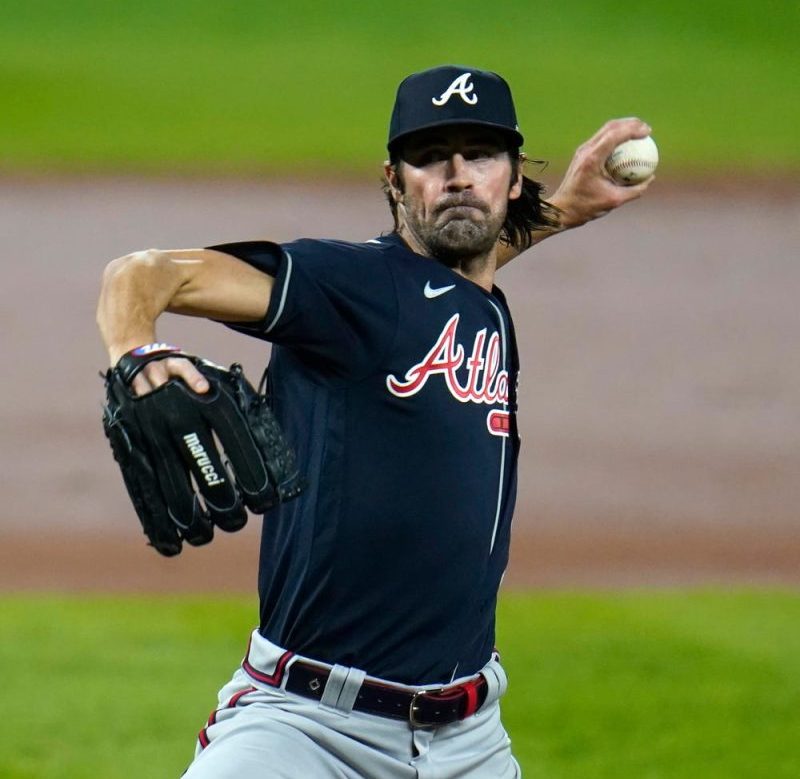 World Series champion hoping for one last ride with the Padres
PEORIA, Ariz. – Cole Hamels has nothing at all left to prove in the baseball world. 
He is a World Series champion. 
He is a World Series MVP, and an NLCS MVP. 
He is a four-time All-Star. 
He has four top-10 Cy Young award finishes. 
He has won 163 games. 
He has thrown a no-hitter and been part of a combined no-hitter. 
And he has earned around $210 million in his 15-year MLB career. 
Yet, he is, at the age of 39, standing in a San Diego Padres clubhouse overflowing with young stars, almost a forgotten old man in this era. 
"I even looked up his baseball card the other day,'' Padres starter Michael Wacha says. "It's incredible. The guy is a legend. To see him in here, looking good, and excited about getting healthy, is so cool. 
"It's an honor to be his teammate.'' 
Hamels, who has pitched only 3.1 innings in the last four seasons, is in camp with no guarantees, no promises. 
Hamels, who last pitched in the big leagues in 2020, having shoulder surgery in 2021, is in camp on a minor league contract. He'll receive a prorated share of $2 million if he earns a spot on the Padres this summer. 
"The young superstars we have here, and how hungry they are,'' Hamels says, "anything is possible. They have the talent and they have the confidence to go all of the way.'' 
This, you see, is why Hamels is making a comeback. 
Hamels has done virtually everything imaginable in the game, achieving the greatest honors, winning that 2008 World Series championship with the Philadelphia Phillies, and earning more money than he dreamed was possible, but there was a glaring hole on his baseball bucket list. 
"I've always wanted to play in my hometown, wear that Padre uniform,'' Hamels tells USA TODAY Sports, "and win a World Series in my hometown. 
"I always had that dream in the back of mind wherever I've gone and played.'' 
Hamels was born and raised in San Diego. He idolized Tony Gwynn like every other Padres fan. He loved watching center fielder Steve Finley. He studied the deliveries of starters Andy Benes, Andy Ashby and Sterling Hitchcock. 
He went to a handful of games every year at Jack Murphy Stadium, making sure to always catch Atlanta with future Hall of Famers Greg Maddux, Tom Glavine and John Smoltz, watched in awe when Ken Griffey Jr. and the Seattle Mariners had an interleague series, and sat in the bleachers like every other die-hard Padre fan viciously booing the Dodgers when they came to town. 
Hamels' mother, Amanda, worked in the Padres ticket office, and they used to hang out with former Padres manager Dave Garcia and his family. 
BANKROLL: Machado's new $350 million deal gives Padres flexibility to sign more stars
2023 SEASON: MLB's new pitch clock is already having its intended effect
"I grew up on the radio with Jerry Coleman saying, 'Hang a star on that one,' '' Hamels says. "Every time I spent the night at my grandmother's house, the radio was always on, and it was always a Padres game. So many great memories.'' 
Now, he has a chance to go where no Padre has ever gone before. 
Winning the first World Series championship in Padres history. 
"Growing up in San Diego,'' Hamels says, "no teams were winning. The basketball team left. The football team left. Nobody won anything. 
"San Diego has always had great baseball talent, some iconic players, just not great teams. You're talking about guys like Gwynn and Fred McGriff and (Steve) Garvey, and on and on. They just never won. 
"Well, with the team they have now, that can change.'' 
Hamels, a first-round pick by the Phillies in 2002, was spoiled in a hurry in his baseball career. The Phillies reached the playoffs in his first five full seasons. He was just 24 when they won a World Series title in his second season, with Hamels winning the NLCS and World Series MVP awards – 4-0 with a 1.80 ERA in five postseason starts. And he went back to the World Series the following season. He wound up going to the postseason eight times, pitching in 13 different series. 
He'll never forget the glorious feeling of being on that parade float, the streets packed with euphoric fans, tickertape pouring from the sky, and the beautiful sound of champagne corks popping into the air. 
"After winning a World Series, and seeing how much it means to a city, and how much it means to a fan base,'' Hamels says, "that's the reason I want to keep playing. San Diego has been starved for a championship, and I'd love nothing more to help this team win. That's always been my goal, trying to win a championship, but to do it in a city I grew up in would be the best thing ever.'' 
Hamels isn't seeking any sort of handout. He knows the Padres don't owe him anything. All he's seeking is an opportunity, and what better place than in San Diego. 
This is his third comeback try. 
He pitched in Atlanta in 2020 but made just one start, giving up three hits and three runs in 3 ⅓ innings. 
He signed a one-year, $1 million contract with the Dodgers on Aug. 4, 2021, paying him $200,000 a start. The plan was for him to be used as an opener, go through the lineup once, and turn it over to the bullpen, and be ready to go deeper in games in September. 
He threw a simulated game three days later, felt pain in his right shoulder, and was released a week later. 
Hamels felt so guilty that he tried to give the Dodgers their money back, only to be informed it wasn't permitted. 
"I really thought I could pitch for the Dodgers,'' Hamels said, "but I just didn't realize the severity of my injury. I thought I'd pitch five games, roll through the lineup once, hand it off to the next guy, and go three innings. I'm used to pitching 200 innings and going nine innings, so I thought this would be a no-brainer. 
"But when I tore the shoulder, it was incredibly painful, and I was just lost.'' 
Hamels spent the past year recovering from the torn shoulder capsule, signed with the Padres two weeks ago, and now the way he's feeling after his early bullpen sessions, believes he could pitching for the Padres by June. 
The Padres, optimistic after watching him in his early bullpen sessions, already are cautiously counting on him. 
"That's the confidence you want to hear,'' Hamels says, "so I'm going to cherish this opportunity and make the best of it every single day. I know I can help. The competitiveness is there.'' 
Besides, maybe the young fellas can learn from watching him, too, just as he did with Philadelphia when he broke into the big leagues. He was on a staff with veterans Jamie Moyer, Jon Lieber, Tom Gordon, Arthur Rhodes, Rheal Cormier and Randy Wolf. 
"I was surrounded by these older, veteran guys and I learned from them,'' Hamels said, "watching what they did, what made them focused, and how they were able to have long careers. I know I have that inside of me, too. I know how much knowledge and experience I can give to players. 
"I'm trying to pass down baseball knowledge, and leave a legacy to other players to continue to do what I was taught.'' 
Still, he realizes the greatest impact he can make is earning a spot on the Padres, recapturing the magic when he was one of the most dominant pitchers in the National League, pitching at least 200 innings in six consecutive years, and finishing among the top eight in Cy Young voting three times in a four-year stretch. 
"I know I can do it,'' Hamels says, "but I do understand I have to earn it every step of the way. I'm not asking for a charity case. I'll go to Triple-A. I'm not opposed to that. I just want to have the opportunity to earn it, and they've given that to me. 
"I'm going to cherish this opportunity, having one more opportunity to win, and make the best of it every single day.'' 
The dream awaits, with Hamels and homegrown Padres starter Joe Musgrove already talking about what it would mean to them, two San Diego kids riding on a parade float together. 
"It's so exciting to have him here, having another San Diego guy finishing his career back in his hometown,'' Musgrove says. "I'm sure he's made enough money to not need to play anymore, but he loves the game so much, and he still feels like he's capable of getting guys out at the big-league level. 
"He believes in us, and we believe in him. 
"Now, we've got a chance to do something pretty special together.'' 
Follow Nightengale on Twitter: @Bnightengale 
This post appeared first on USA TODAY