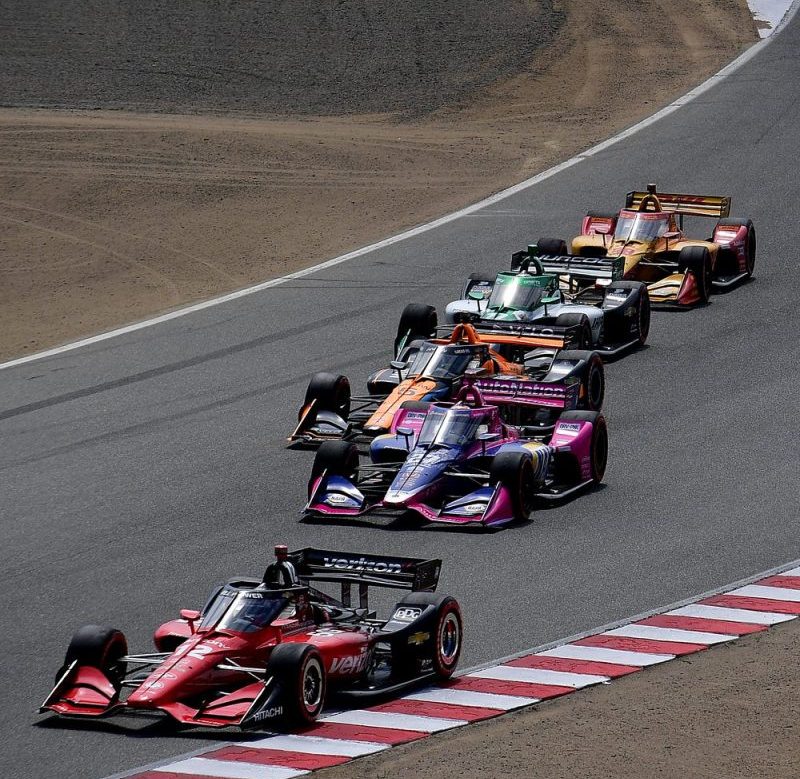 Biggest question each IndyCar driver faces entering 2023 season
The 2023 NTT IndyCar season kicks off this weekend in Florida following an offseason of change in the paddock.
Eight full-time IndyCar drivers — four of them rookies — find themselves on new teams in 2023. Two others underwent number and sponsorship changes, raising questions about their long-term futures in their current homes. Five additional series veterans face levels of uncertainty as to where their careers might take them in 2024 — and whether they  might be full-time IndyCar drivers at all.
A lot of questions to be answered, right?
While 10 or more drivers begin their respective 2023 campaigns Sunday in the Firestone Grand Prix of St. Petersburg with legitimate title contention hopes, much of IndyCar's midfield is mired in some level of speculation about what lies ahead of them.
INDYCAR 2023: Qualifying update, alternate oval tires among technical changes
Here are the most pressing questions each full-time (or in Marcus Armstrong's case, majority full-time) IndyCar driver faces in 2023, listed in the order in which I predict they'll finish in the final season standings.
Scott McLaughlin
Can he become top-dog on his own team? To do so, McLaughlin will likely have to borrow traits from both his Penske teammates – skills he was beginning to show a year ago – and find ways to pile up wins (Josef Newgarden) while remaining consistently in the top-5 conversation each week (Will Power). Only then can he truly challenge for a title.
Josef Newgarden
What will it take to be more than second-best? Over the last three years of consecutive runner-up finishes, Newgarden has won 11 times. The next-most among drivers that haven't won a title in that span is five. The Team Penske driver has been undoubtedly the best driver of the aeroscreen era, and yet, when he isn't winning, it hasn't been good enough.
Scott Dixon
Can he turn in another dominant May? After having the best car across the month for three years running, Dixon has had bad luck (or his own pitlane mistake) derail his shot at a second 500 win. It would be easy for anyone not named the Ice Man to lose half a step, but if he's to break through, he'll have to be there with 20 laps to go.
Colton Herta
Can he limit his team's bad weekends? Though he hasn't won nearly as frequently as Newgarden, Herta's been plagued the last two years by his off race weekends erasing any benefit he gains from his weekends running up front. After taking 3rd in the 2020 title race when capitalizing on a few more chances to win could've clinched a title, Herta's fallen to 5th, and then 10th, as his consistency has fallen off.
Will Power
How much magic does Power have left? Few outside his wife saw the 41-year-old's second championship in the cards in 2022, one he won largely due to his ability to almost always find his way to the front (13 top-6 finishes). Power had finished better than 3rd in the title race just once in the previous five years, so time will tell if 2022 marked a career resurgence or one last great run.  
Pato O'Ward
Can his team give him a title-contending car? No one doubts O'Ward's own skills on-track but we hear too often that his car just wasn't "in the window." Arrow McLaren continues to ride quite a wave of hype with the team's rapid growth, but it's time to prove it by consistently hanging with Ganassi and Penske.
Alex Palou
Is his heart truly set on leaving Chip Ganassi Racing? All the signs point to Palou leaving the team he won his 2021 title with for a hefty payday and a faint hope at F1 dreams at Arrow McLaren, but should he again finish ahead of all his future teammates, I struggle to feel like it's the best move long-term for his IndyCar career. Only Palou will know if the doubts begin to trickle in.
Alexander Rossi
Can he avoid the typical 'new team slump' that's plagued several drivers of late? After championship finishes of 9th, 10th and 9th over his final three years with Andretti Autosport, I don't imagine there's anywhere for Rossi to fall. Still, immediately finding championship-like form with Arrow McLaren might not be as easy as he hopes.
Romain Grosjean
Can he prove to Michael Andretti he's worth another contract? DHL's desire to latch onto a worldwide brand may already have this decided, but if not, Grosjean will need to find a way to erase his number of finishes outside the top-15 (9 in 2022) and find the form of a top-level Andretti driver to earn another deal.
Marcus Ericsson
Does he have another level? Ericsson's won three races in two years (including the biggest one on the calendar), and yet, without more top-5 finishes, it's hard to imagine him finishing much higher than his 6th-place of the last two years. Top-10 consistency is nice, but it won't win you a championship.
Felix Rosenqvist
Can he force Zak Brown's hand? As mentioned above, most in the paddock assume Palou's move to Arrow McLaren is only a matter of time – quite possibly ending the Swede's three-year tenure with the team. Still, Brown's mentioned in passing a willingness to consider expanding to four full-time cars. If Rosenqvist can beat one or two of O'Ward, Rossi and Palou, he could force the issue.
Christian Lundgaard
Does he have the talent to match the hype? It takes a rare kind of driver to launch a middle-of-the-road team toward the top of the grid, and with some of the sparks he showed as a rookie, Lundgaard may be just that. But even if Rahal Letterman Lanigan steadies the ship with its various personnel changes, it's going to take a special talent to fight consistently with the best of Penske, Ganassi, Andretti and McLaren.
Graham Rahal
Does he still have a win left in him? It's now been five years since Rahal swept the 2017 Detroit doubleheader, and as IndyCar's talent pool has gotten far deeper (and younger), Rahal's never been able to get back. His 2022 campaign was his first full-time American open-wheel season without a podium. He'll have to get back there before we can start talking about victories.
Kyle Kirkwood
Just how good can he be in top-level equipment? As a rookie with bottom-dweller AJ Foyt Racing, we didn't see anything close to the talent Kirkwood flashed as the Road to Indy's most dominant force. He's admitted to pushing past his car's limit in hopes of willing himself to top-10s. Without that deficit to overcome, Kirkwood's Year 2 leap will be important to watch.
Simon Pagenaud
Is there any hope of delivering a top-10 performance across the season? Pagenaud hoped, with his pedigree, to help Meyer Shank Racing best the ceiling it seemed to have hit with Jack Harvey (13th in points in 2021). Instead, the 2016 champ managed just 15th in Year 1. Cracking the top-10 will take displacing at least three title-contending cars from the top-4 teams on the grid.
Rinus VeeKay
Does he have a Newgarden-like leap to make? In his first three years with Sarah Fisher Hartman Racing, the future two-time champ logged just two podiums and a best points finish of 13th. Ed Carpenter's patience gave him a shot to reach 7th in Year No. 4 and 4th in Year No. 5. If we're ever to think VeeKay is a future title-contender, we're going to need to see pronounced improvement in 2023.
Callum Ilott
With still the smallest, most inexperienced team on the grid, can the second-year Brit find more Laguna-like magic? Ilott said at Content Days he believes that "in the quickest car, I don't think there's many people quicker than me," but those days with JHR won't come often. Should he hope to one day jump to a more competitive outfit, he'll need to make the most of those opportunities when he finds them.
David Malukas
Does he have more races like WWT Raceway in him? Malukas received rave reviews for his runner-up finish in the final oval race last year, but he was rarely in the weekend conversations otherwise. It's an uphill battle to fight for consistent top-10s with a midfield team like Coyne, but there's clearly some potential. Whether he can harness it more often will determine the next chapter of his career.
Jack Harvey
Can he replicate Rosenqvist's 2022? Harvey expected his move from MSR to RLL to be a step up in the paddock. Instead, his first campaign at his new home was his worst as a full-time IndyCar driver. Rosenqvist experienced a similar free-fall in his results from 2020 to '21, moving from Ganassi to Arrow McLaren, and his 8th-place finish a year ago helped him hang onto his ride for another year. With so much young talent in the paddock, while not bringing budget to the table, Harvey will need a similar rebound to hang onto his ride.
Conor Daly
Is there another level left for him to reach? As Daly embarks in his fourth consecutive full-time season (second with ECR) it's fair to wonder if he can be expected to deliver anything more than a couple top-12 finishes and some flair in the 500. IndyCar's midfield gets deeper by the year, and though being backed by an enthused full-time primary sponsor helps one hold onto their ride, the results to back it up need to be there, too.
Devlin DeFrancesco
Can he prove he's Andretti material? At the time of his signing, Michael Andretti said his plans for DeFrancesco always had a long runway, given his history within the team and the budget he brings to the table. But it's hard to ignore the worst full-season championship finish of the team's history. The young Canadian driver only finished in the top-half of the field once as a rookie. His ceiling must rise.
Helio Castroneves
Can he prove he deserves another full-time season? Castroneves' team owner Mike Shank said several times that the four-time 500 winner's future as a full-time driver came down to more than his results. He's beloved among sponsor executives. But with Tom Blomqvist waiting in the wings within MSR's IMSA squad with an IndyCar test under his belt, it may prove tough to fend off Father Time.
Marcus Armstrong
Can he still win Rookie of the Year? Count me in the camp that thinks, despite missing the five ovals on the calendar, Armstrong could still challenge the other three rookies in his class for the crown. A couple podiums from the young New Zealander could go a long way in delivering an exciting ROY battle.
Santino Ferrucci
Can he help pull AJ Foyt Racing from the depths of IndyCar's team hierarchy? Across two partial seasons with three teams and his two full seasons with Coyne, Ferrucci's proven he can do a lot with a little. That skill will be put to the test at Foyt. The team has upped its investment in resources over the offseason, and it needs the right young driver willing to put in the hard work to make it anything other than an afterthought.
Sting Ray Robb
Is he as talented as recent top-2 Indy Lights finishers? Robb comes to IndyCar without nearly the level of acclaim as Malukas, Kirkwood, VeeKay, O'Ward and Herta, and it's well-known his funding helped land him a ride while the '22 Lights champ Linus Lundqvist remains on the sidelines. Coyne rookies that have come before him (Malukas, Grosjean and Palou for starters) have shown there's strong results to be had. It's up to Robb to rise to the occasion.
Agustin Canapino
Was his performance at Thermal more than an outlier? The Argentine rookie wowed those at the Open Test by finishing around the top-20 each session among the 27-car field, despite virtually no open-wheel experience. Then again, no one in the field had ever driven on the track. Should he come close to repeating that this year against a seasoned field of competitors, Ricardo Juncos may have found a gem.
Benjamin Pedersen
Can he occasionally run somewhere other than the back of the grid? Foyt's struggles in recent years are well-documented, and IndyCar's history of Lights drivers making the leap after something other than a top-3 finish in the top of the Road to Indy ladder is pretty grim. The expectation is he'll do little more than take Dalton Kellett's spot consistently at the back of the grid. Exceeding those would be a strong rookie campaign.
This post appeared first on USA TODAY