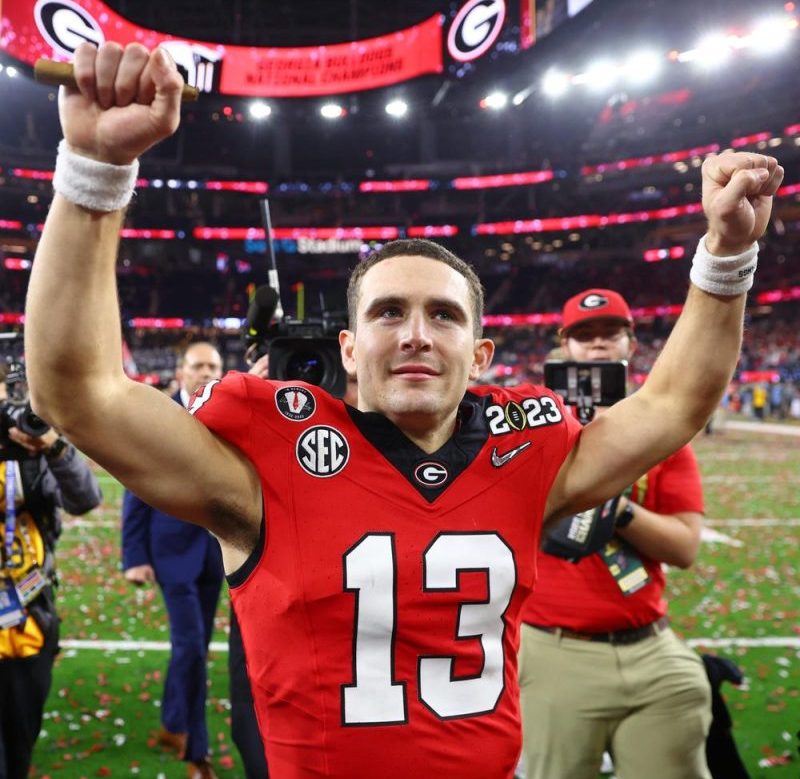 New details emerge from ex-Georgia QB arrest in Dallas
Two city of Dallas police officers found former Georgia quarterback Stetson Bennett walking around a gated area near downtown and the arts district when they responded at about 6:15 a.m. on Jan. 29 to a suspicious person call at a town home on the morning he was arrested for public intoxication.
Bennett, who led Georgia to back-to-back national championships the past two seasons, was observed "walking further back in the gated area to hide behind a brick wall by a random (apartment) in attempt to possibly avoid (the arresting officers) detection," according to the police incident report released to the Athens Banner-Herald on Tuesday.
On the day of the arrest, Dallas Police said they responded to reports of a man banging on doors.
The request for the incident report was made on the day that Bennett was arrested and charged with public intoxication but it was made public during the same week that Bennett is among more than 300 prospects that will take part in the NFL combine in Indianapolis.
Bennett was in Dallas to train for the combine where pro teams meet with NFL hopefuls and watch them work out.
According to the report, the officers announced themselves multiple times as Dallas police and called for Bennett to come from behind the wall with his hands visible. He complied and was placed in handcuffs due to Bennett attempting to hide from the officers.
Bennett identified himself and was unable to call his friend who police said he claimed lived at the location. He was unable to provide his friend's address. Bennett did not have a cell phone on himself to call his friend, the report said.
He was observed with a strong odor of alcohol from his 'breath and/or body,' police said, and "if not arrested, could have potentially become a victim of a crime."
A Dallas police sergeant responded to the call location due to the "high profile arrest." The incident occurred at 3:13 a.m., according to the report. Police said Bennett entered a 'sobering center' so the charge was classified as diversion public intoxication.
This post appeared first on USA TODAY