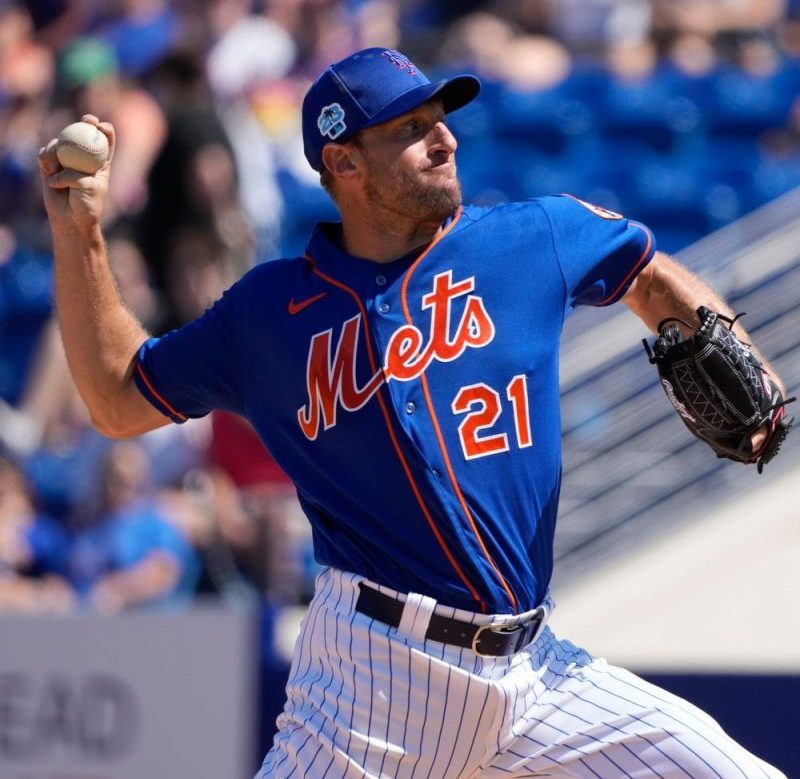 MLB's new rules already having intended effect on game time: 'I love it'
To the longtime and hyper-traditional observer, baseball played with a clock is senseless.
Yet early returns through 50 spring training exhibition games tell a different story about Major League Baseball's pitch-clock implementation: It may create a game experience that makes perfect sense.
After four full days of Cactus and Grapefruit league games, MLB is ecstatic over an average game time of 2 hours, 39 minutes. That's nearly 20 minutes off the 2:57 required to play a game through a similar sample through four days of 2022 spring training. By spring's end, average time of game was 3 hours, a prelude to a 3:03 nine-inning regular season average.  
MACHADO: Padre's new deal gives San Diego flexibility to add stars
An average nine-inning major league game has not been played in less than three hours since 2015. Eventually, commissioner Rob Manfred felt compelled to implement a clock that forces pitchers to deliver 15 seconds after receiving the ball from home plate (20 seconds with runners on) and batters to be engaged with the pitcher eight seconds before expiration. Ball and strike penalties are assessed for violations.
It is extreme and potentially harsh for a true thinking person's game. So far, however, it may be a significant cure to a sport that can occasionally stultify.
Low scores = quick game
When was there no turning back from a pitch clock?
Well, 2021 probably clinched it: Batting average dropped to .244, its lowest mark since 1972, and time of a nine-inning game ballooned to a longest-ever 3:10. See, it was never the 11-10 games, the slugfests, or the extra-inning staring contests that were the problem.
No, it was the 2-1 game that nonetheless took 3 hours to complete that spurred MLB into crisis mode. And while the new shift rules should spur more action, cramming that into a tighter window will on its own feel more exciting.
And so far, games are lasting as long as a traditionalist might think they should.
The median time of game so far is 2:36, and 22 of the first 65 games were contested in 2:30 or quicker. But perhaps most encouraging were the games that did, in fact, take the lion's share of an afternoon.
Of the 15 longest games (2:54 and up), eight included one team scoring double-digit runs.  And of the eight games lasting 3:03 or longer, all had at least 12 total runs scored.
In short: A longer game actually means more action.
'I love it'
With the pitch-clock getting workshopped (guinea-pigged, a cynic might say) over parts of the minor leagues in the last decade, it was widely expected that rookies and younger players would adapt more easily to the rule change; most of them grew up in the game with the clock looming over their shoulder.
In certain quarters, this space included, the pitch clock's biggest challenge figured to come from the saltiest, set-in-their-ways veterans chafing at being told to move it along, service time be damned.
"It totally changes the whole pitcher-hitter dynamic," three-time Cy Young Award winner Max Scherzer said after his first outing on the clock.
Oh, boy. Here comes the airing of grievances.
"I love it."
Say what?
Thing is, vets like Scherzer are as cagey as they are creatures of habit, and at 38, Scherzer is far from averse toward a tool that may aid and abet his desire to get hitters out.
"I can totally dictate pace," he said.
Even after they were called for four pitch-clock violations in their spring opener, the veteran-laden Dodgers remained bullish on 2023's rule changes. It was hard not to be, what with a 7-4 game taking just 2:21 to contest.
"I think they realized that it wasn't as big of a deal as we talked about, which is a credit to them," says Dodgers manager Dave Roberts.
Biggest tests ahead
Of course, it's all fun and games when it's just fake baseball played under the high skies of Florida and Arizona. The violations will almost certainly hit different once the games count.
And as for the "clock-off" tie that occurred between the Phillies and Braves, when the game ended on a pitch-clock violation by hitter Cal Conley after Atlanta scored three runs to tie the game?
"I don't think this (rule) was intended for a game to end like that," Braves manager Brian Snitker told reporters. "It's a good thing that we're starting (now) because you never know what might happen. That instance right there, it kind of shows you what could happen."
The Phillies found a loophole, in a sense, when their catch remained standing – not in the rulebook – while their pitcher was ready to deliver at the eight-second mark, enough to spur a violation.
Others will surely be found, perhaps kept under wraps until the regular season. That might produce a less tranquil conclusion than the aftermath of the Braves-Phillies "clock-off."
But at least the end will come quickly.  
This post appeared first on USA TODAY