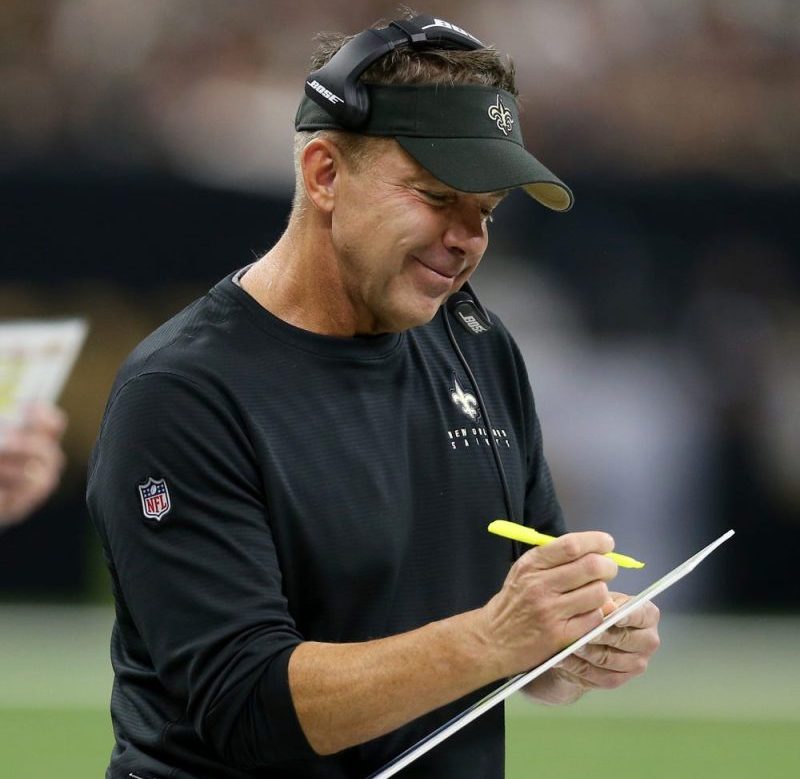 Pursuit of Sean Payton an accidental barometer for NFL diversity efforts
Sean Payton is arguably the hottest name on the market as this new hiring cycle for NFL head coaches kicks off. Hotter than Jim Harbaugh. Hotter than Leslie Frazier, Steve Wilks and DeMeco Ryans – three names who should be on any team's short list, based on results. 
Who wouldn't want to fill a head coaching vacancy with Payton? The former New Orleans Saints coach, with a Super Bowl win on his résumé, brings creativity, passion and resourcefulness. A huge payday is likely coming, in addition to hefty compensation to the Saints because Payton knows how to touch the quarterback as one of the game's foremost offensive strategists. And we know how NFL owners, fair or not, have become so enamored with offensive gurus like Payton.
On top of all that, Payton also stands as something like an accidental barometer for how NFL teams comply with the Rooney Rule this time around, with five head coaching jobs currently open.
Follow every game: Latest NFL Scores and Schedules
No, Payton, who happens to be white, doesn't count as one of the two minority candidates from outside their organizations that teams must interview to comply with the Rooney Rule.
Yet nearly a year since Brian Flores filed a federal lawsuit against the NFL and several teams alleging, among other things, that he was the victim of sham interviews – reflecting suspicions that have existed for years with multiple candidates – the scrutiny of the process for teams who may be falling over themselves in pursuing Payton will be significant.
Remember Jon Gruden? Like Payton, he was once the hot coaching target on the market. Before the mess surfaced that sealed his split from the Las Vegas Raiders in 2021, when racist and misogynistic emails were exposed as part of the Dan Snyder probe (resulting in another still-unresolved lawsuit from Gruden), Raiders owner Mark Davis' pursuit of Gruden upon hiring him in January 2018  was Exhibit A for shady Rooney Rule compliance.
This historical context is relevant because it's supposed to be different now. That doesn't mean that Payton is any less attractive of a candidate. But with the NFL incorporating even more layers to the Rooney Rule against the backdrop of the Flores suit and the dismal results over recent years when it comes to hiring minority coaches, it will be interesting to get a sense of how robust the commitment will be from teams when it comes to the spirit of complying with the Rooney Rule.
One of the teams exploring Payton, the Denver Broncos, appears to be in a better place with its process than it was when Flores accused the team's previous regime of conducting a sham interview. The Broncos, with a new ownership group headed by Rob Walton (and including Black women Mellody Hobson and Condoleezza Rice as limited partners), are expected to meet with Payton as early as next week and conducted a video interview on Monday with Harbaugh.
And the Broncos, seeking to replace fired coach Nathaniel Hackett, have also requested permission to interview Black defensive coordinators Ryans (San Francisco 49ers) and Raheem Morris (Los Angeles Rams), along with Dan Quinn (Dallas Cowboys defensive coordinator). The team will also interview its own D-coordinator, Ejiro Evero, who is Black.
But still: Could a team land a big prize in Payton, yet still find itself accused of conducting sham interviews?
"With all that's at stake and with the awareness of what is expected, I just don't see us in that world of failing it," Troy Vincent, the NFL's executive vice president of football operations, told USA TODAY Sports. "There's enough checks and balances. The guidelines that have been formalized makes things very clear."
As the NFL has intensified efforts in recent months to bolster minority hiring (and likely for more legal insulation, too), some key requirements and recommendations are in play for this cycle. Among them:
Owners and other key decision-makers are now required to participate in inclusive hiring training before starting a search process.Documentation for each candidate interviewed that includes identifying club personnel conducting the interviews and the approximate length of interviews has become more formalized and must be submitted to the league office.In-person interviews of candidates employed by other NFL teams can't be conducted until the wild-card round of the playoffs are completed (In Payton's case, he's still under contract with the Saints, preventing him from interviewing in person until Tuesday). Video conference interviews don't satisfy Rooney Rule requirements.
The revisions are promising enough. On top of the requirements, it is also recommended that clubs enlist the help of an "inclusive hiring process coach" to ensure that the search is fair and equitable.
Still, it's rather shameful that in 2023 and with roughly 70% of the player base consisting of Black men, some owners and key executives may need some sort of shock treatment to deal with apparent biases and an alleged "check the box" mentality when it comes to interviewing minority candidates.
"I think people get it that this is a priority," Pittsburgh Steelers owner Art Rooney II, chairman of the league's diversity committee, told USA TODAY Sports. "At every league meeting, this is on the agenda. We don't take any meetings off, in terms of talking about it. I think all the clubs understand that it is a priority for the league."
Whether it's a priority for the individual teams, though, remains in question.
Perhaps the pursuit of Payton and the intense spotlight that comes with it, regardless of where he lands, will provide some necessary clues about whether the NFL's hiring process has really changed for the better.
This post appeared first on USA TODAY