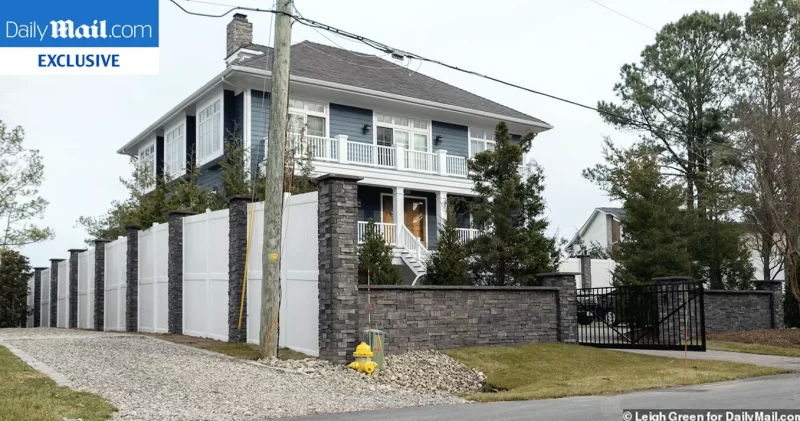 Biden builds taxpayer-funded wall around Delaware beach house despite opposing border barriers
President Biden's taxpayer-funded wall for his Delaware vacation home is getting while he continues to voice his staunch opposition to building a wall at the southern U.S. border.
Photos obtained exclusively by the Daily Mail show construction on the wall around Biden's Rehoboth Beach, Delaware home began last week. The wall is expected to cost taxpayers $490,324 because its being funded through a government contract through the Department of Homeland Security (DHS).
The photos show the ongoing construction of tall white fencing and gray stone pillars on the side of Biden's home, with a half-wall of gray stone and a large black iron gate at the front of the property.
Plans for the wall began in 2021 when DHS awarded a contract for more security at the home, however the nearly $500,000 cost of the wall is a $34,000 increase in cost to the taxpayer over the original Turnstone Holdings, LCC contract price, Fox News Digital reported in August.
The wall around Biden's home is expected to be completed in September.
Biden vowed to stop all border wall construction while campaigning ahead of the 2020 presidential election, telling crowds 'not another foot' would be built if he was elected.
'There will not be another foot of wall construction in my administration,' Biden said during one interview. 'I'm going to make sure that we have border protection, but it's going to be based on making sure that we use high-tech capacity to deal with it. And at the ports of entry — that's where all the bad stuff is happening.'
He ultimately ceased all new border wall construction after taking office in January 2021, and told Congress to cancel funding for border wall construction.
Despite taking such action, the Biden administration later quietly approved the construction of a section of border wall in Yuma, Arizona in July 2022 after Sen. Mark Kelly, D-Ariz., called on the president to secure the border.
In December, however, the administration sued Arizona for using shipping containers to create a border wall in order to stop the massive flow of illegal immigration into the state. In the lawsuit, it claimed the state was trespassing on federal lands.
During his first trip to the border as president this weekend, Biden avoided visiting sections of the border wall around El Paso, Texas, that were either constructed or reinforced by former President Trump, and instead visited an older, pre-existing section of the wall.
Fox News' Lawrence Richard and Adam Shaw contributed to this report.
This post appeared first on FOX NEWS