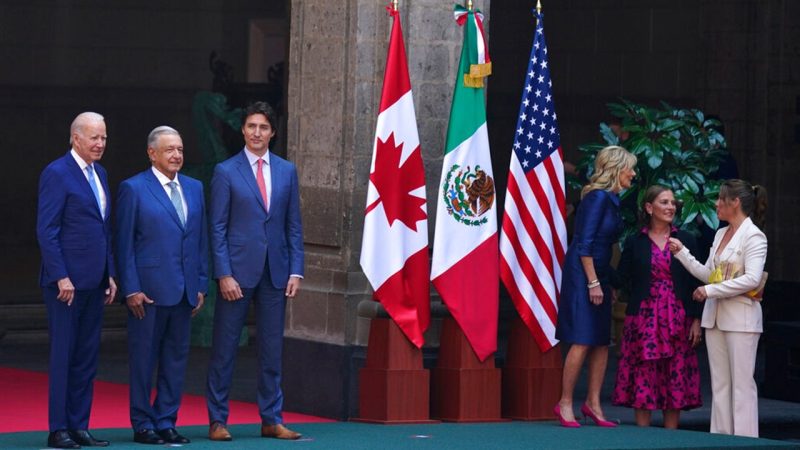 Biden's new border plan includes fighting 'xenophobia,' adding EV chargers, prioritizes climate change
The Biden administration on Tuesday released a list of key topics for discussion at the North American Leaders Summit in Mexico City with Mexican President Andrés Manuel López Obrador and Canadian Prime Minister Justin Trudeau. 
The White House said that trilateral cooperation will help North America better address shared challenges like 'climate change, the COVID-19 pandemic, and transnational criminal organizations trafficking and smuggling people and illicit drugs like fentanyl.' 
The proposals also aim to deepen economic cooperation and develop a better understanding of 'unmet needs,' particularly with badly needed semiconductor supply chains in the region.  
Among the other proposals discussed are the need to balance 'public narratives on migrants and refugees' to combat 'xenophobia' and 'discrimination.' 
These are included in the broader topic of achieving 'humane migration' in the region. These steps including building on past initiatives to give migrants the information they need to come to the U.S., measures that seek to speed up the asylum-seeking process for 'eligible' individuals while quickly removing those with 'unmeritorious protection claims.' The leaders will also discuss coordinating actions to combat arms and drug trafficking and human smuggling. 
Building on this, the three leaders will also discuss their commitment to combat racism by promoting 'diverse, inclusive, equitable, and democratic societies.'
Ambitious climate goals will also be discussed, such as installing electric vehicle chargers along international borders 'to ensure a seamless EV charging transition from country to country.' 
The White House said the leaders will also discuss sharing information between their respective countries on ways to best electrify and decarbonize public buses through the cooperative development of a Joint Transit Decarbonization Toolkit.  
In December, U.S. Customs and Border Protection (CBP) revealed that since the start of fiscal year 2023, which began in October, more than 485,000 migrants crossed the southern border and was expected to hit half a million later in the month. 
Despite the constant wave of migrants passing through the border the past few months, the number of illegal migrant crossings into the U.S. has reportedly dropped significantly since December, CBP sources previously confirmed to Fox News Digital. 
The three-way gathering is held most years, although there was a hiatus while Donald Trump was U.S. president. It's often called the 'three amigos summit,' a reference to the deep diplomatic and economic ties among the countries.
However, the leaders have found themselves at odds, especially as they struggle to handle an influx of migrants and to crack down on smugglers.
The key takeaways from the summit revolve around better connections among the three nations and a shared goal of a stronger North America on energy and in particular semiconductors, climate and a pledge to cut methane emissions, an agreement to manage large waves of migrants coming to the region and a more cohesive regional strategy on dealing with future pandemic-related health threats.
Fox News Digital has reached out to the White House for additional comment. 
The Associated Press contributed to this report. 
This post appeared first on FOX NEWS