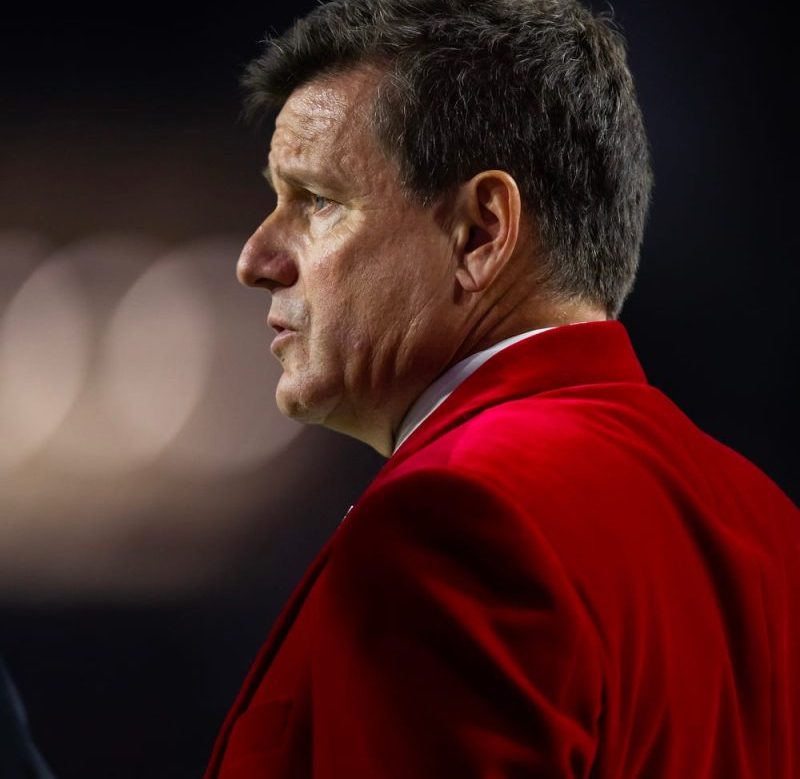 Why Cardinals coach search will be unique for Michael Bidwill
When it comes to hiring coaches, this is not Arizona Cardinals owner Michael Bidwill's first go-around. He's been involved in so many that it's almost surprising he's not better at it by now.
But the search Bidwill is about to embark upon, finding replacements for General Manager Steve Keim, who has stepped away for health reasons, and coach Kliff Kingsbury, who was fired Monday, will be unique for Bidwill.
In previous searches, Bidwill always had a partner: his father, Bill; and former general manager Rod Graves and Keim. This time, he is solo, although Bidwill said Monday afternoon he has solicited advice from people he trusts around the NFL.
That's a good move. It would also be good if Bidwill has learned something from experience. Until now, he hasn't. Over the years, the Cardinals' biggest mistake when searching for a coach has been to start with a narrowly defined vision of what they wanted.
With Buddy Ryan, they wanted a big name who could enthuse a waning fan base. Same with Dennis Green. And in their last search, they wanted an innovative offensive coach who could keep pace with the way the NFL game was changing. That resulted in the hiring of Kingsbury.
Follow every game: Latest NFL Scores and Schedules
In a news conference on Tuesday, Bidwill mentioned a handful of times he is casting 'a wide net' to identify and interview candidates. He said he's entering the process with an open mind, rather than thinking he's needs an offensive coach, a defensive one or something in between. If Bidwill follows through with that philosophy, that's a good thing for the Cardinals.
Over the decades, they tried everything to find a coach who could win consistently in Arizona. 
They hired the understated (Vince Tobin), the personable (Dave McGinnis), the bombastic (Green), the cerebral (Ken Whisenhunt), the brash (Bruce Arians) and the trendy (Kingsbury.)
All but Arians were fired, which indicates that while the Cardinals might have blown it with a hire or two, the bigger problem has been an organizational structure and culture that hasn't provided enough support. If that had been in place, a few of the coaches mentioned above might have enjoyed long-term success.
But there is no "long-term" when it comes to coaching the Cardinals. Since the team moved to Arizona in 1988, just three have lasted longer than four seasons. Whisenhunt and Jim Hanifan are the longest-tenured Cardinals coaches in history, which began in 1920. They lasted six seasons.
That's not to say Kingsbury received a raw deal. The Cardinals finished 4-13, equaling the most losses in a single season in franchise history. Injuries played a large role in that, but so did Kingsbury's inability to pull the Cardinals out of a tailspin. No one was going to win nine games with the 2022 roster, but six or seven was feasible.
Keim and Kingsbury had to go, and Bidwill deserves some credit for tacitly admitting signing those two to contract extensions 10 months ago was a mistake. That's not hindsight. Those decisions were as head-scratching then as they are now.
With a new general manager and a new coach, Bidwill has a chance to steer a different course, again.
Several times on Tuesday Bidwill emphasized that the Cardinals aren't far away from contending, although 13 losses suggest otherwise. Mistakenly, Bidwill said several times the team was 12-2 at one point during the 2021 season, even though it finished with only 11 victories.
Tongue slips aside, his point was this: 'I don't know that we're as broken as people think.'
Bidwill believes there is lot of talent on the roster, but thousands of Cardinals fans would debate that with him. The offensive line must be rebuilt. Murray regressed as a passer and will be coming off ACL surgery. They need a pass rusher, help on the defensive line and depth at cornerback. The list goes on and on. All of that likely will take more than a year to fix.
So where does Bidwill turn? He's interviewed two internal candidates for general manager: vice president of player personnel Quentin Harris and vice president of pro personnel Adrian Wilson. Harris and Wilson have shared the general manager's duties since Keim stepped away, and there have been reports that Bidwill is considering keeping that arrangement full time.
Let's hope not because it would be a huge mistake. Job sharing doesn't work at that level of an organization, in the NFL or anywhere else. It's a formula for dysfunction, and the Cardinals should be trying to rid themselves of that, not add to it.
The Cardinals traditionally have promoted from within to fill the GM job, but Bidwill also thinks it might be time to bring in fresh voices and ideas. That's why he will interview candidates from other teams.
Preferably, Bidwill said, he would like to hire a general manager before a head coach, but he's not wedded to the idea.
NFL owners tend to hire the opposite of the coach they just fired. And that's usually been the case with the Cardinals. Tobin and McGinnis were vastly different personalities. McGinnis had little control over anything, but his replacement, Green, was given immense power. Whisenhunt, not so much. Arians coached hard, spoke his mind and never cared much what anyone else thought. Kingsbury had never coached in the NFL and rarely gave us a glimpse of what he was really thinking.
His opposite would be a veteran of the NFL, preferably with a knowledge of how to develop a quarterback at the NFL level, and the ability to hire assistants to help him do that.
Former New Orleans Saints coach Sean Payton is a near-perfect fit. Bidwill has to make that call, if he hasn't already. 
Payton reportedly would cost upwards of $20 million a year. And the Cardinals likely would have to give up a high draft pick or two to the Saints to get Payton out of his contract there.
The cost will be exorbitant, but If he's serious about winning, Bidwill needs to move quickly to gauge Payton's interest. Maybe all that will come of it is the Cardinals being used for leverage against offers from other teams. But at least Bidwill will have tried.
If Payton isn't interested, Bidwill would be smart to pursue a general manager, and then allow him to be the point person in the coaching hire.
Asked if he was willing to spend big money on a big name, Bidwill said 'I don't know if the biggest name correlates to the best coach.'
In general, Bidwill's right about that. But in this case, the biggest name, Payton, is the best coach available. Bidwill should swing big. Maybe he will connect for one of the few times in franchise history.
This post appeared first on USA TODAY