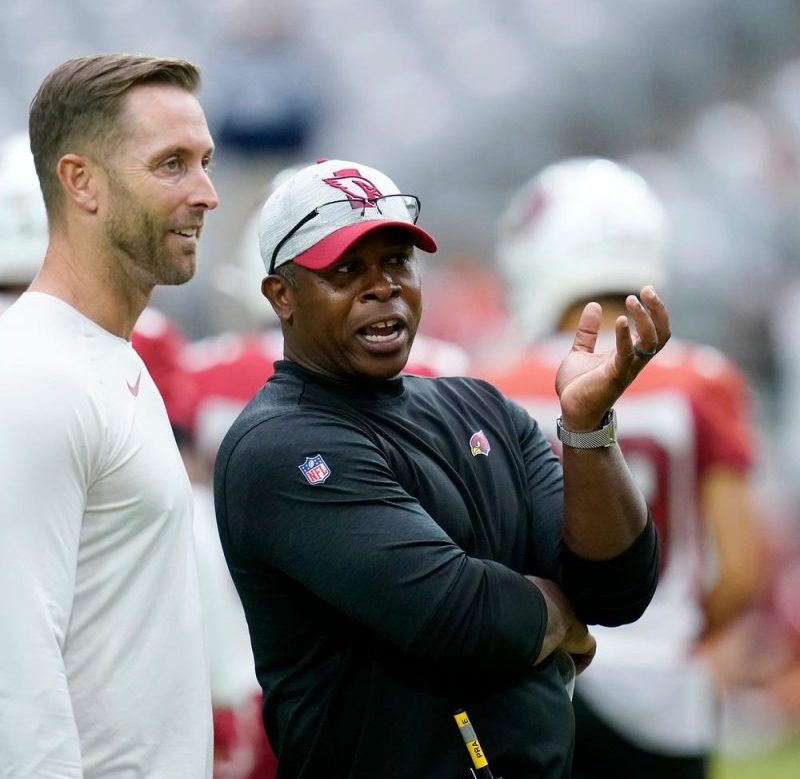 Cardinals coaching candidates: Who might be on Arizona's wish list?
The Arizona Cardinals have fired coach Kliff Kingsbury after four seasons, according to multiple reports.
Speculation has swirled around Kingsbury's job security throughout the NFL season and it reached a boiling point after Arizona's 38-13 loss to the San Francisco 49ers on Sunday, a loss that gave the Cardinals a 4-13 record to end the season.
With the Cardinals joining the list of teams looking for new head coaches for the 2023 season, the attention now turns to who might replace Kingsbury, who is exiting after posting a 28-37-1 career record in the desert.
Sean Payton
Follow every game: Latest NFL Scores and Schedules
The former New Orleans Saints coach has been linked to the Cardinals for months, but Arizona would likely have to give up some compensation to land the coach. Recent odds pegged the Cardinals as favorites to land Payton, who stepped away from the Saints after last season. The Sporting News recently ranked the Cardinals as the best potential fit for Payton.
Vance Joseph
The current Cardinals defensive coordinator previously was the head coach of the Denver Broncos. Sports Illustrated recently called him 'the lead candidate' to replace Kingsbury, should the Cardinals need a new head coach. NFL.com also listed Joseph as a potential candidate for the job saying he is 'highly respected' in the organization.
Jim Harbaugh
The current Michigan Wolverines coach has been linked to several NFL jobs, and you have to think he might be interested in Arizona, should the Cardinals come calling. Several writers have speculated about his potential fit in Arizona with one writing that Harbaugh and the Cardinals would be a 'match made in heaven' and another detailing how Harbaugh rumors could be 'gaining steam' in Arizona.
Ben Johnson
The offensive coordinator of the Lions has come up on some lists of potential candidates for Arizona because of the way he has helped Detroit's offensive turnaround this season. Could he do the same in Arizona? Sportsnaut.com raved about his potential fit with the Cardinals, writing that 'This is precisely the type of coach fans should want pulling the strings for the Cardinals' offense. Johnson isn't being elevated by a future Hall of Fame passer nor is he making this happen with perennial All-Pro weapons. Someone who can design game-winning plays like this against an elite defense deserves to be a head coach.'
Brian Johnson
The quarterbacks coach of the Eagles has turned heads for the way he has helped QBs Jalen Hurts and Gardner Minshew in Philadelphia this season. Perhaps he could elevate Kyler Murray and Arizona's quarterbacks? Of Johnson, sportsnaut.com wrote: 'Johnson did more with Trask in college and Hurts in the NFL than Kliff Kingsbury did with Mahomes at Texas Tech and Murray in Arizona. Turning 36 in February, Johnson is among the best Cardinals' coaching candidates who should be considered.'
DeMeco Ryans
Might Arizona try a defensive-minded coach if it moves on from Kingsbury? Ryans has worked wonders for the 49ers' defense and could be an intriguing option with the right offensive staff behind him. The Sporting News recently wrote of Ryans and Arizona: 'Ryans has done a terrific job with San Francisco's loaded defense with his scheming and energy. As much as making another tied to maximizing Murray makes sense, the Cardinals just need to target the best fit as an overall leader.'
Byron Leftwich
Might Arizona attempt to bring Leftwich, a former member of Bruce Arians' staff with the Cardinals, back? The offensive coordinator of the Tampa Bay Buccaneers could be a good fit with the Cardinals, although his offense struggled in Tampa Bay this season.
Shane Steichen
The quarterbacks coach of the Eagles was already mentioned, but we also need to include Philadelphia's offensive coordinator. The Sporting News recently wrote that Steichen could be a 'great fit' with Kyler Murray in Arizona. He has done great things with Jalen Hurts.
Frank Reich
The former Indianapolis Colts coach has a lot of fans, and has had a big impact on some quarterbacks during his career. Fansided's Sion Fawkes recently raved about Reich's potential fit with the Cardinals, writing: 'Give Reich someone like Kyler Murray, and you could see them both look like the coach and player everyone expected them to be. If Reich can finish 7-9 with Jacoby Brissett playing quarterback in 2019, then he can get way more out of Murray. And something tells me Murray will respect Reich a bit more than he's respected Kingsbury.'
Jason Garrett
The former Cowboys coach in Arizona? One writer likes the idea. Sion Fawkes of Fansided wrote that 'If Michael Bidwill were to hire a coach like Garrett, he also wouldn't need to tear down the Arizona Cardinals. Garrett would be more than willing to work with quarterback Kyler Murray. And with an arsenal that includes DeAndre Hopkins and Marquise Brown, among others, the Cardinals may be able to cook.'
Reach Jeremy Cluff at jeremy.cluff@arizonarepublic.com. Follow him on Twitter @Jeremy_Cluff.
Support local journalism: Subscribe to azcentral.com today.
This post appeared first on USA TODAY