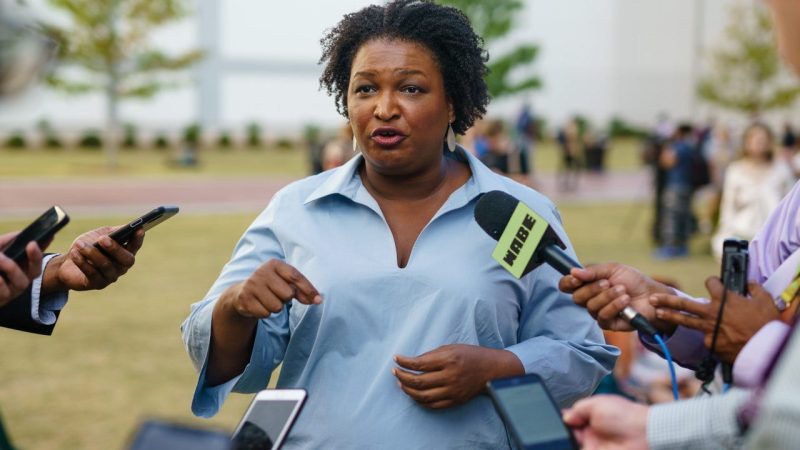 Stacey Abrams' last campaign still in debt but she's already eyeing her next one
After failing to win Georgia's gubernatorial election, Stacey Abrams said she's eyeing another run for office. The two-time failed Democratic candidate, however, must get her finances in order, as her committees remain a combined seven figures in debt. 
Abrams joined 'The Drew Barrymore Show' on Monday and fielded a question on if she plans to take another shot at public office. 
'So what's next? Are you gonna run again? Do we get to look forward to this and galvanize again?' Barrymore asked. 
'I will likely run again,' Abrams said, eliciting cheers from the audience. Abrams added she doesn't know when that campaign will be, but Barrymore applauded her response and questioned whether she plans to run against 'tough men' who 'don't always play fair.'
Abrams' most recent failed attempt at entering Georgia's governor's office attracted big-name, out-of-state donors such as George Soros, who provided millions to her One Georgia leadership committee.
But despite the backing from deep-pocketed donors, disclosures filed on Monday show that One Georgia and her campaign committee reported holding a combined $1.42 million in debts, Axios first reported. 
DEBT-RIDDEN STACEY ABRAMS PANNED BY DEMOCRATS FOR 'INCREDIBLY BAD' FINANCIAL PLANNING 
The debts primarily include $1.2 million to her media production company, AL Media. Her leadership committee and campaign committee reported under $100,000 on hand.
Abrams may also have a hard time paying off the owed cash. Lauren Groh-Wargo, Abrams' campaign manager, previously said that 'negative press and negative polling' dealt a severe blow to their fundraising efforts in the final months before the November election. 
Abrams' campaign did not immediately respond to a Fox News Digital request for comment. 
Fox News Digital's Lindsay Kornick contributed reporting.
This post appeared first on FOX NEWS