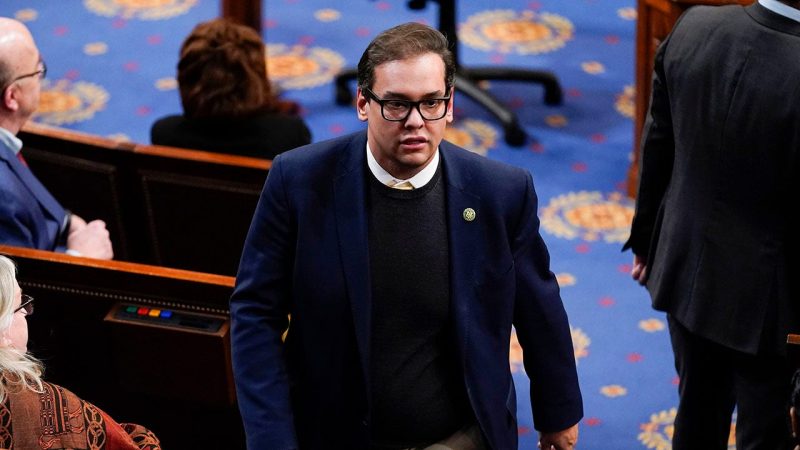 House Democrats file ethics complaint against George Santos
Two New York Democratic congressmen have requested that the bi-partisan House Ethics Committee investigate newly sworn-in and already embattled Republican U.S. Rep. George Santos. 
Democratic New York U.S. Reps. Ritchie Torres, whose district includes most of the south Bronx, and Dan Goldman, whose district includes part of Manhattan and Brooklyn, are filing a formal complaint with the House Ethics Committee against Santos for allegedly violating the Ethics in Government Act. 
'George Santos, by his own admission, is an outright fraud,' Goldman tweeted Tuesday. 'The House has an obligation to police itself and maintain the integrity of the institution.'
Santos, sworn in by House Speaker Kevin McCarthy on Saturday after flipping New York's 3rd district on Long Island and Queens to Republican control for the first time in a decade, was already hit with a separate, federal watchdog complaint earlier this week urging the Federal Election Commission to investigate the first-year congressman for alleged campaign finance law violations. 
In a letter to Reps. Michael Guest, R-Ms., and Susan Wild, D-Pa., Tuesday, Torres and Goldman said the Ethics in Government Act, an anti-corruption law passed after the Watergate scandal, was designed to 'preserve and promote the integrity of public officials and institutions.' 
'Over the past several weeks, extensive public reporting – as well as Santos's own admissions – have shown that Mr. Santos misled voters in his District about his ethnicity, his religions, his education, and his employments and professional history, among other things,' the letter says. 
The letter describes Santos's financial disclosure reports in 2020 and 2022 as 'sparse and perplexing.' 
At a minimum, the congressmen allege, 'it is apparent that [Santos] did not file timely disclosure reporting for his most recent campaign.' 
Moreover, Santos's 'own public statements have contradicted some information included in the 2022 financial disclosure and confirmed that the 2022 financial disclosure failed to disclose other required information,' according to the letter.
'Given the revelations about his biography, as well as the public information pertaining to his financial disclosures, Mr. Santos has failed to uphold the integrity expected of members of the House of Representatives,' Torres and Goldman wrote. 'We therefore respectfully request that you investigate this matter to determine the extent of these violations and take appropriate action as soon as possible.'
'Santos must be held accountable for defrauding both Congress and the public,' Torres tweeted Tuesday. 
Rep. Nick LaLota, who like Santos, is a first-year Republican congressman representing Long Island, already called last month for a 'full investigation' into Santos by the House Ethics Committee. But new sweeping rules changes for the Office of Congressional Ethics introduced by other Republicans this week will, according to Goldman, a former federal prosecutor, 'gut' the office 'just in time to protect their favorite fraud, George Santos,' the New York Times reported. 
In an interview with Insider, Santos himself described the new set of rules passed Monday as 'fantastic.' 
Santos admitted to 'embellishing' on his own resume but has not commented on why his campaign waited until September to file financial disclosure forms that were due by May 15. Outside of Washington, D.C. Santos, the son of Brazilian immigrants, is also facing a revived fraud case regarding allegedly using forged checks to make purchases outside Rio de Janeiro. 
The separate, watchdog complaint, filed Monday by Washington, D.C.-based non-profit Campaign Legal Center, pointed to $705,000 Santos purported to donate to his own campaign ahead of the midterms. It alleges Santos participated in a 'straw donor' scheme, disguising contributions from unknown individuals or corporations as his own income from Devolder, LLC., a consulting business Santos founded in 2021. 
The complaint also alleges Santos falsified on 37 filings on expenditures listed for $199.999, just a cent below the $200 threshold, which requires reporting of the date, amount and purpose of the expenditure. The disbursements were listed as covering hover stays, ride-share costs, restaurant bills, airline and Amtrak tickets and other supposed purchases for office supplies. 
This post appeared first on FOX NEWS