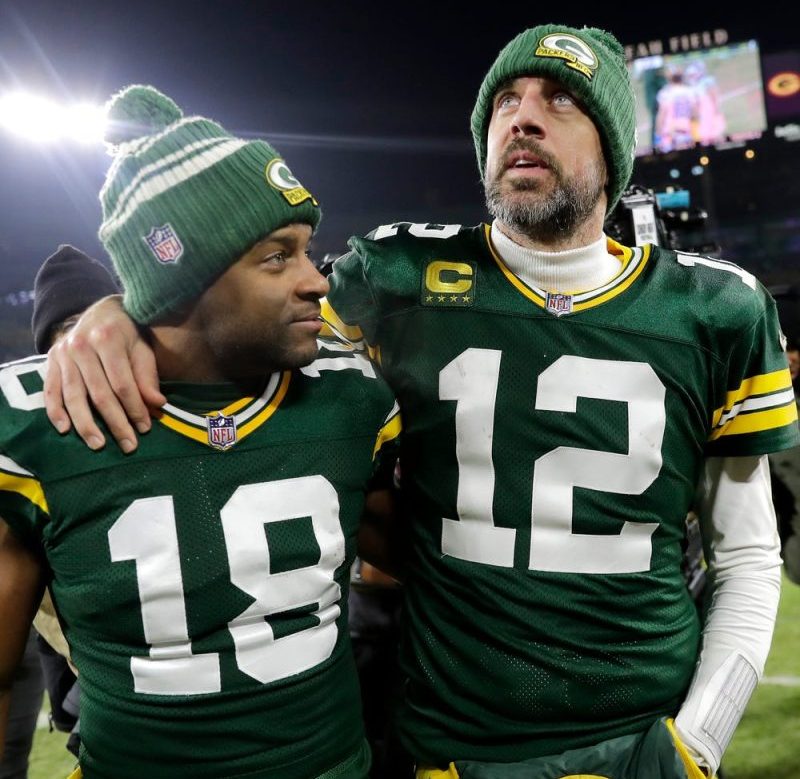 Rodgers says he would understand if Packers want to move on from him
GREEN BAY, Wis. – After it was over, a stunning end to this Green Bay Packers season and maybe their golden era, a rookie receiver asked the veteran quarterback to make good on a promise.
When the Packers left Detroit earlier this season, Aaron Rodgers promised Lions first-round pick Jameson Williams a game-worn jersey. Williams approached to claim his award after the Packers season ended with a 20-16 loss, but it wasn't happening this night. Under a Packers stocking cap, Rodgers smiled, pointed to his chest and informed Williams this No. 12 jersey wasn't leaving his shoulders.
'I've got to hold onto this one,' NBC cameras caught the quarterback saying.
Let the speculation begin.
The scoreboard gave Rodgers no sentimental reason for keeping the jersey he wore in his 2022 regular-season finale, not after a gut-punching loss. A win would have stamped the Packers' near-miraculous ticket to the playoffs as a seventh seed in the NFC. The defeat meant the Packers' stunning run over the past month, a four-game winning streak that gave them a win-and-in scenario at the end, led only to a bitter conclusion.
Follow every game: Latest NFL Scores and Schedules
No, this jersey was special to Rodgers in the way a family heirloom might hold value. At the end of 18 seasons with the Packers, the only team he's ever played for, Rodgers isn't sure where his career goes from here.
He knows enough to realize Sunday night might've been the last time he ever plays at Lambeau Field.
'At some point the carrousel comes to a stop,' Rodgers said, 'and it's time to get off. I think you kind of know when that is. That's what needs to be contemplated. Is it time? Also, what's the organization doing? That's part of it as well, but the competitive fire is always going to be there. I don't think that's ever going away. Sometimes it gets transferred to other things that might not ever fill that large void.
'But I feel good about what I've accomplished in this league. I wouldn't have any regrets walking away, but I have to see how it feels like once I get away from this.'
'Do I feel like I have anything left to prove to myself?'
There were no definitive answers late Sunday night to what's next for Rodgers, whether it's retirement, playing for another team next season, or a 19th year in Green Bay. At this point in his process, he has only questions. The unknowns seemed to increase more and more as this season progressed, from Rodgers' health to his ability to his desire to prepare for another year.
There's also, Rodgers acknowledged, the question of whether general manager Brian Gutekunst might want to take this franchise's quarterback position in another direction.
To think Rodgers had enough time to find those answers minutes after leaving the field would be a failure to understand how contemplative the quarterback is on all life decisions, big and small. Rodgers has waffled on his willingness to commit to another season before, taking time to find those answers the past two offseasons, not unlike the quarterback who preceded him. Rodgers said he will not hold the Packers hostage, something Brett Favre did at the end of his career. He has followed through on that promise in the past, signing an extension last offseason before free agency began.
This time feels at least a little different, because Rodgers senses all the uncertainty surrounding him. He's aware of his increasing age in a young man's game, and that the few teammates he has close bonds with might not be in Green Bay next year, from Randall Cobb to David Bakhtiari to Marcedes Lewis. Their futures will be part of his decision, Rodgers said.
Then there's the part that's intuitive, hard to define.
'It's a feeling,' Rodgers said. 'Do I feel like I have anything left to prove to myself? Do I want to go back and gear up for another grind? Or is it time? Is it time to step away? Is it time for another voice to be leading this team? I think I need to get away and contemplate those things. Those are real for me. I have a lot of pride in what I've accomplished in this league, but I'm also a realist. I understand where we're at as a team. We're a young team. There could be changes with some of the older guys, and it could be time to step away.
'But I could take some time and say, 'Hell no, man. I need to get back out there and go on another run.' But I'll have to see what it feels like once I'm away from it.'
Rodgers has indicated before tonight he believes the Packers might be ready to give backup Jordan Love a chance. Gutekunst and coach Matt LaFleur have said they want Rodgers to return, though the GM gave only a tepid endorsement when he addressed the quarterback situation last month, saying it would be an offseason decision. Love, a former first-round pick, would be entering his fourth season as Rodgers' understudy next fall, one season more than Rodgers waited behind Favre. Rodgers said the Packers are 'a couple players away' from contending for a Super Bowl, suggesting they need to rebuild.
The four-time MVP's contract doesn't help a roster reconstruction. Rodgers is guaranteed $59 million if he plays next season, an albatross on the Packers' salary cap. He said the guaranteed money does not tether him to another season, referencing the 'generational wealth' already accumulated in his career.
Whether Rodgers retires or is traded, a younger quarterback still playing on his first NFL contract is much more palatable to the Packers' roster situation.
'I think to assume it's a foregone conclusion (the Packers would want me back),' Rodgers said, 'would be probably slightly egotistical. So I'm going to be a realist here and understand there's a lot of different parts to this. Like I said, I was aware of the possibility of them going young if we got to the point of us getting out of it, and I'm aware of that possibility (in the future) as well. It wouldn't be the best reality, but I know it's a possibility.'
Would Rodgers end his career on this big of a sour note?
If this is the end, it's far removed from the best possibility. It would mean no second Super Bowl ring, no chance to put a stamp on a Hall of Fame legacy. Even more, Rodgers' final season would end with a steep decline. He finished this season with 3,695 yards, the fewest in his career. He had 25 touchdowns, tied for his fewest in a full season. His 90.45 passer rating was more than 21 points lower than last season, and also the lowest of his career.
Rodgers' struggles extended to his final pass. On third-and-10 with 3 minutes, 37 seconds left, the Packers needing a touchdown to win, Rodgers chucked a prayer down the right sideline to a tightly covered Christian Watson. Rookie safety Kerby Joseph, who intercepted Rodgers twice this season at Detroit, picked off the pass. It was Rodgers' 12th interception this season, the most since his first season as starter in 2008.
Could that really be the final throw he'll make in a Packers uniform?
Rodgers sees it a little differently. He made clear there is no doubt in his ability, even now. He said this year was a learning experience, evidence there are many things beyond his control. Even more, Rodgers was focused on what matters to him beyond the field, the relationships he's built. After deciding to keep his jersey Sunday night, he exited through the Packers tunnel back to the locker room with an arm wrapped around Cobb.
The hardest part of walking away might not be the game. Rodgers was asked at the end of a 20-minute news conference what he'll miss. He considered the question, took a sip of water to compose himself, and put the future in his perspective.
'I'll miss the guys,' he said. 'I'll miss the fans.'
Then Rodgers walked away from the podium, back into the locker room, perhaps for the final time.
This post appeared first on USA TODAY