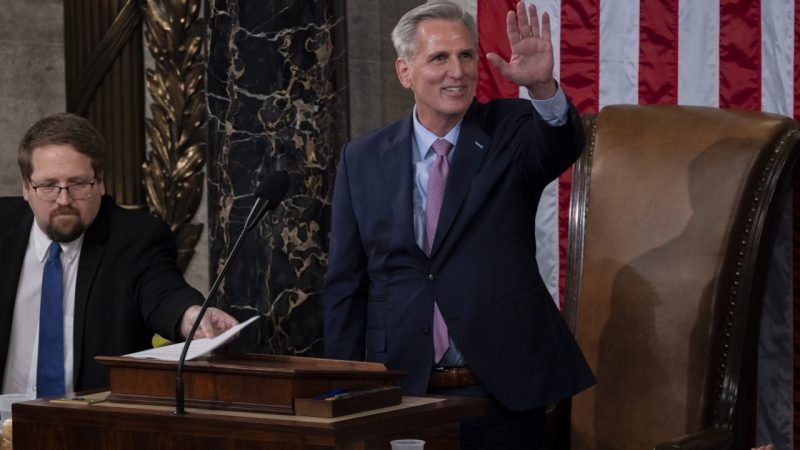 Fox News Politics: Disorder in the House?
Welcome to Fox News' Politics newsletter with the latest political news and updates from the campaign trail. Subscribe now to get Fox News Politics newsletter in your inbox. 
TOP STORIES
RULES IN THE HOUSE: The House of Representatives passed a new rules package Monday that overhauls the way it functions by putting up more barriers to congressional spending and creating a more deliberate process for passing legislation, which were key demands of the more conservative members of the Republican Party. The rules passed in a 220-213 vote that saw just one Republican, Rep. Tony Gonzales of Texas, vote against it. Passage of the blueprint for how the GOP will run the House is the first sign of success for House Speaker Kevin McCarthy after the fight of his life last week for the speaker's gavel. Read more from Fox News' Brianna Herlihy: House passes new rules for Congress as McCarthy clears first major test as House speaker
DEALMAKER OR HOSTAGE? McCarthy's difficult road to becoming House speaker ended early Saturday morning after Republicans appeared to have miscounted the number of votes they needed and left him one vote short of winning the gavel, then quickly voted one last time to give him the win – with help from some of his biggest detractors. Lawmakers and political insiders told Fox News Digital that McCarthy, R-Calif., has the ability to govern successfully amid pushback from members of his own party, but only if he keeps his word to those who assisted his nomination and focuses on the party's overall agenda — an ambitious plan to reduce spending, address the border crisis and hold the Biden administration accountable. Read more from Fox News' Kyle Morris and Andrew Murray: Dealmaker or hostage? What America can expect from Speaker Kevin McCarthy
BIDEN'S BORDER VISIT: Following an onslaught of calls to address the U.S.-Mexico border crisis, President Joe Biden paid a brief visit to the southern border for the first time of his presidency and political career, though the president notably avoided traveling to sections of the border wall constructed under former President Donald Trump. Biden walked with border patrol agents along the border wall separating El Paso, Texas, and Juarez, Mexico, on Sunday afternoon. The rust-colored mesh wall that stands roughly 18 feet tall differs from the border wall commissioned under Trump, which is made of heavy steel slats. A source familiar with the president's tour told Fox that Biden traveled only along the 'legacy fencing' sections of the wall near downtown El Paso, dating back to the Obama administration. Read more from Fox News' Brandon Gillespie and Sophia Slacik: Biden avoids sections of Trump-built border wall during trip to El Paso
MAYORKAS IN HOT WATER: Texas Republican Rep. Pat Fallon has filed impeachment articles against Homeland Security Secretary Alejandro Mayorkas, delivering on a promise he made last week before the 118th Congress was officially sworn in. The articles of impeachment against Mayorkas for 'high crimes and misdemeanors,' known as House Resolution 8, were introduced by Fallon in the House on Monday and have been referred to the House Judiciary Committee. Read more from Fox News' Kyle Morris and Kelly Phares: House Republican files articles of impeachment against DHS Sec. Mayorkas
RISKY BUSINESS: Most Americans think businesses should avoid taking a public stance on political issues, but one party is far more likely to want public statements on current events, according to a poll released Tuesday. According to the Gallup and Bentley University poll, 75% of respondents who identified themselves as Democrats believed companies 'should take a public stance on current events,' while just 18% of Republicans and 40% of independents agreed. Read more from Fox News' Brandon Gillespie: New poll reveals which political party wants companies to take public stances on social issues
MORE ON THE SPEAKER VOTE…
15TH TIME'S THE CHARM… Rep. Dean Phillips, D-Minn., summed up the speaker's election on the House floor just before midnight Friday night. 'I rise to say, 'Wow,'' proclaimed Phillips, extracting gales of laughter and applause from bipartisan members of a punch-drunk House. Who could blame Phillips. Read more from Fox News' Chad Pergram: McCarthy's 15 rounds of voting for House speaker was summed up in one word: 'wow'
Rep. Byron Donalds, R-Fla., revealed on Sunday that he is being placed on the House Republican Steering Committee in exchange for supporting Kevin McCarthy for House speaker. The committee's purpose is to assign fellow Republicans to other House committees. Donalds noted that his appointment to the Steering Committee was an important step to having 'more [Republican] voices on more committees.' Read more from Fox News' Bradford Betz: Florida Rep. Byron Donalds reveals committee appointment in exchange for McCarthy House speaker vote
SANTOS STAYS SILENT: While on his way to support Rep.-elect Kevin McCarthy for speaker of the House, embattled Rep. George Santos refused to answer lingering questions about his exaggerated campaign biography. A reporter pressed Santos on his false representations following reports he lied about several aspects of his resume before being elected, including misrepresenting his education, work experience and claiming Jewish descent. 'Is there anything you have to say to New Yorkers who feel disappointed that you were not truthful in your biography?' Santos was asked. The congressman-elect did not respond. Read more from Fox News' Aubrie Spady and Sophia Slacik: Embattled Rep.-elect Santos refuses to answer questions about resume lies while promising to support McCarthy
2024 WATCH
ROLL CALL: In November, Biden told reporters that it is his 'intention' to run again and that his decision on whether he would seek re-election would come 'early' in 2023. As Biden mulls whether to seek re-election, his presidential predecessor, Donald Trump, along with a list of other Republicans, are already entered into the race or are considering making a run for the White House in 2024. Here's who's in and who's rumored to run. Read more from Fox News' Kyle Morris: Trump, Newsom, DeSantis? A look at who's running, and who's out of the 2024 presidential election.
GOVERNOR WATCH: Gov. Chris Sununu of New Hampshire isn't closing any doors when it comes to a possible run for the 2024 Republican presidential nomination. Sununu, who's repeatedly said he is not ruling anything out when it comes to a potential White House bid, emphasized that 'my first priority is New Hampshire,' but added 'we'll keep having those conversations.' Another Republican governor who won re-election in November by a large margin who political prognosticators also view as a potential White House hopeful is South Dakota Gov. Kristi Noem. But the governor, who spoke with Fox News ahead of her inauguration Saturday to a second term, added, 'I'm focused here, but I'm going to continue telling South Dakota's stories.' Read more from Fox News' Paul Steinhauser: NH GOP Gov. Sununu says he's having 'conversations' about 2024; Gov. Noem won't rule out a presidential bid
POLITICAL PRICE: Congressional Democrats say their GOP counterparts will pay a price at the polls in the 2024 elections due to last week's very visible intra-party battle among House Republicans to elect Rep. Kevin McCarthy as the chamber's speaker. Democrats see lasting damage from last week's spectacle, arguing it will hurt Republicans in the 2024 elections as the GOP tries to hold its razor-thin majority in the House, retake the majority in the Senate, and win back the White House. Read more from Fox News' Paul Steinhauser: Could the GOP House speaker drama hurt Republicans in 2024?
GOLDEN STATE SENATE RACE: Democrat Rep. Katie Porter of California announced Tuesday that she is entering the Golden State's 2024 Senate race. The announcement comes before Democratic Sen. Dianne Feinstein, who has represented California in the Senate since 1992, has made any announcement about whether she will seek re-election in 2024 when her current term expires. Feinstein, who at age 89 is the oldest serving senator, is widely expected to announce in the coming months that she won't seek another term in office. Read more from Fox News' Kyle Morris and Paul Steinhauser: California Democrat Rep. Katie Porter announces 2024 Senate run for Sen. Feinstein's seat
Stay up to date on the latest campaign and political news by subscribing to Fox News' Politics newsletter. 
This post appeared first on FOX NEWS