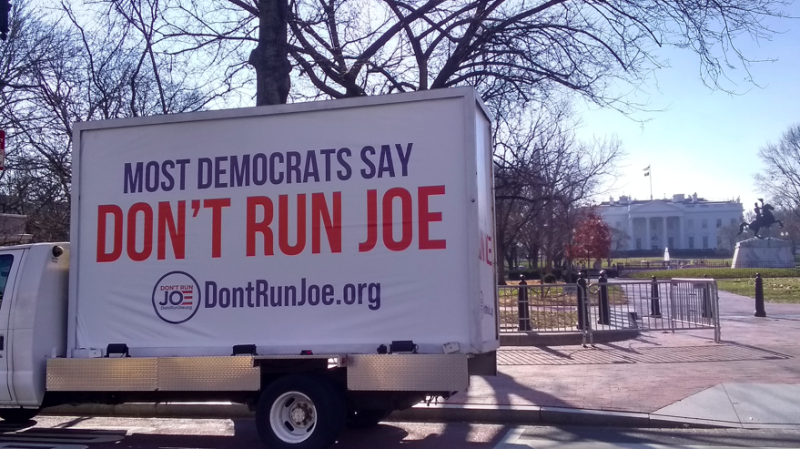 'Don't Run Joe' billboards show up outside White House, DC monuments to urge Biden not to seek re-election
Don't Run Joe, a progressive campaign seeking a new Democratic nominee to represent the party in 2024, is placing mobile billboards around D.C. monuments to urge President Joe Biden to not seek re-election.
'We don't believe Biden will be the strongest candidate to defeat an extremist Republican in 2024 – and we're urging him not to run through petitions, columns, TV ads, and now this mobile billboard circling the White House and Capitol Hill,' Jeff Cohen, cofounder of RootsAction, the progressive group sponsoring Don't Run Joe, told Fox News Digital in an exclusive statement.
'Most Democrats Say Don't Run Joe,' the truck reads in bold letters as it sits in front of famous D.C. attractions, including the White House, the Washington Monument and the Lincoln Memorial.
The Never-Biden campaign has strategically begun running ads in states that are expected to hold some of the first Democratic presidential primaries, including New Hampshire, Georgia, Michigan and South Carolina.
'We strongly urge President Biden to announce that he won't seek re-nomination,' said Sam Rosenthal, political director of RootsAction, in a press release Tuesday. 'An open Democratic primary could chart a bolder, more popular future for the party – and 2020 showed that, after a wide-open process, Democrats can unite to defeat the right-wing threat in November 2024.'
The press release also noted recent national polls that found most American's don't want Biden to seek re-election, including a December CNN poll that found 59% of Democrats and Democratic-leaning independents would like to see a new nominee in 2024.
'Joe Biden representing the status quo in 2024 simply won't cut it,' a voter stated in one of the campaign's television ads.
Biden has not officially announced that he will seek re-election in 2024, but has hinted at the idea several times over the past few months. 
'I think everybody wants me to run, but we're going to have discussions about it,' Biden told reporters following a post-midterm election press conference. 'My guess is it will be early next year when we make that judgment.'
This post appeared first on FOX NEWS