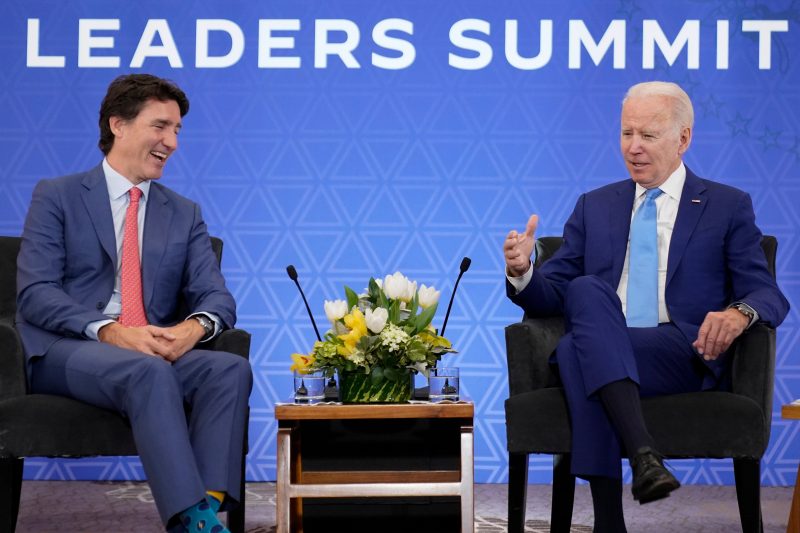 Biden ignores reporters' questions about classified documents for 2nd time as staff escorts media out
President Joe Biden ignored multiple shouted questions from reporters about his handling of classified documents Tuesday as his staff hurried to push the press out of the room.
The moment came after Biden concluded his bilateral meeting with Canadian Prime Minister Justin Trudeau. Multiple reporters shouted questions about the new DOJ investigation into classified documents that were found at the Penn Biden Center think tank after the two leaders concluded their remarks, but Biden pretended not to hear.
'Mr. President, do you have any comment on the classified documents,' a reporter can be heard shouting to Biden.
Biden and Trudeau remained silent and stared at the press corps impassively as staff escorted reporters out of the room.
It was the second day that Biden ignored such questions – he also said nothing Monday when asked about the discovery.
The Biden think tank said that it discovered the classified documents at its Washington offices this past November and that it immediately notified the National Archives and returned the documents.
Attorney General Merrick Garland tapped John Lausch, the U.S. attorney for the Northern District of Illinois and a Trump appointee, to investigate the matter on Monday. The White House says Biden is fully cooperating with the investigation.
'The documents were not the subject of any previous request or inquiry by the Archives,' Richard Sauber, special counsel to the White House, said in a Monday statement. 'Since that discovery, the President's personal attorneys have cooperated with the Archives and the Department of Justice in the process to ensure that any Obama-Biden Administration records are appropriately in the possession of the Archives.'
The discovery echoes revelations last year that Trump had housed a trove of classified documents at his Mar-a-Lago home in Florida after leaving office. The FBI ultimately raided his residence to recover some 300 classified documents.
Trump quickly made the comparison on social media Monday, and a number of other Republicans called for more information about the Biden documents.
Democrats on Capitol Hill dismissed the scrutiny of Biden as 'Republican hypocrisy.'
'This is Republican hypocrisy in its finest,' said Rep. Pete Aguilar, D-Calif., during a press conference Tuesday with party leadership colleagues. 'We're going to support the fact that the president is following this established protocol, that he did the right thing.'
Aguilar went on to accuse his colleagues across the aisle of not wanting to conduct 'meaningful' oversight and that they are 'just interested in opposing this president.'
This post appeared first on FOX NEWS