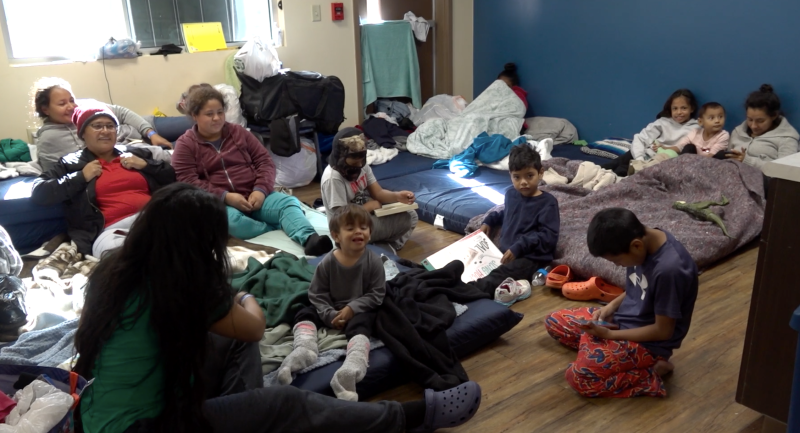 Biden blinded to 'humanitarian shortcomings' with migrant sweep ahead of presidential visit: shelter director
President Biden didn't witness the 'humanitarian shortcomings' migrants face in El Paso because state and local officials cleared encampments before his visit, a homeless shelter director told Fox News. 
'President Biden should've been given the opportunity to see migrant men, women and children living out on the streets since that has been what El Pasoans have been dealing with for months,' Nicole Reulet, a director for Rescue Mission of El Paso, said in an email. 'To my understanding, the migrants who were living out on the streets were collected and deported in the leading days to Biden's visit.'
Biden visited El Paso over the weekend — his first-ever trip to the U.S.-Mexico border — where he walked along the border wall and visited a migrant service center to better understand the ongoing crisis in the area. Ahead of the president's arrival in El Paso, officials arrested migrants and cleared encampments from the streets, Customs and Border Protection sources told Fox News.
WATCH: El PASO SHELTER DIRECTOR OVERWHELMED BY RECORD MIGRANT CROSSINGS
'He needed to see the humanitarian shortcomings and the urgent need for resources and funding,' Reulet said. 'President Biden only saw a fraction of that while he was here.'
Since Oct. 1, 2022, the El Paso sector of the southern border has seen over 107,00 migrant encounters — a 261% increase from the same time last year, according to CBP. Agency sources told Fox News they have also recorded 78,161 'gotaways' in the El Paso sector over the same period.
When Fox News visited Rescue Mission of El Paso on Dec. 13, 2022, the nearby area faced a daily average of nearly 2,500 daily crossings over that weekend, according to Border Patrol. The shelter was then hosting 260 migrants, despite the building's 190-person occupant capacity.
'We have people sleeping on the floor, and there's no floor left,' Reulet said at the time. 'It's at a point where resources are scarce. There's not enough room.'
WATCH A CARAVAN OF OVER A THOUSAND MIGRANTS ARRIVE AT THE BORDER IN EL PASO:
Biden did not encounter any migrants during his trip to El Paso except when his motorcade drove past about a dozen border crossers on the Mexico side, according to the Associated Press. 
'It's important for people, especially elected officials who have the power and capacity to take action, to actually physically see the migrant families with small children living on the streets, to see the tent cities popping up in downtown El Paso, to visit the shelters who are sheltering and using resources to help the migrants through our city,' Reulet told Fox News.
'It would've been great to have President Biden come in September 2022 when we started seeing the migrant numbers significantly increase,' Reulet said. 'If that were the case, the urgency/seriousness of the issue would've been adequately recognized and acknowledged early on and we would've had the time to figure out resources and cohesive strategies to meet the need.'
Still, Reulet was thankful Biden visited.
'It will definitely give a broader and more personal perspective rather than hearing reports on numbers,' she said. 
To see the over-capacity shelter and full interview with Reulet, click here.
This post appeared first on FOX NEWS