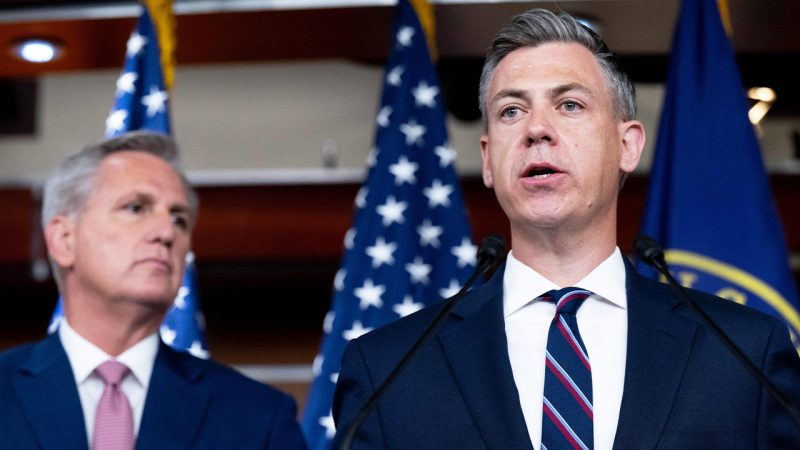 Banks reintroduces bill to codify qualified immunity police protections into law
FIRST ON FOX: Indiana Rep. Jim Banks, a Republican, reintroduced a bill to codify qualified immunity police protections into law as the 118th Congress kicks off.
Banks reintroduced the Qualified Immunity Act in his first act as a lawmaker this term which looks to codify the police protections by the same name into law.
'Indiana's law enforcement officers risk their lives every day to keep our families and communities safe,' Banks said in a press release exclusively obtained by Fox News Digital.
'Subjecting officers to frivolous, unending lawsuits from the same criminals they put behind bars would be a miscarriage of justice and bankrupt almost every police department in the country,' he continued.
Scott Krueger, President of the Indiana State Police Alliance, said that by 'codifying qualified immunity Representative Banks is protecting decades of jurisprudence.'
'Qualified immunity is a concept that was developed by federal case law in 1967 that protects police officers from individual liability,' Krueger continued. 'Law enforcement officers must make decisions in fractions of a second in gray areas of the law, and the officers should not be punished for those decisions unless they knowingly violate a person's constitutionally protected rights.'
'Representative Banks' bill will help our members serve the State of Indiana with a level of assuredness that they need not be hesitant to act for fear of frivolous claims,' he added.
Bill Johnson, executive director of the National Association of Police Organizations, said qualified immunity 'is an important protection for the men and women in law enforcement who put their lives on the line every day to protect our communities.'
'Without it, officers will hesitate or be paralyzed in fear of liability for unknowingly violating an unknown and unknowable right,' Johnson said. 'By codifying the currently accepted doctrine of qualified immunity, the Qualified Immunity Act will ensure that violations of known rights are punished, and those officers who performed their duties reasonably are shielded from harassment.'
'We thank Representative Banks for his continued efforts to safeguard officers' qualified immunity protections,' he added.
Qualified immunity is a doctrine that prevents government officials from being sued for violating citizens' rights while reasonably doing their jobs unless the breached rights are 'clearly established in the law.'
It was a central of the months-long 2021 police reform talks between Sens. Tim Scott, R-S.C., and Cory Booker, D-N.J., that ended without a consensus.
The bill says qualified immunity 'is intended for all but the plainly incompetent or those who knowingly violate the law and is meant to give government officials breathing room to make reasonable mistakes of fact and law.'
Democrats and libertarians, who largely oppose qualified immunity, allege that it often results in police officers who go far beyond their authority getting an unreasonable legal shield. The rare exception is if there is a case with nearly exactly the same facts that has been ruled on before.
Republicans overwhelmingly support qualified immunity, arguing that if it was taken away officers would be subject to lawsuits for nearly every difficult call they are faced with on the job. This would make it nearly impossible to recruit or retain good officers, they say. 
Some Supreme Court justices – including Republican-appointed Justice Clarence Thomas – have questioned the state of the qualified immunity doctrine. Thomas said last year that he had 'strong doubts' about it.
Fox News Digital's Tyler Olson contributed reporting.
This post appeared first on FOX NEWS