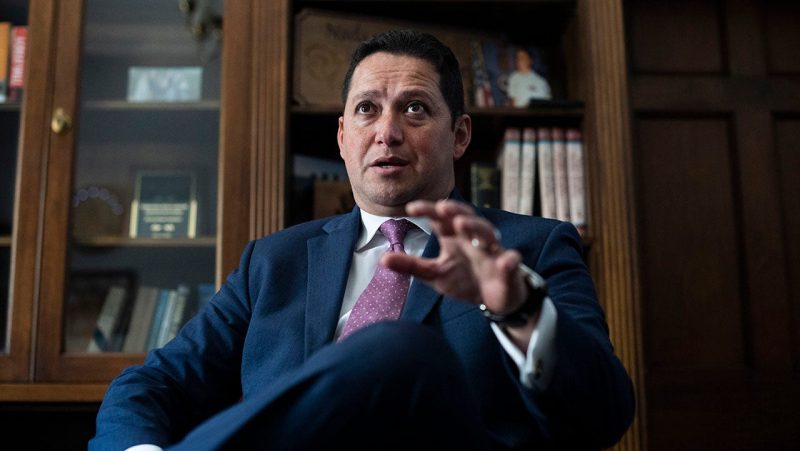 Texas Republican snubbed by Biden during border visit says White House explanation 'insulting'
A Texas border congressman said that the White House's explanation for why he 'couldn't attend' President Biden's first-ever trip to the southern border is 'insulting' and shows the administration is 'not willing to work' with the GOP.
Texas Republican Rep. Tony Gonzales of El Paso was snubbed by the White House on Biden's visit to his district which covers a large swath of the southern border.
A White House spokesperson told Fox News Digital that the snub of Gonzales was 'due to space constraints.'
'As is often the case with presidential trips, we received multiple requests from lawmakers to join the President on this trip and were not able to accommodate all requests, from Republicans and Democrats alike, due to space constraints,' the White House spokesperson said.
'Our legislative affairs team has been and will continue to remain in close touch with these lawmakers,' they continued.
The Texas Republican told Fox News Digital that the White House's 'space constraints' assertion for his snub is 'insulting,' and the White House refusing his attendance shows the administration is not willing to work with Republicans to address the border crisis.
'I find it insulting that President Biden blames space constraints for ignoring my request to accompany him on a visit to El Paso County, which I represent in Congress,' Gonzales told Fox News Digital. 'For two years, this administration has pointed fingers at Republicans for not wanting to act in a bipartisan manner on border policy.'
'In contrast, by not inviting Republicans on this trip, specifically the Republican member who represents El Paso, it shows they are not willing to work across the aisle to fix the crisis at our southern border,' he continued.
A White House spokesperson pushed back on Gonzales saying Republicans were not invited on the border trip, noting that Texas GOP Governor Greg Abbott was invited and attended. No congressional Republicans received an invitation, however.
Gonzales told 'Fox & Friends' Monday morning that the White House told him he 'couldn't attend' the president's visit to the southern border.
Gonzales was asked by host Brian Kilmeade about what the White House told him regarding the visit and his disappointment with Biden after the president told the congressman in the wake of the Uvalde school shooting that they would discuss the border crisis.
'They told me that I couldn't attend,' Gonzales said. 'The president essentially lied to my face, and this shouldn't surprise anyone.'
'And I think it's important that we have Republicans that are constantly pushing the administration to go, 'no, no, no, I want to work with you. I want to find solutions,'' the Texas Republican continued. 'They want all Republicans to just give up.'
Gonzales said Biden's border trip 'wasn't about solving problems' and was 'a partisan trip' that served as 'a photo op' for the president looking to get heat off his back as the House GOP gears up to investigate the border crisis compounding under his watch.
'It took the president 80 years to get to the border,' Gonzales quipped. 'You suspect it's going to take another 80 years before he comes back.'
'Clearly this shows the administration has zero interest in solving this,' he continued. 'They think it's a political problem, they don't think it's a policy problem.'
Gonzales represents a massive district along the U.S.-Mexico border that saw heavy traffic last year as hundreds of thousands of migrants crossed the border illegally.
Biden went down to the southern border for the first time in his 40-year political career this week.
With House Speaker Kevin McCarthy's ascension to the gavel, chamber Republicans are gearing up for several investigations into the Biden administration and its practices.
The border is one of the biggest issues the House GOP has highlighted for the past two years with Biden and Vice President Kamala Harris finding themselves under increased scrutiny.
This post appeared first on FOX NEWS