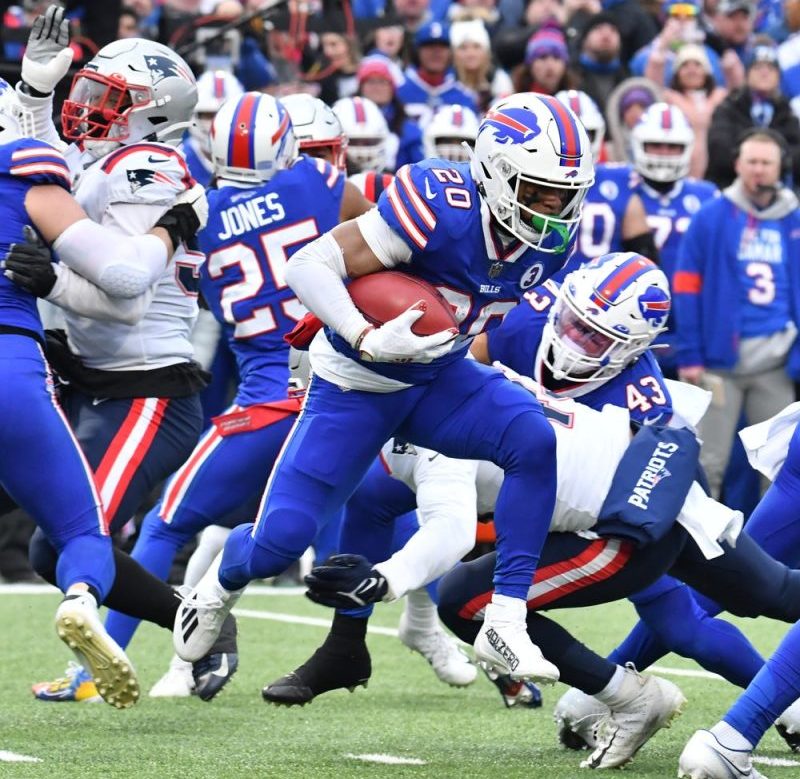 Bills return opening kick for TD in first action since Hamlin collapse
You think the Buffalo Bills were ready to play some football?
Six days after safety Damar Hamlin suffered cardiac arrest and collapsed on the field at Cincinnati – leading to his fraught hospitalization and incremental recovery in parallel with the cancellation of the Bills-Bengals game – the AFC East champions were finally back in action Sunday afternoon in front of their home fans in Western New York.
And what a return – literally.
Buffalo's Nyheim Hines, who was acquired in a midseason trade from the Indianapolis Colts, took the opening kickoff against the New England Patriots 96 yards for a touchdown. It was the first time in Hines' five-year career that he'd scored on a kickoff.
And if that wasn't enough, Hines added a second return touchdown – this one from 101 yards – in the third quarter following a Patriots field goal.
Follow every game: Latest NFL Scores and Schedules
Hamlin is watching the game from his room at University of Cincinnati Medical Center, where his miraculous recovery has hit overdrive.
Hamlin spent the early part of the week sedated and intubated at the University of Cincinnati Medical Center, surrounded by family members while fans stood vigil outside and in Orchard Park, New York, where the Bills play their home games.
While the Bills, Bengals, NFL at large and even the country awaited positive updates, Hamlin slowly came around, his doctors detailing his extraordinary comeback by midweek. Hamlin's breathing tube was removed Friday, and he was finally able to speak to his relieved teammates – many of whom had been in tears Monday night while trainers and medical personnel worked on Hamlin at Paycor Stadium – via FaceTime, telling them, 'Love you boys.'
He returned to social media Saturday to offer widespread thanks to his countless well-wishers, expressing on Instagram: 'The Love has been overwhelming, but I'm thankful for every single person that prayed for me and reached out. We brung the world back together behind this. If you know me you know this only gone make me stronger. On a long road keep praying for me! #3strong'
The league is honoring Hamlin with pregame T-shirts that say 'Love for Damar' and outlining No. 3, his jersey number, in blue or red at the 30-yard line in stadiums throughout the country. Bills players are wearing special No. 3 shoulder patch on their jerseys Sunday.
The Bills lost their path to win the AFC's No. 1 seed after their game with the Bengals was nixed, but Buffalo (12-3) can still secure the second spot in the playoff bracket – and could also force a neutral site AFC championship game with the top-seeded Kansas City Chiefs (14-3), whom they beat in Week 6, by prevailing today. The matchup is also hugely important to the Patriots, who must win to guarantee themselves a wild-card spot.
***
Follow USA TODAY Sports' Nate Davis on Twitter @ByNateDavis.
This post appeared first on USA TODAY