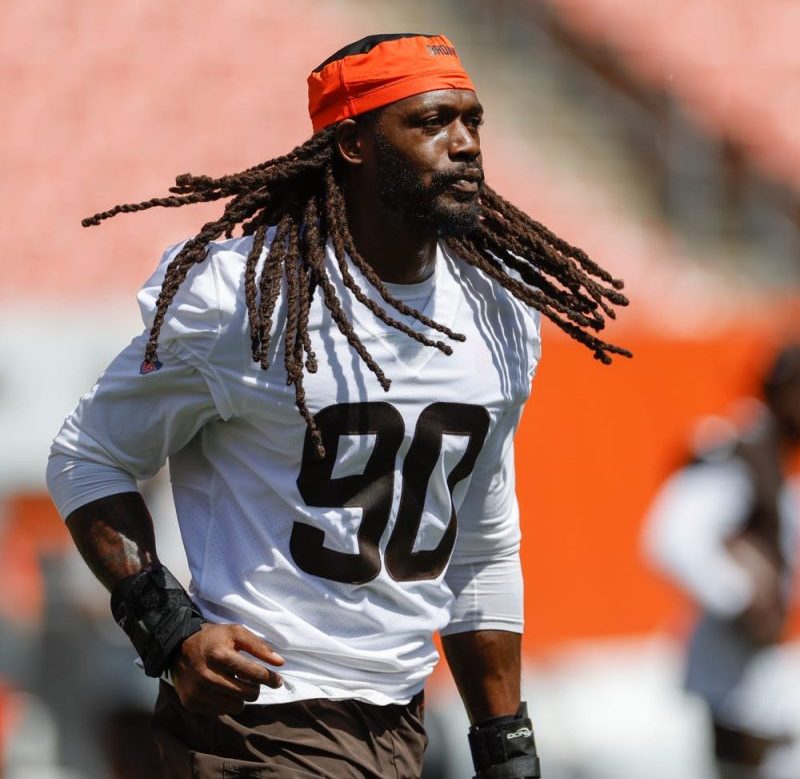 Browns All-Pro DE won't travel to Pittsburgh, ruled out for finale
BEREA — Jadeveon Clowney has already played his final game of the season for the Cleveland Browns. It's likely his last game ever with them as well.
The Browns on Saturday officially ruled Clowney out of Sunday's season finale at the Pittsburgh Steelers. The former All-Pro defensive end will not travel with the team for the game, meaning rookie fourth-round pick Alex Wright will make his fifth start of the season.
Linebacker Storey Jackson and defensive end Sam Kamara were both also elevated from the practice squad to the gameday roster.
The decision was the final act in a late-week drama that developed after Clowney, an unrestricted free agent after this season, made inflammatory remarks in an interview with Cleveland.com's Mary Kay Cabot on Thursday. Those remarks didn't just talk about his future with the team, but also took shots at the Browns coaching staff, particularly for what he perceived as favoritism in schemes designed for his teammate, All-Pro end Myles Garrett.
Follow every game: Latest NFL Scores and Schedules
'I think you guys know me and you know what I am about,' Stefanski said. 'I am going to keep all of those discussions internal. What I would tell you is nothing comes above the team."
The comments and the subsequent team-issued discipline were the final act of a drama with the former No. 1 overall pick that appeared to start in Week 7 when the Browns lost at the Baltimore Ravens. In that game, Clowney — who had missed three of the previous four games due to an ankle injury — played just 23 out of a possible 64 defensive snaps (36%), recording one quarterback hit.
On Friday, defensive line coach Chris Kiffin confirmed that Clowney would not go into the game, except on third downs. His frustration apparently stemmed from a decision that game to flip the sides the two ends played, with Garrett lining up over the right tackle and Clowney, he believed, being given a tougher matchup with Ravens left tackle Ronnie Stanley.
'I don't believe I knew until about Tuesday, Wednesday that week (after the game),' Garrett said Friday. 'Really, it didn't come to my mind to ask or think about it just because that was my assumption. I was like, it's not like he wouldn't play. If he can play, he's going to go out there and play. I mean, that's been his mindset as well the way we've talked about. But, I mean, proof's in the pudding.'
Clowney did not start or appear in the first defensive series the next week, when the Browns defeated the Cincinnati Bengals on 'Monday Night Football,' which Kiffin confirmed Friday was a disciplinary measure from the previous game. He did play 36 of the possible 53 defensive snaps (68%), recording one solo and one assisted tackle.
The only other game in which Clowney played but didn't start was the Browns' Week 15 home rematch with the Ravens. The Browns started three defensive tackles — Ben Stille, Jordan Elliott and Taven Bryan — along with Garrett for that game, although Clowney did play 22 snaps before leaving in the second quarter with a concussion.
Clowney missed four games this season due to injuries. There were three in September and October due to a Week 2 ankle injury, then the Christmas Eve game against New Orleans because of being in the concussion protocol.
In 12 games this season, Clowney finished with 28 tackles, 14 of them solo, plus two sacks, three quarterback hits and four tackles for loss. He also had a forced fumble, which he also recovered, on a strip-sack.
Clowney signed two one-year deals with the Browns. He finished with 65 tackles, 11 sacks, 23 quarterback hits, 15 tackles for loss, three forced fumbles and one fumble recovery in 26 career games in Cleveland.
The unrestricted free-agent market officially opens at 4 p.m. March 15.
This post appeared first on USA TODAY