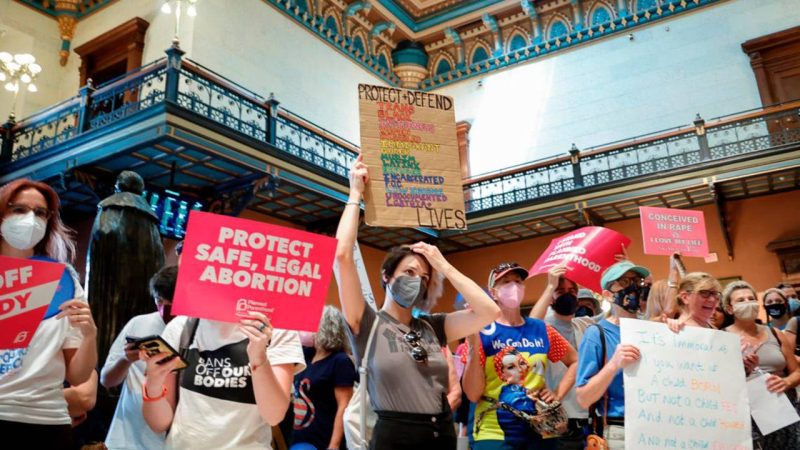 South Carolina Supreme Court rules fetal heartbeat law 'unconstitutional'
A South Carolina state law that would have restricted abortions after a fetal heartbeat is detected was declared unconstitutional by the state's Supreme Court.
In a 3-2 decision Thursday, the South Carolina Supreme Court said the Fetal Heartbeat Act illegally infringes on a woman's right to privacy. The act was signed into law by Gov. Henry McMaster in 2021 and prohibited abortion once a fetus's heartbeat can be detected, which usually occurs around six weeks of pregnancy.
Writing for the majority, Justice Kaye Hearn said, 'We hold that the decision to terminate a pregnancy rests upon the utmost personal and private considerations imaginable, and implicates a woman's right to privacy. While this right is not absolute and must be balanced against the State's interest in protecting unborn life, this Act, which severely limits — and in many instances completely forecloses — abortion, is an unreasonable restriction upon a woman's right to privacy, and is therefore unconstitutional.'
The heartbeat law went into effect after the U.S. Supreme Court overturned its Roe v. Wade decision in June 2022, ending federal constitutional protections for abortion rights. Abortion providers in the state challenged the law and the state Supreme Court subsequently blocked it from taking effect.
Planned Parenthood South Atlantic welcomed the decision as a 'monumental victory.'
'Today's ruling is a win for freedom. We are relieved that this dangerous law has been relegated to the history books and can no longer threaten patients and providers in South Carolina,' said Alexis McGill Johnson, president and CEO of Planned Parenthood Federation of America.
'Reproductive health care, including abortion, is a fundamental right that should never be subject to the whims of power-hungry politicians. Planned Parenthood will keep working day by day and state by state to safeguard that right for all people, and we won't stop until everyone can access the essential health care they need and deserve,' she added.
South Carolina Attorney General Alan Wilson, who defended the law in court, said he was working with Gov. Henry McMaster's office to review legal options moving forward.
'We respectfully, but strongly, disagree with the court's ruling,' said Wilson, a Republican.
South Carolina law currently bans abortion after 20 weeks of pregnancy. The state legislature will begin its 2023 session on Tuesday.
This post appeared first on FOX NEWS